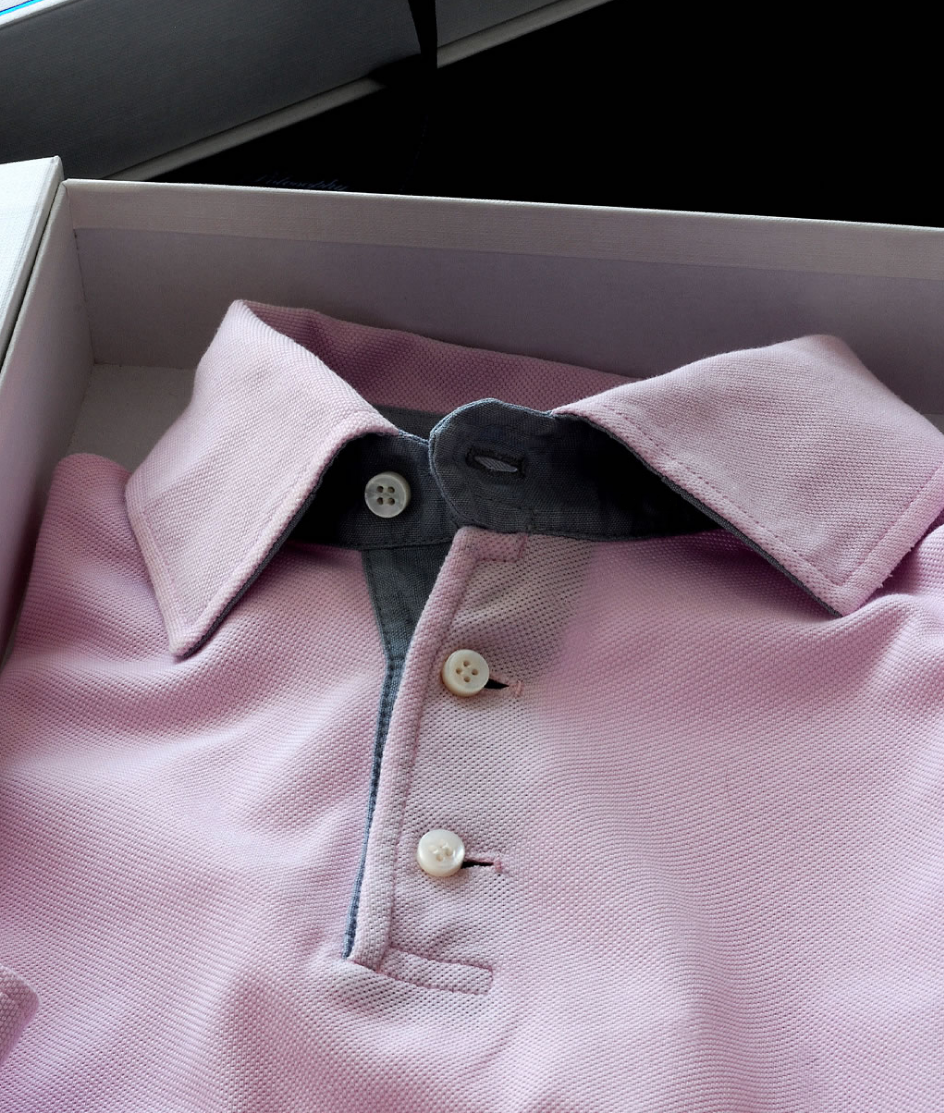 Aside from maybe chinos, there are few things more quintessential to summer style than polos. It was invented in 1933 by legendary tennis player Rene Lacoste when he found the regulation dress code – stiff, long sleeved shirts with ties and white flannel pants – too cumbersome and uncomfortable. Thus, inspired by the wool-knit jerseys worn by polo players, Lacoste came up with short-sleeved, soft-collared, pique cotton pullover that we're all familiar with. Though its origins may be sportswear, it's now a staple of casual summer style, and currently enjoying a bit of a revival as young men begin to ditch their scrappy faux-vintage t-shirts in favor of sharper looks. 
As with everything, the key to pulling off a polo is getting the right fit. Look for ones that are slightly trimmer in the body, with sleeves that hit around the middle of your bicep. You can have the lengths be long or short, but if they hang below your hips, you'll have to tuck them in. There are a good number of companies that provide these features, so let's review some. 
By far, the most unique offering I've come across is from Polosophy, an Italian label that makes bespoke polos. The company has taken advantage of the two biggest trends in menswear – the long-term move towards casualwear, and the recent resurgence in custom clothing. The result is a casual polo with all the rich elegant details you would find in a custom button-up shirt. Here, the client chooses the color of the polo, type of collar and cuffs, and then decides whether he wants a monogram. Everything is cut from a custom paper pattern made from your measurements. The polos come with mother-of-pearl buttons, sewn on with chicken foot stitching (a hand-tailoring detail I've written about here), and linen detailing on the placket. There is also a structured and reinforced collarband, making the polo's collar behave much more like one you would find on a woven shirt. The price is expensive, as you can imagine. Short sleeves start around $250; long sleeves start around $300. If you're in Europe, there is a five-shirt minimum, and they'll send a tailor to you to get your measurements. If you catch them on one of their tours, however, you can meet them at a hotel and only need to meet a three-shirt minimum. 
Of course, few people can afford bespoke polos, so let's talk about some off-the-rack options. The first is by one of my favorite companies, John Smedley. These polos are made from Sea Island cotton, which is a "long staple" fiber. This means that each fiber measures around 2 inches long, which allows them to be woven with fewer bonds. As a result, the final fabric has an incredibly smooth, silky, luxurious hand, as well as incredible strength (as there are fewer "weak points" where the fibers are bonded together). The cotton also has a natural brilliant whiteness when it's raw. This allows it to be dyed in richer, clear colors, as well as forgo harsh bleaching, thus allowing the colors to stay colorfast. In terms of quality, John Smedley polos are some of the best you can get. They come in traditional and slim fits, and feature one of Smedley's three polo collar designs. Check them out at their website. 
For other great, high-quality polos, consider Moncler. Their company website doesn't seem to feature them, but I really like the ones that Bergdorf Goodman is carrying. Sunspel is also really nice. They come in different fabrics, such as pique cotton (the traditional fabric you find on polos) and jersey cotton (a more "t-shirt" material). They also have polos in their Riveria fabric, which is similar to the traditional pique cotton, but in a more open weave (an advantage for hot days that I've written about). Additionally, there is Gant, which also come in pique or jersey cotton. The main line is a bit more traditionally cut, while the Rugger line is trimmer. Unfortunately, their webstore won't ship to the US, but if you see something you like, call one of their stores in New York or Connecticut and they'll ship it out to you. 
If the options above are too expensive for you, try Uniqlo. Be warned, however, that they're made of a mix of cotton and polyester. Polyester doesn't breathe, so you'll be sweating more in these. I'm really not a fan of the fabric, so they come with a very reserved "recommendation." You can order one of Uniqlo's polos by calling their New York store. 
Another very affordable option is Benjamin Bixby's. Since the company folded, some of their clothes have been popping up at various venues. These fit very slim, so you should size up. You can find them on eBay if you do a search.
Finally, we come to Kent Wang. I was curious about Kent's polos a few weeks ago, so I inquired about it. He was nice enough to send me one as a gift, and I received it last week. This is easily my favorite of the bunch. The real upside here is the reinforced spread collar. This means there is a collarband with two layers of self-fabric, making it the collar behave much more like one on a woven shirt (a detail that we saw earlier on the Polosophy design). In other words, the collar stands up more, instead of laying close to the collarbone. The spread collar design also gives the polo a lot more panache. I've taken a photo of Kent Wang's spread collar and posted it next to a Bixby collar, which is much more traditional. You can really see the difference in collar shapes there. If you decided to get Kent's polo, I recommend sizing up; these fit very slim. 
For more readings about polos, check out these great features by Dapper Demeanor and Men of Habit. 
---