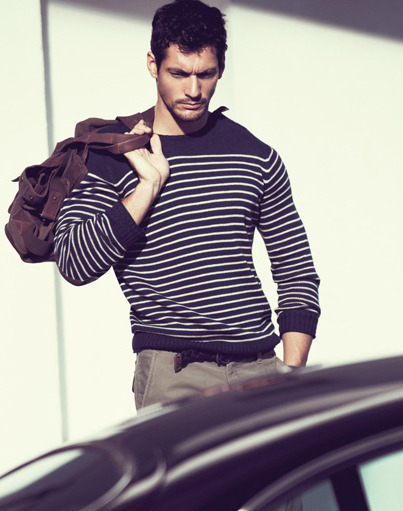 The trees in my neighborhood have been leafing and flowering for some time now, but this weekend, as the weather was particularly sunny, things started to feel more summery. As such, I thought I'd create a five-day series dedicated to things you can get for the coming summer season.
The first part to this series is about Breton shirts and sweaters. These seem to be popular every year around this time, and their continued relevance is probably due their being an iconic, international classic. In the last year or two, they've become particularly hip – a trip through Brooklyn has come to look like a visit to a French sailor's convention.
Saint James invented Bretons in 1850 for men working out on the sea. They were originally just for the people of Brittany – a peninsula region in the northwest of France. In the 1920s, however, Coco Chanel became enamored with the Breton's striped sailor look and made it into a more general "French style." By the 1940s, it became the uniform of French beatniks, and then by the 1960s, it was popular among American rock stars. It has remained an iconic cultural staple ever since.
There are a ton of companies right now making their own version of the Breton (eg Brooks Brothers and Lands End Canvas). It would be laborious and needless to list every option, so I'll cover only three kinds: the classic, the Picasso, and the poor man's.
Classics: For the classic, there is the originator – Saint James. Binic II is their most popular sweater; it has stripes starting around the breastbone and a button placket on the left shoulder. Their Matelot is a slight variation on the Binic II, with full-body stripes and a looped around collar. For shirts, they have two main models, the Meridien II and Minquiers 10. They're basically the same shirt, except the Meridien II has a boatneck while Minquiers 10 has a round one. As well, Meridien II is made from carded cotton, which is a heavier, slightly "rougher" cotton, while Minquiers is made from combed cotton (the kind we're mostly familiar with). I think carded cotton is strongly preferable, if only for its unique texture, but some men are a bit timid about wearing boatnecks.
Should you order a Saint James, you can get one from Brittany Boutique for about half of what you'd find them for in most stores.
For other classic manufacturers, check Royal Mer for sweaters, and Armor Lux, Le Minor, and Guy Cotton for shirts. You can't go wrong with the companies that have been making these forever.
Picasso: As famous as Bretons are to French sailors and beatniks, the image of Picasso in his Breton is just as enduring. Capitalizing on that association, J. Peterman recreated the one we've seen on Picasso. The curled boatneck is a bit more daring than the regular boatneck, but on the right guy, it can carry a lot of panache.
Poor man's: Lastly, we have the budget Breton. For this, do a search on eBay for telnyashka. Here you'll find Russian Navy undershirts, many of which are deadstocks from the Soviet era. The Russians borrowed the design from the French Navy, who of course got theirs from the sailors in Brittany. You can typically score one of those for under $20.
Finally, a word about styling. Bretons work well as layering pieces and can easily be worn with almost any pair of chinos. For a bit more creativity, try wearing them with other quintessential summer pieces. For example, you can wear a Breton shirt with a khaki cotton suit, braided leather belt, and navy espadrilles, and you'll basically have your summer style on smash.
---