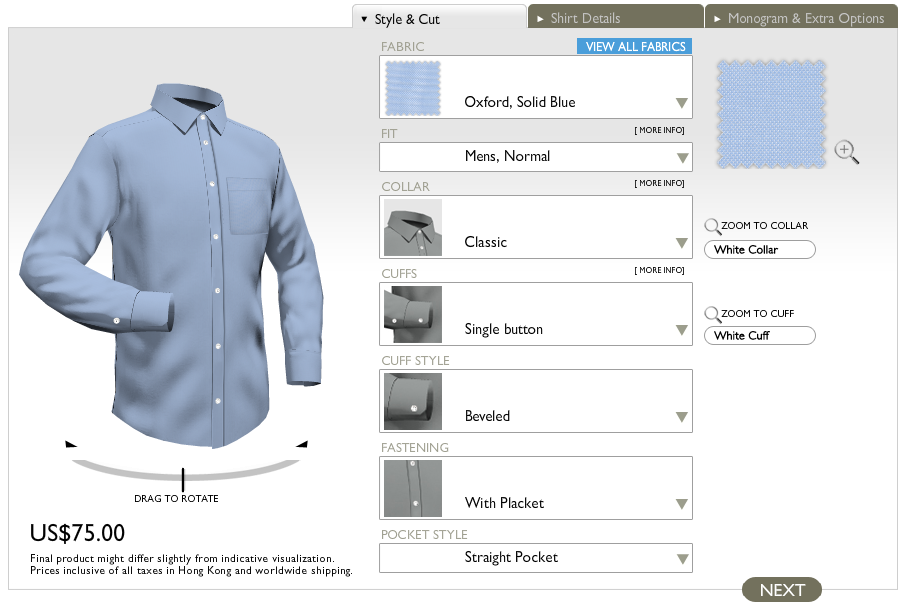 The traditional way to have a custom shirt made is to go through a local or traveling tailor. Unfortunately, the best ones are expensive. Many start around $200 and require a three to six shirt minimum on your first order. There are also good made-to-measure shops such as CEGO, but those will typically start around $125-150 as well.
If you can't go to a traditional tailoring shop – whether because of location or budget – there are a host of online operations you can turn to. Here, you submit your measurements and design your shirts online. The company then manufactures your shirts in China according to a pre-made pattern they've adjusted for you, and then ships you the final goods. Prices in this field generally start around $60, which isn't too far off from what department stores charge at full retail.
Of course, the model isn't without its problems. Taking your own measurements can be tricky, even if you have someone to help you. One solution is to have four to six different people measure you and then figure out the averages. By doing so, you reduce the risk of error. You may also want to consider padding the numbers by adding a quarter of an inch all around. Remember – if the shirt is a bit too full, it's still wearable; if it's too tight, it's not. You can see how the first shirt fits and then adjust your measurements on the second order.
The other problem is that it can be difficult to figure out what a particular fabric looks like from a small "swatch" on your screen. There are many dimensions that won't come through, such as how it feels, whether it's somewhat thin or transparent, and how it looks when it moves. There's no substitute for having a real swatch book in front of you, but it can help if you review my primer on fabrics. The descriptions of fabrics you read online should tell you enough, assuming you know the technical jargon. Some companies will also send you fabric samples from their different price tiers, so you can at least judge the varying qualities. 
So, which companies can you turn to? There are probably more than a dozen operations, and I've only tried a handful. The best, from my experience, has been Cottonwork. In the interest of full disclosure, you should know that Cottonwork will be an advertiser here at Put This On, but I genuinely recommend them. Of all the online shirtmakers I've used, they've been the best fitting and most consistent. They have a good range of fabrics, including affordable ones that start at $65 (though in my opinion the more workable stuff is at the $75 tier), as well as finer shirtings by Thomas Mason and Tessitura Monti. The seams are made with a fairly high stitch count, thus making them nearly invisible when done, and everything is finished on the inside with a flat-felled seam. This takes more time to execute than the cheaper overlock stitch, but it prevents the fabric from fraying over time. Perhaps most importantly, Cottonwork's website allows you to see how your shirt might look as you add on different options. 
I've also had shirts made by Made Tailor and Biased Cut. Their shirts fit considerably slimmer than Cottonwork, so if you're just getting your first one, I strongly advise you pad the numbers a bit. Their fabrics aren't as nice, but they have a number of customization points in their favor. Made Tailor, for example, has a particularly handsome cutaway collar, and Biased Cut allows you to put a monogram on the shirt's sleeve gauntlet.
Another big player in this field is Modern Tailor. On the upside, they can be much more affordable than any of the options above. On the downside, I've found their consistency and quality control to be rather lacking. Different shirts made on the same order can sometimes be cut to different measurements. The stitching is also not as fine as it could be, though that part is well made up for in the price. The one area they seem to be decent at is in copying shirts. Here, you just need to send them the shirt you want copied, specify the fabric and details you want added or subtracted, and they'll send you the shirt back along with their copy. Generally, these shirts will fit exactly as your original.
There are many other companies as well, such as Joe Button and Proper Cloth, but I have no experiences with them. Whoever you choose, I recommend you pick someone you think you can use for the long term. Online custom tailoring is a tricky thing, and the payoffs really come when you have your second or third shirt made. If you're lucky, the first shirt will fit well, but more likely than not, it won't. You have to expect that adjustments will need to be made; it's the nature of what happens when you submit your own measurements. If you can find a company that will look at photos of you in your new shirt, and advise you on what adjustments need to be made, all the better. Just make sure you're picking someone with an eye towards subsequent orders and iterative improvements, not just who can make you the cheapest product. 
---