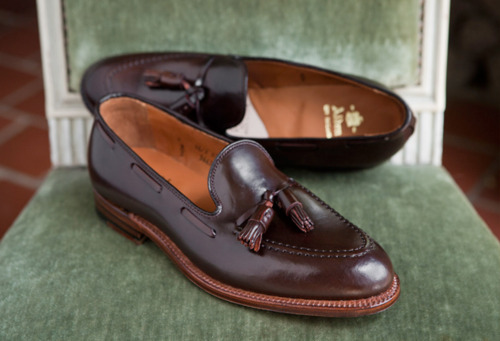 I really like tassel loafers. I'm wearing a shell cordovan pair now with brown sharkskin trousers, a dark green v-neck sweater, light blue oxford cloth button-down shirt, navy over-the-calf socks, and a dark reddish-brown alligator belt. With clothes that are a bit too fully cut, tassel loafers can look a little fuddy duddy; with clothes that are too tight, they can look overly hip. Somewhere in the middle, I think, is where they look best.
Tassel loafers came into being in the post-war period of the 1940s, right when tweed jackets, Shetland sweaters, and penny loafers dominated prep schools and Ivy League campuses. As college students graduated, they wanted something as comfortable as their slip-ons, but were a bit dressier and more sophisticated for their new life in the business world. It was around this time that an actor named Paul Lukas came back from Europe with a pair of oxfords. They had little tassels at the end of their laces, which Lukas thought made them look more lively. So he took them to a couple of New York shoemakers to see if they could make something similar, and they in turn took the job to Alden. The company's president at the time, Arthur Tarlow, came up with tasseled loafers and they were an instant success. That makes Alden's model the original, and Paul Lukas the first man to wear this style of footwear. You can read more about this wonderful history in this article by Bruce Boyer.
Tassel loafers come in a variety of colors and leathers. The most common is brown calfskin, but the ne plus ultra is the reddish-brown shell cordovan that comes from Chicago's Horween Tannery. Shell cordovan has the particularly good quality of holding the color burgundy well. In calf, burgundy can sometimes look cheap, but in horsehide leather, it absolutely glows. 
As for where to get them, there are probably a dozens of versions on the market. I'll only cover a few. As mentioned, Alden's is the original and its history as the classic makes it hard to beat. They also make a similar model for Brooks Brothers. The main deviation is the piece of leather that's added to the heel cup. From England, we have Crockett & Jones' Cavendish and Edward Green's Belgravia. Crockett & Jones also makes a shell cordovan version for Ralph Lauren called the the Marlow, and it has a slightly more unique shade of shell cordovan brown.
My own pair is Allen Edmonds' Grayson. It's quite similar to Alden's, but it has a higher vamp, which is the part the shoe that covers the top part of your foot. I thought it looked slightly better this way, so I bought a pair in shell cordovan. I couldn't be happier with the purchase and recommend them highly.
If you'd like more affordable options, consider Loake's Lincoln and Meermin's 101381. Both come in around $175, but Meermin has the added advantage of being able to do special orders. If you'd like to get a pair in shell cordovan or suede, or made from a different last or sole, they'd be happy to make you a pair for a small surcharge. I have a pair of their made-to-order shoes and couldn't be more impressed with their value. To order, read this buyer's guide and then go to Meermin's website. My only comment on that guide is that you should ask Meermin for sizing advice; don't just assume. 
Tassel loafers aren't anything I'd call "an essential," but they're certainly very enjoyable to wear. If you work in an environment that lets you get away with more casual footwear, try wearing a pair of these with a wool sweater and corduroys, or maybe a checkered tweed and flannel wool trousers. Both will carry a great sense of American style that's both casual and sophisticated. 
---