It's never been more expensive to build a wardrobe. Head over to Mr. Porter today, and you can find everything from $2,500 Saint Laurent varsity jackets to $3,700 Cucinelli backpacks. These Fair Isle Loro Piana socks will set you back a whopping $245, although since they're over-the-calf, you can probably turn them into two pairs of mid-calf socks if you're crafty. Massively inflated prices aren't just confined the luxury brands and designer labels, either. J. Press' Shaggy Dog sweaters now cost $250, which is a 50% increase from what they were ten years ago.
Given the rate of inflation in fashion, I thought I'd put together a running list of some of the best value-focused brands — companies that genuinely provide good value for your money. But here's the problem: unlike cars or electronics, clothes can't be easily boiled down to build specifications. Style is more about aesthetics, which is very subjective. The best way to find good value in clothing is to be attuned to how things make you look and feel. Some of the best "values" in my wardrobe are simply those items I love wearing the most — custom sport coats from Steed, a pair of Kapital over-dyed side-zip boots, and an RRL ranch jacket I bought from a thrift shop. Those items are weird or expensive (sometimes both). I would never recommend them as "value" buys, but they've proven to be some of my favorite purchases.
At the same time, there's such a thing as diminishing returns. Until you've developed a strong personal view, it can be useful to buy something that allows you to get a sense of how much you like wearing a particular style without paying for unnecessary details. So, we're doing a running series on those companies that strike a good balance between build quality and price. Most of these will also be fairly basic in terms of design so that you can build a core wardrobe that allows you to branch out and explore other areas.
Gustin (and Others)
Gustin was one of the first companies in its space to allow customers to pre-order things online through Kickstarter, which allowed them to circumvent the traditional retail distribution model and offer a lower price by offloading risk. The model works like this: you subscribe to a run by pre-ordering an item. Once the company collects enough orders, it sends the item to production, and then delivers the item some weeks later. In exchange for what should be a lower price, subscribers buy things on final sale. By not having to deal with the risk of returns and unsold inventory, the company should, in theory, be able to offer a lower price (and thus more value).
In reality, this system is more complicated. Sometimes a company isn't able to offer much more value than what you can find at a high-street store because they're not able to capture the gains from economies of scale. That said, Gustin offers outstanding value in many of its product categories. Their raw denim jeans, which are cut and sewn in America, often from the last of Cone Mills denim, start at just $66. They have button-up shirts made from unique fabrics starting at $80, indigo-dyed field jackets for $156, and Horween leather briefcases for $349. Back when it was harder to find a suitable alternative to Common Projects' Achilles, Gustin's all-white, Italian-made minimalist sneakers were an extraordinary value at $169 (we still think they're a good alternative).
What You Give Up: Since you're ordering something before it's made, you often have to wait many months for delivery. If there's a delay at the factory, the estimated delivery date can also get pushed back. Additionally, these pre-order business models run on the assumption that you can't return the item — that's why the company can offer you a lower price. At Gustin, you can't buy things "just to check out," but they are flexible in working with customers. If you end up ordering something in the wrong size, for example, you may be able to work out something by emailing them.
For a more straightforward customer experience, try Unbranded, which is often recommended on denim boards as a solid entry-level jean. They use the traditional retail model that allows you to buy and return things as needed. I prefer Gustin because I think they use better trims. Unbranded uses fairly basic rivets and donut-shaped buttons, which are unbranded and thus very on-brand. They're perfectly functional, but lack something in terms of aesthetics.
Blackhorse Lane
Unlike most other denim brands, Blackhorse Lane is an actual factory, which means they manufacture things. The company mostly specializes in raw denim jeans, which are fantastically made and come with a level of service unseen at this price point (and only made possible because you're buying directly from a factory). Blackhorse Lane has four main fits, each of which is named after a certain London postcode. Their NW3, for example, is a slim straight-leg designed after the kind of heritage looks you might find in Hampstead. The E8, meanwhile, is a skinnier tapered cut you might see in the more fashion-forward area of Hackney.
Construction-wise, Blackhorse incorporates some surprising details you'd typically only find in tailoring. Whereas most denim companies stay true to their workwear originals – and thus finish their jeans with quick, overlock stitches – Blackhorse constructs everything with single-needle stitching and felled seams, making the interiors as handsomely constructed as a good pair of trousers. Additionally, they use a single-piece fly. On most jeans, you'll find a two-piece fly that's held together with a bar tack. It's a perfectly reasonable way to make a fly, although the one-piece construction here looks cleaner and nicer.
The jeans are about $225, which is a bit of money. However, first-time buyers can take 17% off by signing up for the company's email list. That brings the price down to about $186. Blackhorse Lane also offers free alterations and repairs, which can save you money on the cost of hemming and darning. For overseas customers, it's probably not worth buying these just for the free repair service — shipping alone will negate any savings — but this could be a plus if you live in the United Kingdom. In the last few years, Blackhorse Lane has also expanded its product line to include fisherman sweaters ($149), chore coats ($269), and chunky turtlenecks ($210).
What You Give Up: Blackhorse Lane offers a lot of value for people who appreciate British-made workwear clothes, often of a certain variety that looks a bit more directional than your basic pair of jeans and chambray button-up. At the same time, the trade-off is on the other side of this equation. Since you're buying from a London-based factory, returning things can be a bit of a hassle. Blackhorse Lane offers a standard 30-day return window, but shipping things overseas can be expensive and involve long wait times. If you plan on returning something, you'll want to ship it sooner, rather than later, in case things get held up in customs. As always, this is the trade-off when dealing with overseas shops.
Genuine Scottish Knitwear
The lights in Western factories have been dimming for decades. As the cost of labor and real estate has gone up in advanced industrial economies, factories have struggled to compete with lower-cost countries, which are increasingly able to produce high-quality clothes. To keep their pattern-cutters, button stitchers, and machinists employed, many Western factories have had to become brands. This is the story of Drake's, Hertling, Private White VC, Simonnot Godard, Bresciani, among others. Today, they produce under their label and sell directly to consumers.
Across the Anglo-Scottish border in Annan, you'll find a similar story at Esk Valley Knitwear, a fifty-year-old knitting mill that has long made private-label sweaters for the likes of Nigel Cabourn. A couple of years ago, they also branched out with their label, which is simply called ESK. The garments are exceptionally made, but like any brand, ESK has to figure out what to do with unsold inventory. From the looks of it, it seems some of those knits are rebadged and sold under the Genuine Scottish Knits banner. The company hasn't publicly confirmed this, but you can judge for self by comparing the two mailing addresses. When you purchase an item, you'll also see the charge coming from ESK. These sweaters are knitted from quality yarns and are fully fashioned, which means they don't have any side seams. For $75 or so knitwear, you could hardly do better.
What You Give Up: The marketing and presentation here leave a lot to be desired. The product photos at GSK's eBay store aren't very inspiring, and the company only offers basic garment measurements (for knits, it's just the pit-to-pit measurement). Additionally, the sweaters only come merino, Shetland, and lambswool, the last two being rougher, but harder wearing, fibers. In the past, they've had a few cashmere sweaters and even dressing gowns on the site. At the moment, however, noble fibers are reserved for accessories.
Lastly, like with Blackhorse Lane, buying from an overseas comes with some risk. Always double-check measurements, so you don't have to make a return. You may also want to email them for sizing advice. In the US, a size 40 sweater usually means it was made for someone with a 40″ chest. In the UK, however, a size 40 sweater sometimes means the chest was made 40″ all around (so better for someone with a 38″ chest). Best to double-check with the company.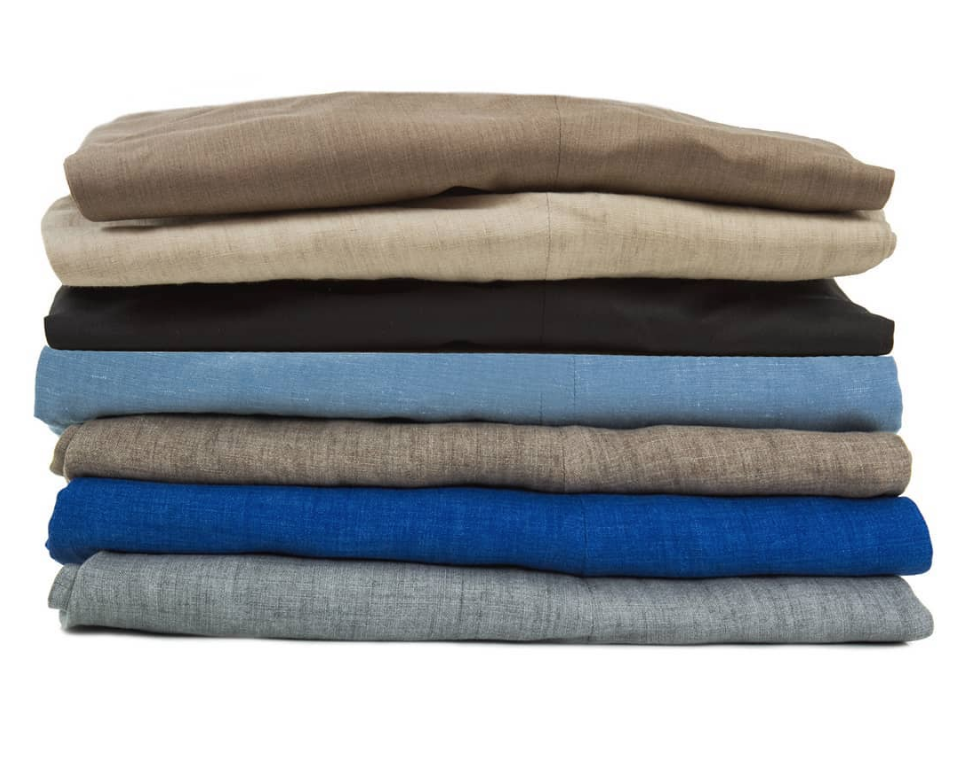 Dapper Classics
The Hertling trouser factory is the only thing standing between the exorbitant prices of high-end Italian tailoring and cheap, mass-market brands made in China. In the last few years, however, the Brooklyn-based factory has struggled to keep their doors open. Labor and rent costs have gone up, while many of their private-label clients have shifted their manufacturing to cheaper overseas companies. At the moment, Hertling is surviving, but their future remains uncertain.
Our sponsor Dapper Classics is one of the few retailers still consistently selling Hertling-made trousers. It's hard to call $175-$250 pants a steal, but consider the alternative: J. Crew trousers are often too slim and low-rise, are made from lower-quality materials, and often don't have enough seam allowance for important alterations. Rota's trousers, on the other hand, commonly retail for about $400 — sometimes going as high as $900 (no joke). If Hertling ever closes, and companies such as Dapper Classics aren't able to find a suitable alternative, I suspect many people will be kicking themselves in the pants (pun intended).
Dapper Classics' trousers come in two fits: classic and slim. They're slim without being skinny, they have a respectable rise, and they come with all the details you'd expect on high-quality trousers. These have a split curtain waistband, bar tacks for reinforcement, generous seam allowances, and an unfinished length so you can get these hemmed however you need. When we did our "five flannel trousers shootout" a few years ago, Dapper Classics came out on top.
Like their tailored trousers, the company's dress socks also offer tremendous value. They're more comfortable than Gold Toes, but don't cost as much as most European brands. I've found that my Dapper Classics' socks compare well to top-tier Italian names, such as Bresciani and Marcoliani. I also think they make the best open-weave, cotton dress socks for summer.
What You Give Up: Dapper Classics trousers have a more classic and flattering cut than mass-market brands such as J. Crew, but guys who gush over "sartorial" details may be better off with Rota. Rota is an Italian factory that makes for a ton of different brands, including their house-line, which they sell to various retailers. Since they make different cuts and styles, it's hard to generalize across the whole range. However, stores such as No Man Walks Alone typically carry their higher-rise models, which some guys will prefer to the mid-high rise cut of Dapper Classics. Rota's trousers are also often offered in more unique materials, such as whipcord. In contrast, Dapper Classics caters to that core part of your trouser wardrobe centered on wool flannel, tropical wool, and cotton.
Kamakura
Kamakura represents the best of what W. David Marx covered in his book Ametora. Founded in 1993, this small Japanese shirt brand kept the Ivy Style torch alive at a time when Americans had already abandoned the style. Today, they do oxford cloth button-downs better than most American labels (although Brooks Brothers, J. Press, Ratio Clothing, Mercer & Sons, Michael Spencer, O'Connell's, and our sponsor Proper Cloth are also excellent).
The workmanship on Kamakura's shirts is quite good. The stitching is even and clean, and seams are finished well. Collars are cotton lined but not fused (lining and fusing help a collar keep a consistent shape, but make a collar stiffer; not the goal on OCBDs). The shirts are made in Japan, while similar shirts from Brooks, Mercer, and O'Connell's are made in the United States. Kamakura's standard fabrics are mostly 100% cotton, often Xinjiang cotton, a long-staple variety grown in China that has a reputation for softness. Some shirts use Italian or American cotton and are labeled accordingly. The standard Kamakura oxford fabric seems to have a little less heft than beefy American OCBDs. All shirts use trocas/takase shell buttons, which look better than the plastic buttons on mass-market shirts but are not as thick or iridescent as true mother-of-pearl. The basic OCBDs hit the right notes for Ivy-influenced shirts, although they omit some arguably traditional details like a third button at the back of the collar, a locker loop, or a flapped chest pocket. As a rule, Kamakura makes well-built, straightforward shirts.
What You Give Up: Kamakura cuts both traditional and slim shirts, and the biggest barrier for new customers will be getting the right cut and size. For dress shirts, there are four cuts. In order from fullest cut to trimmest: New York Classic, Tokyo Classic, New York Slim, and Tokyo Slim. The New York Classic is a traditional, full-cut shirt; the Tokyo Classic a little trimmer and the slim versions are darted and hence slimmer still. Darts are not a conventional OCBD detail, but they effectively reduce billowing fabric at the waist. Shirttails on all cuts are long and intended to be tucked into pants, so these are not ideal substitutes for short, ultra-casual OCBDs, such as those from Corridor or Gitman Vintage. For guys who want the angelic roll of a traditional button-down collar, but made on a slimmer fitting body, Kamakura's shirts are hard to beat. If you want something more traditional or made-to-measure, however, it's better to look elsewhere.
"Value-Focused Brands" is a running series at Put This On. You can follow this tag for more posts. 
---