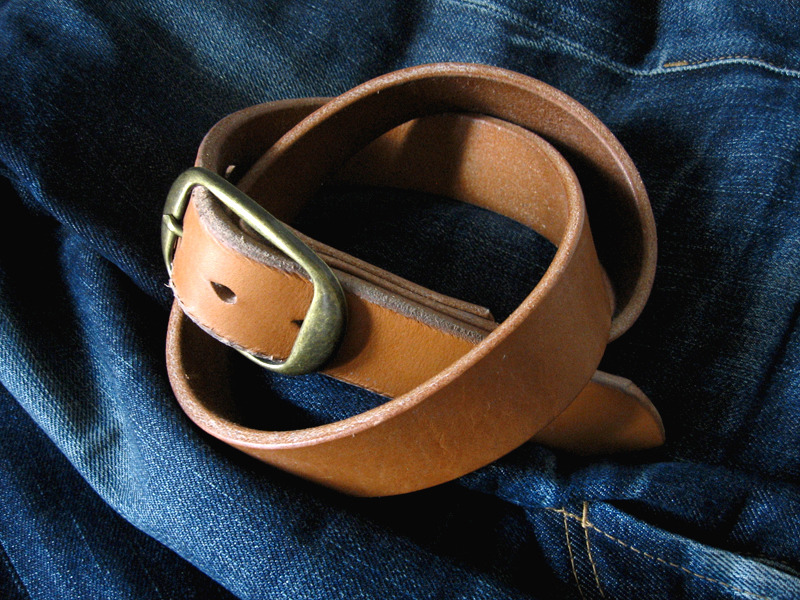 I've been wanting an undyed leather to be to wear with jeans for a while now. Something thick, heavy, and substantial, made from a material that will beautifully age with use and time. The Flat Head wallet I posted a few weeks ago is made from an undyed leather, and has gone from a pale tan to a handsome, golden honey brown. 
I finally picked one up from Don't Mourn Organize. It's a small Utah company run by a guy named Scott, who makes belts, wallets, and full-sized bags from almost every kind of leather you can think of (vegetable tanned leathers, shell cordovan, and even some exotics). Since everything is made-on-order, customizations are also usually possible. 
Saddle, Bridle, and Harness Leathers
For undyed vegetable-tanned leathers, Scott has saddle and harness. For those unfamiliar, saddle and harness, along with bridle, make up the three main types of leather used in English saddlery (the art of making leather goods for horse riding). As their names suggest, bridle leather is traditionally used for making bridle reins, harness for making horse harnesses, and saddle for making saddle seats. These are very, very robust materials – the kind of stuff that will last for decades if well taken care of.
The difference between them is simply in the "finishing." Saddle comes fairly "raw," meaning it has little oil or wax content. This makes it less pliable, feel drier in the hand, and be a bit more susceptible to water stains. Bridle, on the other hand, is very smooth and polished, and the leather itself is more compressed. Readers might be familiar with it through Swaine Adeney Brigg briefcases, Ettinger wallets, or belts from Narragansett and Equus. Lastly, harness is perhaps somewhere in the middle – it has more wax and oil content than saddle, but it retains a bit more grain that bridle.
My Belt
I went with harness for my belt because of how easy it is to maintain. I had Scott use a buckle I had laying around and shave the thickness of the leather down to 0.25". That makes it considerably more substantial than most belts you'd find on the market, but leaves it still comfortable to wear. Total cost? $65, including shipping. 
In the first photo above, you can see how my belt has aged after a week's work of use and three applications of Obenauf's Heavy Duty LP. The second photo is my belt brand new, sitting on Scott's workshop table. The third photo is one of Scott's own belts, which he's had for about a year. As you can see it's a beautiful russet brown, which I think looks terrific against a pair of broken-in raw jeans. I can't wait for mine to get as nice. 
---