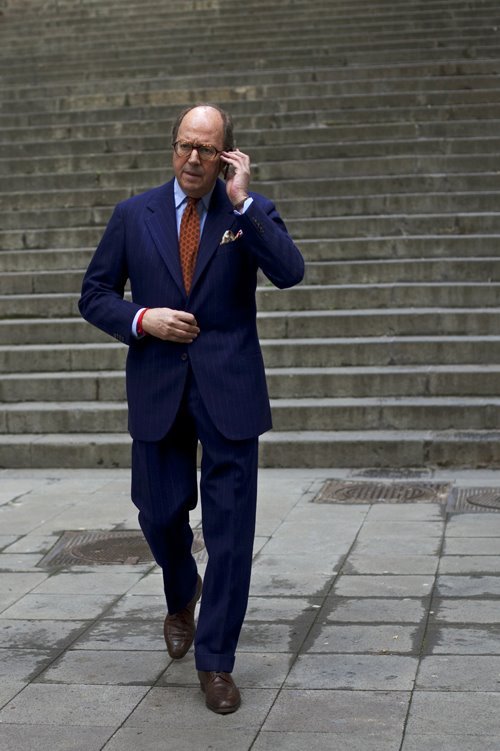 Like with ties, I find it's easy to acquire more pocket square than you need. This is true for almost any accessory, really. As I mentioned before, accessories tend to be easier to size right, are relatively more affordable, and can satisfy that urge to buy something new. Before you know it, you have dozens of ties and pocket squares, and not nearly enough sport coats or suits to justify your collection.
In my time wearing pocket squares, I've come to realize that I mostly rely on just three types. The first is clean white linen, which I like to wear with everything except tweeds. Then there are madder silks, which I find to be useful in the fall and winter months. For some reason, those are a bit hard to find (especially in soft, muted colors), but Ralph Lauren sometimes stocks them.
Then there's the third category, which I think is the most useful – squares with large, intricate designs of the kind that you'd never see in ties. The advantage of these is that you never run the risk of looking like you bought your tie and pocket square as part of a matching set (which you should never do, by the way). With a big, bold pattern – as opposed to something like pin dots – you can always be sure that your square will stand on its own, but still harmonize with whatever else you're wearing through some complementary color. Plus, if you find something with the right square, you can get a bit more versatility by simply turning the square a bit here or there to show off the colors you want. That's much hard to do if every inch of your square is essentially the same repeating pattern.
In recent years, the number of places where you can buy such squares has exploded. There are the standards, of course, in the form of Drake's and Rubinacci, both of which produce beautiful pieces. You can purchase those directly through each brand's shops, or through various online retailers such as No Man Walks Alone, A Suitable Wardrobe, Exquisite Trimmings, Malford of London, Mr. Porter, and our advertiser The Hanger Project. There are also a number of other operations worth considering:
Put This On: The first is of course our pocket square shop. Jesse finds vintage and deadstock fabrics from online sellers and thrift shops, and then has them handmade into pocket squares through a tailor in Los Angeles. That means having the edges handrolled with a nice plump edge, rather than something machined and flat.
Vanda Fine Clothing: Run by the newlywed couple Diana and Gerald, these two produce excellent high-end ties and pocket squares – all hand sewn by them in their workshop in Singapore. Recently, they came out with a series of Chinese zodiac squares, which add a bit of personalization for the wearer.
Ikire Jones: Ikire Jones is a relatively new company run by a finalist in one of Esquire's "Best Dressed Real Man" competitions. The designer, Wale Oyejide, is a bold dresser with a strong sense of color. Whether you're a conservative dresser such as myself, or more daring, I think his pocket squares are quite useful. I reviewed them here.
Christian Kimber: Christian has some refreshingly modern designs with abstracted shapes made to look like famous landmarks. At the moment, there are squares representing London, Melbourne, and Florence, but more cities will be released sometime this year.
P. Johnson Tailors: Like Christian Kimber, P. Johnson also produces designs with a slightly more modern sensibility. Their squares tend to have large swaths of color, so you might want to think about how you normally fold your square, lest you look like you're wearing something that's one solid color.
Kent Wang: Always a good source for more affordable options, Kent has printed more unique looking pocket squares in the last year. The only thing to watch out for is the size. I find that squares smaller than 15" x 15" feel a bit too insubstantial, although your taste may differ.
(Photos above by The Sartorialist, Christian Kimber, Rubinacci, Malford of London, Vanda Fine Clothing, and us)
---