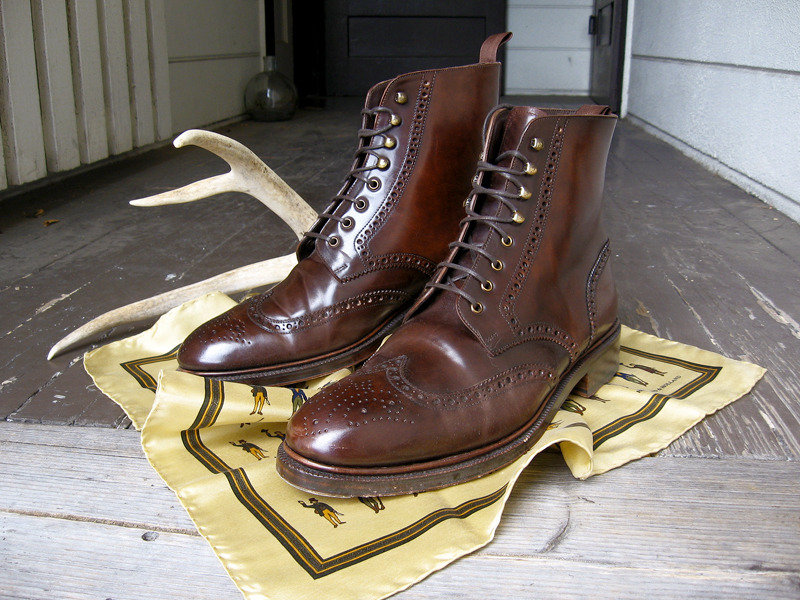 I designed a pair of shoes. Well, boots to be exact. Two years ago, I asked Meermin if they had any plans for shell cordovan wingtip boots, as I've wanted a pair for a while now. They said they didn't, but that if I were up to the task, they'd let me design one.
Who could say no to that?
As it turns out, designing shoes is incredibly difficult. Even with a straightforward style such as this one, it can take a while to get the details right. The "wings" on a wingtip, for example, have to be executed with just the right angles and curves in order to look good, and the broguing has to be done with just the right size punches in order to suit the style of the shoes. It took Meermin and me about a year and half to design these – partly because we had to coordinate our schedules, and partly because it takes a while to get prototypes from the factory, which we would then use to make design changes.
Some things did go smoothly, however. I knew that I wanted a pair of smart casual boots – something I could wear with jeans or heavy wool trousers, and pair with anything from casual outerwear to tweed sport coats. Which meant, a lot of the details for the boot came naturally. Meermin's Rui last, for example, was an obvious choice. It's shapelier than what you'd find from Alden (thus, a bit "dressier"), but not so sleek that it looks out of place with jeans. The eyelets have visible, untreated brass rings, which give the boots a slightly more casual look than blind eyelets, and the soles are made from two stacked pieces of leather, so that they'd have the visual heft to support the ruggedness of shell cordovan. Being a long time boot wearer, I also knew that speed hooks and pull-tabs were necessary. Boots are worthless when they sit in the back of the closet, and that's where they end up if they take too much time and effort to put on.
I've worn these for about six months now, and couldn't be happier with how they turned out. The shell is from Japan, rather than Chicago's Horween, but the material seems just as good as any of the other shell cordovan shoes I own. The only difference is that it has a slight mottling in its color – sort of like the antique finishes on John Lobb's antique calf, but much more subtle. I think it gives the leather a really beautiful look.
This past week, Meermin put the design in their general catalog. Those are made from Argentine shell cordovan, which I unfortunately have no experience with. There were early reports of the color on Meermin's Argentine shell lightening, but some people found the issue to go away once they applied leather conditioner. In any case, the price is about $430 once you deduct for VAT (European taxes). They're not inexpensive, but they're much more affordable than any other shell cordovan boots on the market (about half the price, depending on where you go). Like everything else I've seen from Meermin, these shoes hit just the right balance between price and quality, which is why I continue to think that the company offers some of the best value in footwear right now.
(Note, although I designed these boots, I'm not getting any commission off their sale. I did receive a discount on my purchase, however).
---