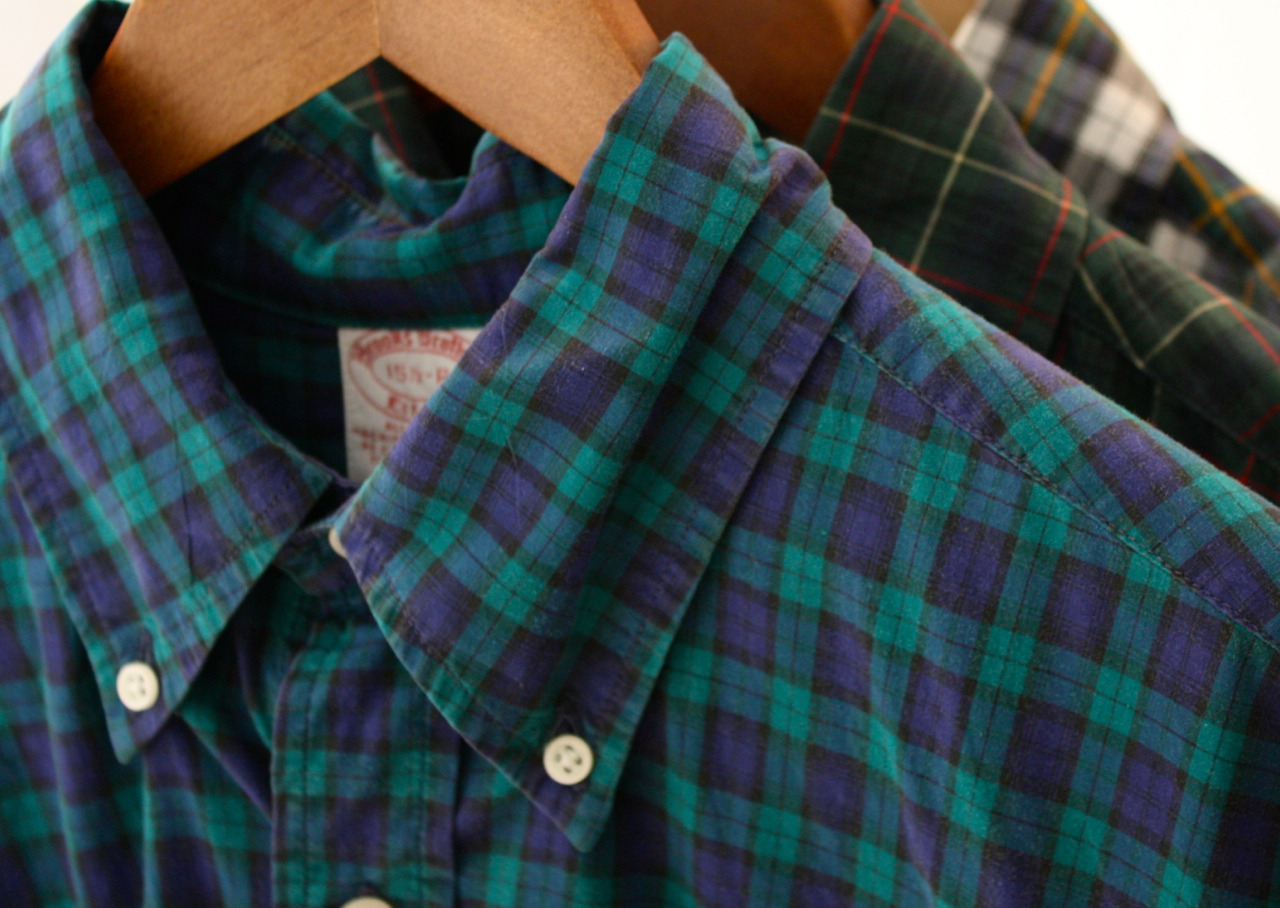 These old tartan shirts by Brooks Brothers are great examples of the kind of fall shirts that pair well with tweed jackets and corduroy sport coats. They have an autumnal sensibility where a smooth, light blue shirt might be lacking, and their bold patterns can help dress down the look of a tailored jacket. 
When you first delve into the world of tartans, you may come across some unfamiliar terminology that, at first glance, can be a bit misleading. For example, "ancient" and "modern" don't refer to the age of a pattern. Instead, "modern" just means the pattern was made in its "standard" colors, while "ancient" refers to something made in lighter tones (e.g. this Lindsay tartan in both modern and ancient variations). As you can see, the idea for "ancient" is to create something with an aged or weathered look, not too unlike how denim producers sometimes create pre-distressed jeans. For tartans, that means making the blues and greens a bit more muted, and scaling back the intensity of the yellows and reds. The effect is a plaid that looks like it has been worn for years. 
It's also common to see tartans described as either "hunting" or "dress," but again, these don't mean what you think they mean. Instead, hunting tartans are simply tartans that are based more in greens and blues, while dress tartans make more use of white. Despite the name, dress tartans are just as casual as hunting variations. See, for example, Hunting Stewart versus Dress Stewart.
This is all just background, of course. The most important thing is to find a pattern that you like. The first one you see above, set at the front, is blackwatch shirt, and can be bought this season through O'Connell's, J. Press, and our advertiser Ledbury. The one behind that looks to be either a MacKenzie or Hunting Stewart, and can be had through Ralph Lauren in modern and ancient variations. The dress tartan furthest back is a bit harder to find, but you get similar designs through Gant (in two varieties), Ralph Lauren, and Brooks Brothers. Lastly, readers who have custom shirts made might want to enquire with their tailors. They should have lots of tartan fabrics to choose from, but if not, you can acquire some through Acorn. I'm having this Hunting Stewart made up for me now through Ascot Chang, and plan to wear it this fall with brown corduroys and suede shoes.  
(Photo via Glengarry Sporting Club)
---