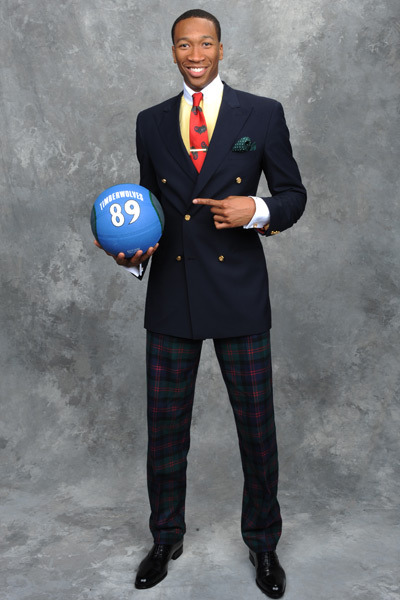 T. and our man Trey Kerby along this picture of our new favorite basketball player Wes Johnson, now of the Minnesota Timberwolves.  There are about twelve things going on in this outfit (contrast collar and cuffs, tie bar, patterned pants, yellow shirt, big pocket square, double-breasted coat) and if it were me, I would drop about four of them.  That said, outside of a slightly long pant, the fit is on-point, and it was wise to anchor the whole thing with a blue blazer.  An athlete wants to dress for attention on a big day like this, and given that classic athlete mistakes like giant tie knots, matching tie and handkerchief sets, shiny pinstripes and colored shoes are blessedly absent, we'll let the over-enthusiasm slide.  For a 22-year-old with no need for new ways to impress the ladies, this is another impressive outing.
One note: if you're 6' 7", 205 pounds, you can wear as many pairs of patterned pants as you want.  You do not have to worry about looking fat.
OK, two notes: how horrible do those early 90s uniform redesigns (and their descendants) look right about now?  That Timberwolves logo is surpassed only by the Colorado Rockies and Florida Marlins.  Navy blue… white… red… letters… animals.  Keep it classy, sports marketers.
---