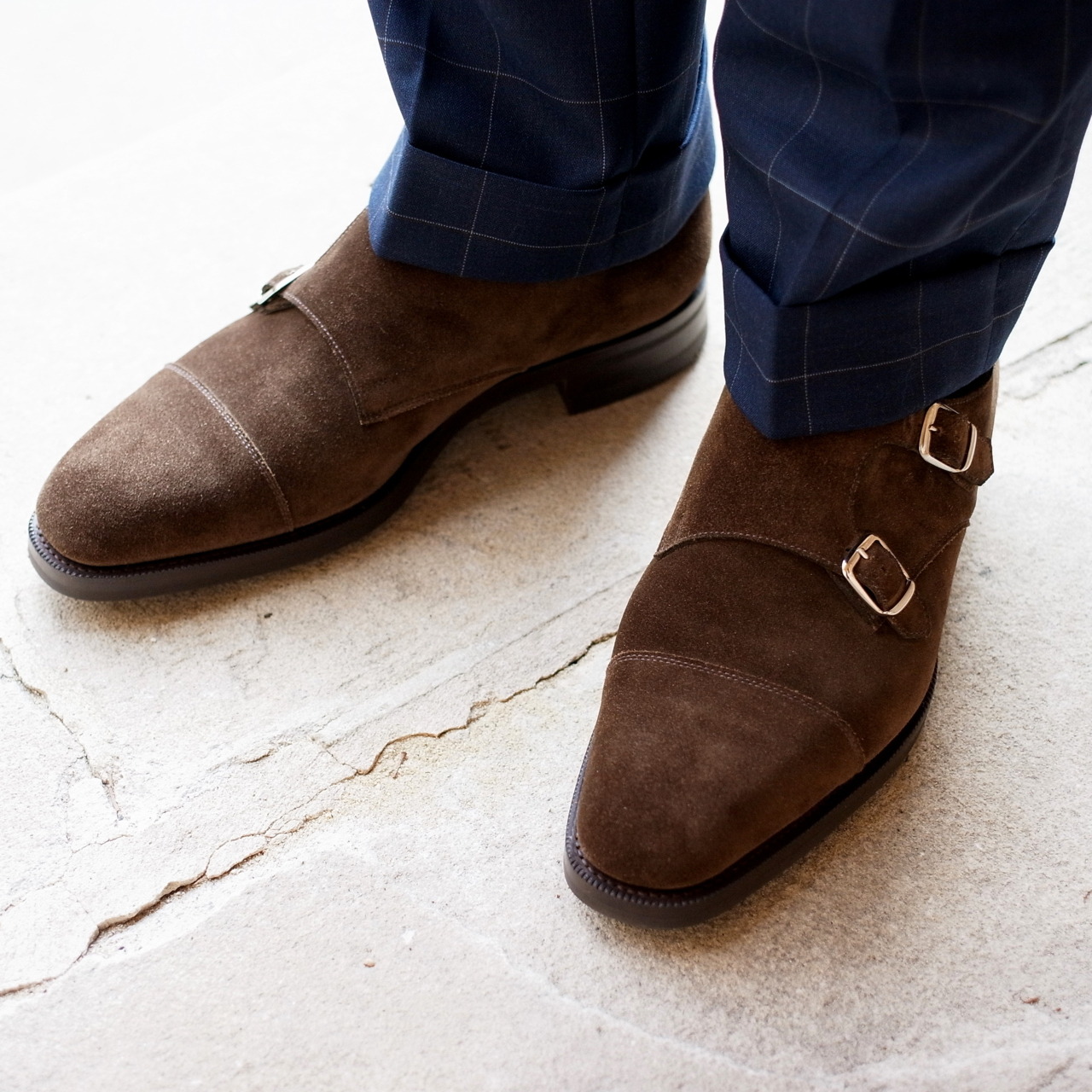 I'm a huge fan of suede shoes and wear them more or less year-round. The word "suede" comes from the French word "Suède," which simply means Sweden. At one point, Swedish suede gloves were the most common form of luxury, and the French word for Sweden ended up being used for the leather itself.
Suede can be made from almost any leather. You often find it made from lambskin, goatskin, and calfskin. In Germany they make it from stag and in Louisiana, there's a producer that makes alligator suede. To get the texture, the animal's skin is buffed with an abrasive. This can be done to the grain side of the leather, which will give you a finer, more velvety texture, or on the flesh side, which will give you a slightly coarser feel. Each animal will produce a slightly different feel to the suede, however, so the variation isn't just through top vs. flesh side usage.
I personally prefer finer, velvety suede. To examine the quality, I examine to see if the fibers of the nap are uniform in length and packed tightly together. If the nap is firm, dense, and compact, the suede will be a bit more resilient. I eschew suedes with longer naps, as I find that they get a bit ragged and develop bald spots over time. I also avoid any suede that feels a bit greasy.
Since it's fall, I suggest that you try suede shoes with wool flannel, corduroy, and moleskin trousers. Those tend to have "softer" looking textures, and I think they look quite well next to suede. The above are just some of the options – oxfords, Norwegian split toe bluchers, chukka boots, field boots, double monks, and tassel loafers. I myself just ordered a pair of Crockett & Jones Belgraves in Polo suede from Pediwear and plan to wear it often on weekends. In being an oxford, this shoe is a bit dressy; in being made from suede, however, it's also a bit casual. They're the perfect way to look sharp in a non-business, casual setting, I think.
(Pictures above by MostExerent, Ethan Desu, Leffot, and Run of the Mill)
---