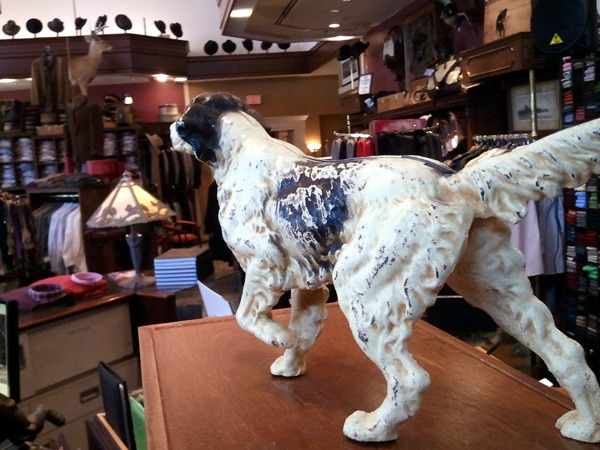 I had a few free hours on a recent business trip to the Twin Cities, and I decided to hop a bus from downtown Minneapolis to downtown St. Paul so I could visit a shop I'd heard about from many Minnesotan readers – Heimie's Haberdashery.
The shop is owned by the great-grandson of its founder (yes, his name was Heimie), and it operated continuously in St. Paul for about about 70 years before closing for a stretch of about a dozen years around the 1990s. Seven years ago, the current owner, who was successfully operating a store that sells local art, decided to resurrect the family business, and Heimie's was reborn.
While I shopped, Cab Calloway was playing on the overhead speakers, and the friendly staff was a mix of the sort of middle-aged gentlemen you might expect to be working at a well-established regional men's store and younger guys with loosely tied bows and novelty moustaches. The aesthetic of the place is self-consciously classic (it even houses a barbershop in the back), but it feels lived-in, not like a theme-park.
The merchandise was distinctly midwestern. Outdoors influence was everywhere, and there were plenty of great-looking clothes for hunting and field wear. Suits were in conservative cuts, and were of fair quality, at very reasonable prices. A local hockey player was shopping for a suit (everyone congratulate him on a good game the previous night), and he didn't have to worry about fitting his sizable shoulders into their tailored offerings. There were some very nice accessories – I liked those by the British maker Seaward & Stern – and shoes by Johnston & Murphy and Allen Edmonds. They seemed to be doing a great business in wedding rentals, as well.
Probably the most interesting offering was the store's self-branded luggage. They offer a full range, with a distinctly field-and-stream aesthetic that fits with the locale. They're good-looking, locally-made and priced comparably to competitors like Filson.
I didn't go home with anything, but it's nice to spend some time in a business like Heimie's, offering a locally-focused product with a friendly face and a sophisticated atmosphere. Thanks for the recommendation, Minnesotans!
---