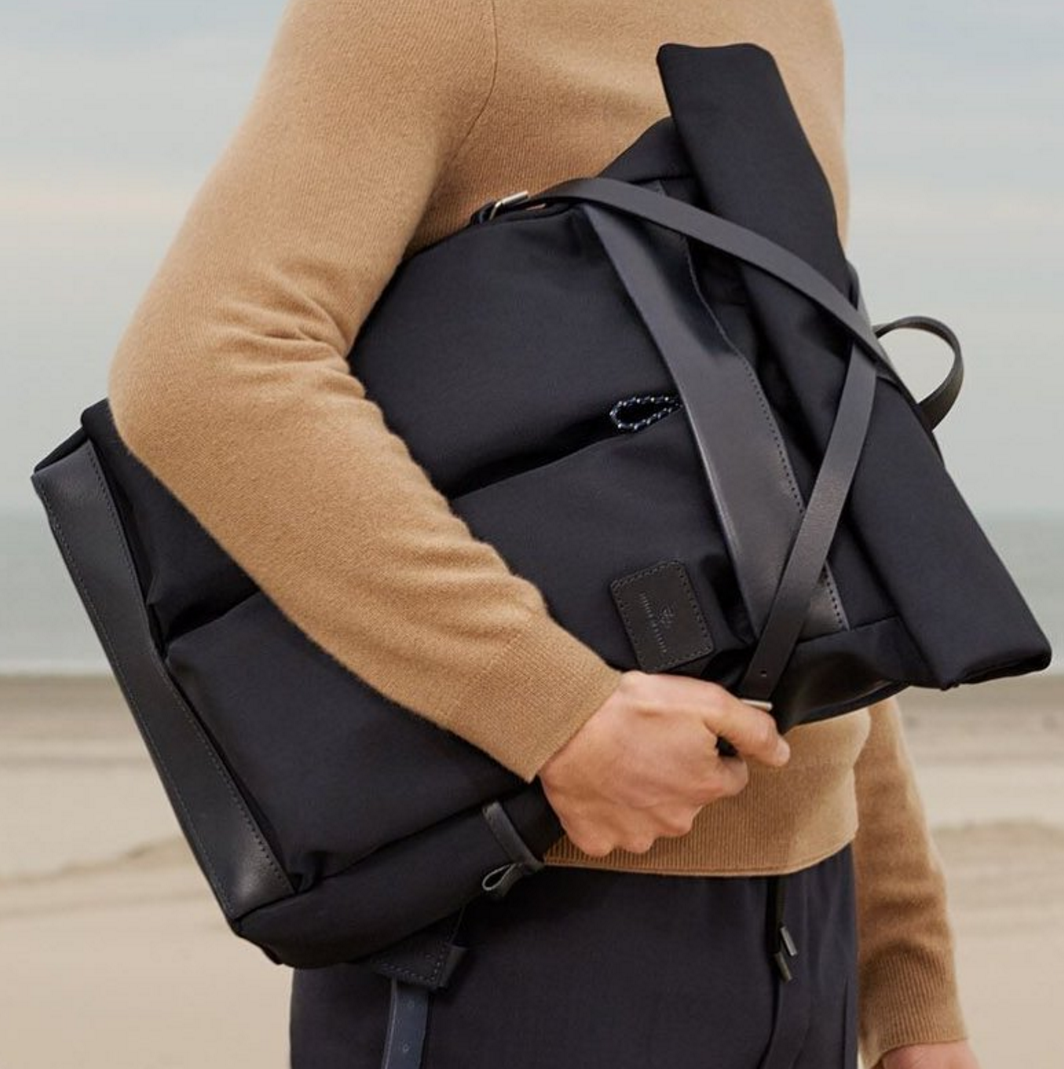 I try not to get baited into buying something just because it's 70% off, but there are some really good deals this time of year. A few sales I think are particularly great right now:
Atelier de l'Armee: This relatively new bag company takes inspiration from classic workwear designs, but updates the items in a way that makes them feel better suited for offices, rather than job sites. Their "worker briefcase" features a smooth leather body and rolltop closure – putting it somewhere between a traditional briefcase and the more casual Filson 256. I also like their totes, which are modeled after helmet bags, and most of all, the backpacks. If you're looking for something a bit better looking than your basic Jansport, those Flight Packs would go great with almost any kind of non-tailored outfit. 
At the moment, they're having a sale on their site, which includes smaller items such as coin cases and laptop sleeves. You can also find their bigger, more popular items at East Dane. Take an extra 25% off already discounted prices with the checkout code WIN17. That brings the navy Flight Pack you see above down to $215.
Drake's of London: One of my favorite menswear brands. The company is mostly known for their ties, scarves, and pocket squares. In the last couple of years, however, they've filled out and become a full menswear label – carrying everything from soft shouldered, Italian sport coats to Scottish knitwear to a new line of British-made raw-denim jeans. Prices tend to be on the high side, but I've never been unhappy with a Drake's purchase. 
They're also having a sale right now, where you can get 30% off select items. Readers located outside of the EU can also expect another 20% off at checkout for not having to pay European taxes. 
The ties are an obvious highlight, as that's what Drake's is most known for, but I also dig the textured knitwear, printed pocket squares (many of which feature remixed versions of Drake's archival designs), and lightweight spring scarves. There's a pretty small window in the year when you can wear a spring scarf, but doing so can be a great way to make a basic outfit more stylish. I particularly like how the earthy colors on this one complements brown jackets. I bought one earlier this season and like to wear it with a brown suede bomber I picked up from Stoffa. 
Three other great spots for Drake's stuff on sale: East Dane (again 25% off with the code WIN17), Barney's, and No Man Walks Alone. 
Century 21: Finally, Century 21 has some stuff from Engineered Garments on deep discount (hat tip to A Fine Tooth Comb for finding the sale). Engineered Garments, for those unfamiliar, is a Japanese label that remixes classic Americana and workwear in slightly quirky ways. Field jackets have slightly odd pockets; work shirts have band collars. The styles aren't for everyone, but they're also not terribly hard to wear. Of all the slightly off-beat workwear brands out there, Engineered Garments may be one of the most easy to incorporate into an everyday wardrobe. (Just ignore Century 21′s awful styling and browse Instagram accounts such as Cotton Dockers and Gezzaseyes instead). 
Some of the notable items in the sale: basic chambray work shirt, olive cotton field jacket, navy utility jacket, white band collar shirt, slim fit fatigues (although I prefer fuller cuts from Earl's Apparel these days), and EG's ever popular Bedford jacket. You can see our writer Pete wear the knitted version here. 
---