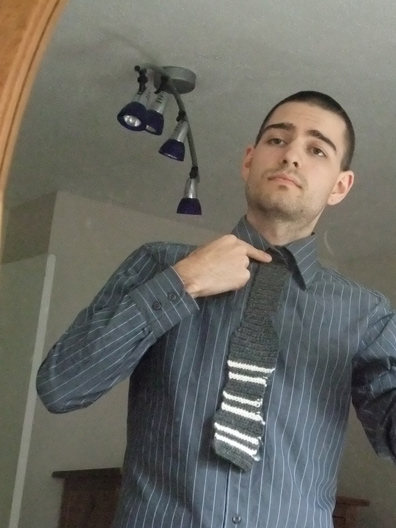 So on Friday we announced that we'd give away a circa 1940s tie crocheting kit to whoever convinced us that they would actually crochet the tie therein.  We got a lot of entries.  This is a men's style blog, so while it was great to get entries from ladies, I gave extra points to dudes (degree of difficulty, likelyhood to wear resultant tie).  It was really tough to eliminate the lady who knit her own David Bowie jumpsuit and sent in a picture of her wearing it, but sometimes you just have to decide.  This dude definitely had the coolest knitting-related website, so he got points for that.  The ultimate winner, though, was Chris, who wrote:
I wanted to prove to you that I was the man who could complete the crochet ties you're offering. I wanted it bad. I decided if I could crochet a tie today, I would be able to demonstrate that I was capable of handling the kit. I tried, gentlemen, I really did. Unfortunately, I had no kit to start from, and not a whole lot of instruction either.  You can see the results, attached. It's a sad tie I made and I feel pretty bad. I think, though, with the right pattern and the right kit, I feel I could redeem myself. What do you say, fellows? Give me a chance?
His picture is above.  CHRIS WINS.

---