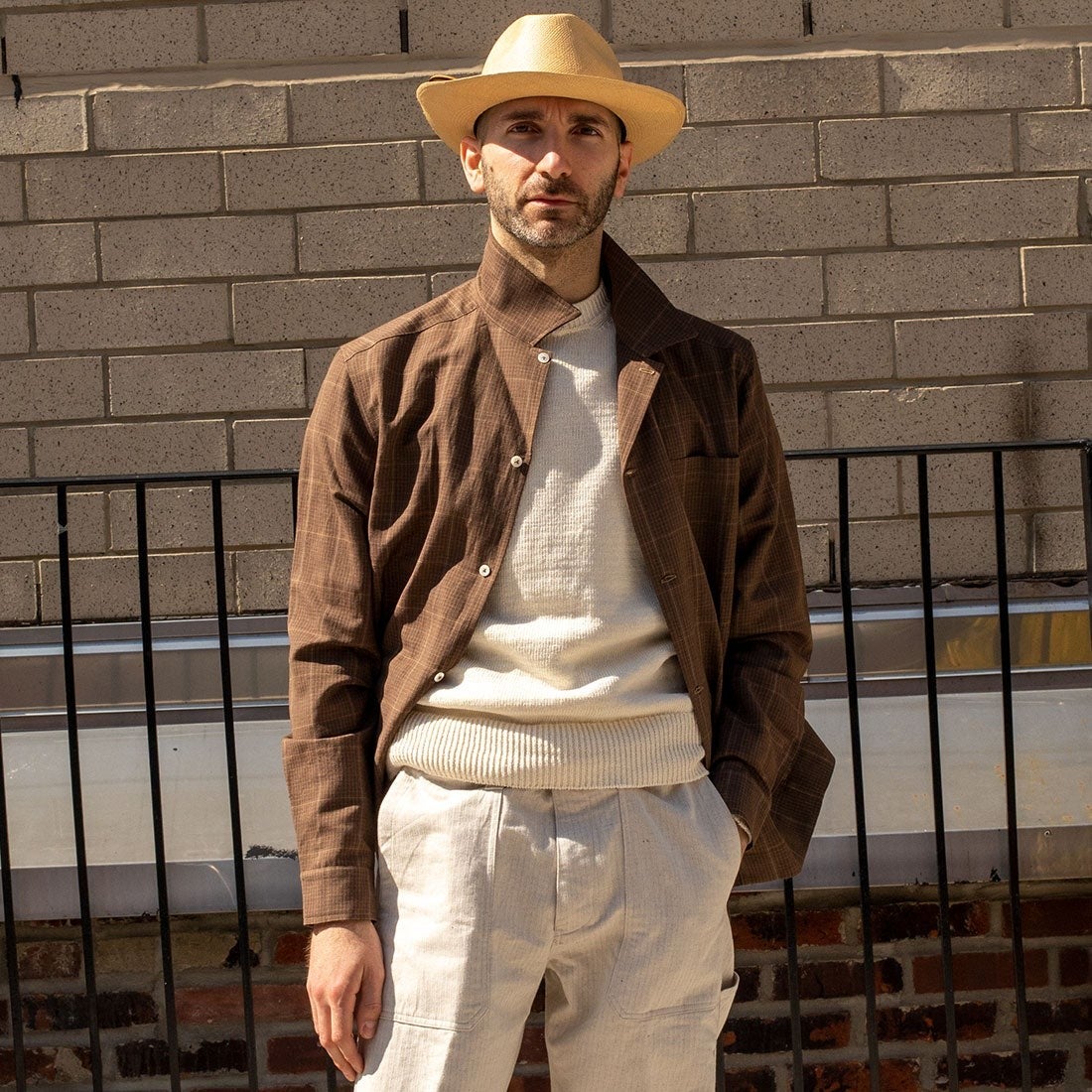 As we head into the middle of summer, stores are starting to clear their shelves and make way for fall arrivals. As such, they're also holding some deep sales. From tailored clothing to casualwear to even a great deal on a suede tote, here are six sale sections that I think are notable.
No Man Walks Alone: Up to 30% Off
No Man Walks Alone just launched their spring sale, where you can find select items discounted by as much as 30%. Included are this season's Camoshita and Doppiaa terrycloth polos, which look great with shorts and simple, slip-on shoes. To the degree that you can wear a jacket in the summer, this Doppiaa field jacket, Valstar jungle jacket, De Bonne Facture "painter's jacket" (pictured above), and Camoshita lyocell jacket will help finish a look. Come autumn, a suede Valstarino can look great with chinos, jeans, and tailored trousers (Simon Crompton features some good looks with this jacket on his site). Wythe's fishing tote would also make for a good market bag — something you can use to carry groceries, packages, and other small items for quick errands.
For something a little more tailored, Rota's trousers and G. Inglese's shirts are among the best values in their category. They're not cheap, even when on sale. But Rota's trousers have a rare slim leg line paired with a respectable mid-rise (sometimes bordering on a higher rise). They also have generous inlays that allow for easier alterations. As a color, this brownish shade of grey goes better with dark brown jackets than your usual steel grays (although, the second is more versatile). The Italian shirtmaker G. Inglese also has a knack for making handsome collars. For some reason, I haven't been able to get my regular shirtmaker to replicate it. There's something about their lining and cut that just results in very attractive shapes.
J. Peterman: Americana and Adventure Gear on Sale
Despite the company's solid reputation, I've always dismissed J. Peterman as a charming footnote about catalog clothiers and Seinfeld. But since I'm on their email list, I get their notifications about new products. A few months ago, I was surprised to see them advertise a handsome fishing jacket they call their Freestone. From what I can tell, the Freestone is an authentic fishing jacket. Made with dozens of flappy pockets and a short body, it's designed to get you in and out of a stream. But it also looks like something you might find at Engineered Garments or Kaptain Sunshine, two Japanese labels known for remixing Americana and outdoorsy gear. I think it would look great with raw denim jeans, a chunky Aran, and some work boots. It's also on sale for $248.
The company has some other great deals right now. Some pieces are on sale, while others are not, but all of them fall into that mid-range price tier that seems to be rapidly shrinking nowadays. Notables include the Mackinaw field coat ($169), sateen flight pants ($128), cabana and batik shirts (both $78), corduroy Western shirts ($109), Norwegian sweaters ($114), retro-styled knits ($98), belted motorcycle jacket ($274), mountain parka ($144), and naval chambray ($94). This gray topcoat ($449) looks like it might be too slim and short, but you may be able to size up for a fuller fit since it has raglan sleeves. My favorite pieces include the British SBS Canoe smock ($368) and RAF Mountain Rescue parka ($598), but they're not on sale at the moment.
Division Road: Up to 60% Off Select Items
Division Road is moving from Seattle, Washington to Charlottesville, Virginia. To save themselves some freight costs, they're rolling their end-of-season sale, archive sale, and moving sale all into one big promotion. At the moment, you can find select items discounted by as much as 60%.
Included are some things that rarely see deep discounts, such as Iron Heart's shirts (size up) and Viberg boots. Viberg's service boots are modeled after something US troops wore in the Second World War. They're to workwear what boat shoes are to prep, which is to say they go with everything. These snuff suede service boots can be worn with blue jeans, black jeans, and olive fatigues. Being that they have a studded Dainite sole, you can also treat them with a suede waterproofer and use these as rain boots. Viberg's boots are made with a stitchdown construction, which means water won't seep into the welt, like they can with Goodyear welted shoes.
Division Road's sale section also has some basics, such as Gitman shirts starting at $80 and raw denim jeans for $100. Among the outerwear, you can find waxed cotton trucker jackets from the Native American-owned brand Ginew, De Bonne Facture's Grandad coat, and some workwear jackets from the South Korean label Eastlogue. I really like this Gloverall duffle coat, which is longer and more traditional fitting than some of Gloverall's "contemporary" models. Simon at Permanent Style has good photos of it being worn.
Sid Mashburn: 50% Off Select Items
Sid Mashburn's five-pocket pants are a great alternative to blue jeans and tan chinos. They sit in that narrow space between the slimness of J. Crew and the dad-style of Ben Silver. The only problem is the sizing (as outlined in this post). But you can always call one of their stores and have a sales rep measure a pair of pants for you.
This morning, Sid Mashburn deepened their sale, dropping prices to 50%. Included are a bunch of their five-pocket pants in handsome colors and materials, such as tan moleskin, chocolate corduroy, and gray canvas. Note, there are two models on there — a new cut and an old cut — which fit slightly differently. I've only tried the new cut and recommend going up two sizes in the waist. You might also want to check out the shoe section, where you can find discounted chukkas, moccasins, ropers, and white sneakers.
Vanson: Suede Tote for $126
Vanson is one of the last American manufacturers of leather jackets. They're located in Fall River, Massachusetts, just a couple of miles away from Frank Clegg Leatherworks. While they've made jackets for fashion brands such as Junya Watanabe and Eidos, they primarily specialize in outerwear designed for actual motorcycle riders. They're similar to Schott, in some regards. They offer tough-as-nails construction for a very reasonable price (jackets are often around $650). And while much of their work is focused on durability, they're also carried by stores that value function and style.
I recently noticed that they also make bags, including this suede leather tote. This is a simple, unlined bag with double-stitched and riveted handles (probably as tough as their jackets). To be sure, there are some obvious downsides to using a suede tote: it's heavier than canvas and will pick up dirt marks easily. And unlike cotton canvas totes, this isn't something you can throw into the wash. However, I like how it looks with workwear and Americana styled outfits. Kentaro in Japan has a bunch of inspiring fits on Instagram. The tote is currently on sale at 15% off, making it just $126.
Marrkt: Viberg Archive Sale and Generally Good Things
The British menswear shop Marrkt doesn't really hold sales. They're an online discount site for deadstock, sample pieces, and second-hand goods. Sometimes they do price drops on things that have been hanging around their site for too long, but the prices are mostly consistent because they're already heavily marked down from retail.
Every season, I check in with them because they carry some of my favorite brands, such as RRL, Nigel Cabourn, Drake's, Engineered Garments, and Edward Green. The styles here tend to lean heavily toward workwear, but they have dressier labels, too (Simon at Permanent Style sometimes offloads his clothes here). I recently scored a Drake's Balmacaan coat here for just $450. I suspect it's a sample piece.
The whole site is worth browsing. They have RM Williams Gardner boots ($248), Drake's viscose scarves ($57), Barbour Bedale ($198 and better with the patina), Boncura flannel ($90), Burrows Donegal sweater ($85), Stevenson ranch jacket ($283), Kapital ring coat ($248), and Kanata Cowichan ($142). The company is also holding an archive sale with Viberg, where you can find work boots discounted by about 40%. The only catch: while Marrkt technical accepts returns, I find that shipping things back to York to be kind of a hassle if you're based in the United States. International shipping right now is a pain, so you may want to consider things here final sale.
---