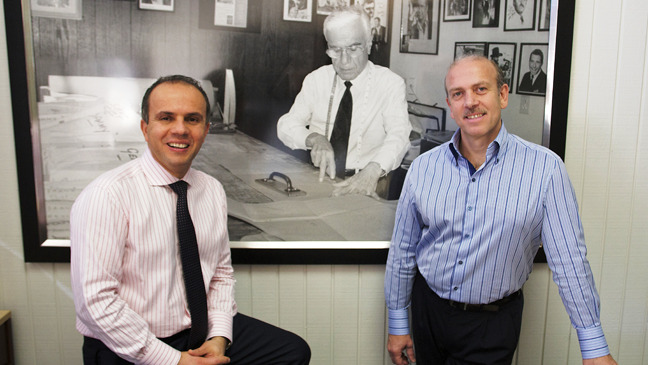 When out trying on different button-up shirts, do something you may not have considered: sit down in your shirt before buying. Since slim is in, many (fashionably aware) men these days have overcompensated by buying slimmer and slimmer garments. The result is a shirt that might looks like it fits well when they're standing in front of a mirror, but as soon as they sit down, the placket will gape and the buttons will strain as their stomachs push out.
A well fitting shirt should have relatively clean lines no matter what position your body is in. See the two men above from custom shirt maker Anto as examples. The one on the left has a shirt that's slim enough to be flattering, but also comfortable enough to accommodate his body while he's seated. Naturally, a shirt may feel tighter in the midsection if you slouch, but if you're sitting up reasonably straight, the lines should remain fairly clean.
Other things you may want to check:
Armholes:

 

Move your arms around to make sure you can reasonably lift them up without untucking your shirt. If you can't, the armholes may be too low.
Collar:

Manufacturers typically built in shrinkage, so it's fine if your collar is a bit looser in the store. Generally, however, you want to be able to slip just your index finger between your collar and neck after a few washes.

Collar points:

The collar points should be long enough so that they're still touching the body of your shirt when you have a tie on. And though it's a matter of preference, I think they should also be cut in a way so that the points remain tucked behind your sport coat when you're wearing a jacket.

 

Sleeves:

Again, manufacturers build in shrinkage, but generally speaking, after a few washes, your sleeves should come down to the webbing between your thumb and index finger when your cuffs are unbuttoned. When buttoned, they should sit just below your wrists. This way, you have enough material for your cuffs to stay still (rather than ride up your arm) when you extend your arms. If you're able to get the first but not the second, a simple fix may be to just move the cuff button, thus making the cuff a bit tighter. You can

do this at home

quite easily. 
---