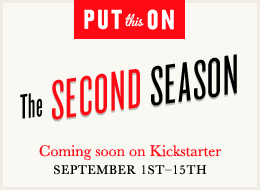 Since we completed our first season, folks have been begging us for a chance to fund a second season. We'll be asking for your help, starting on Thursday.
Our goal is ambitious: we're going to be traveling abroad this year, and hiring local crew to assist. We're going to pay a producer to do producer stuff. In other words, we're going to do it right. We're also going to do it consistently. Added staff will allow us to avoid the long waits between episodes in season one.
We want to do a professional production, supported by you, the viewer. If you love our show, or if our show has touched your life, I hope you'll pay for more.
Put This On Season Two: the Kickstarter begins September 1st.
---