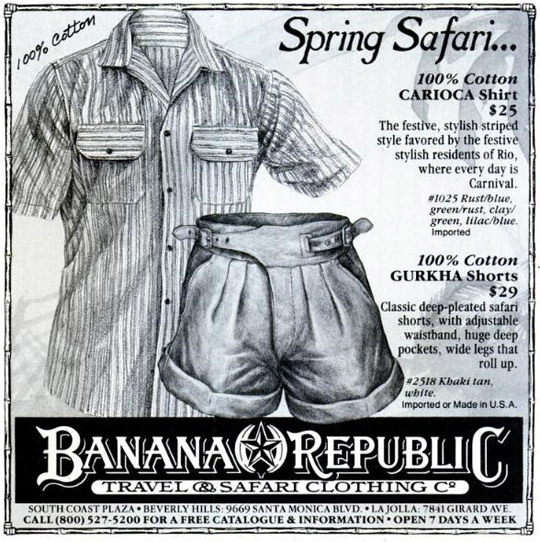 Since I moved to Los Angeles from San Francisco, I've had to adjust to the idea of wearing shorts during the hottest months of the year. I get horrible migraine headaches, weather's a big trigger, so when it's over 85 or 90, it's all shortpants, all the time.
As I've come to accept, if not embrace the situation, I've tried a lot of shorts. The height-of-summer outfit I keep coming back to is one that's as at home in the 1930s as it is today. Ghurka shorts, linen shirt and espadrilles.
Ghurka shorts, like khaki pants, have a military heritage. They're distinguished by their self-belting waist, which was purportedly designed to allow soldiers to tighten their trou as they lost weight in the field. They were originally worn by the British military, but they became a surplus staple, not unlike WWII's chinos.
When the supply of WWII surplus dried up in the 60s and 70s, they faded away, only to return in the 1980s. Above, an advertisement for the old pre-Gap Banana Republic that celebrates their field heritage.
Nowadays they're tough to find and rarely seen, but they still cut a flattering, relaxed, elegant figure when they are spotted. My pair is by Bill's Khakis, though they no longer offer the style (and I had to remove a cargo pocket with a seam ripper). I just snagged a second pair, by J. Peterman, off of eBay. Bonus points go to What Price Glory, the UK military recreationists, for their reasonably price (less than forty bucks) and their authentic forward pleats.
They're best worn with a shirt tucked in and casual footwear. No need for the kneesocks that British forces wore with their desert boots. If things get hot, roll the hem up a bit. It adds panache.
(Tip of the hat to (and further reading from) Maximinimus, To The Manner Born, The Selvage Yard & Mister Crew)
---