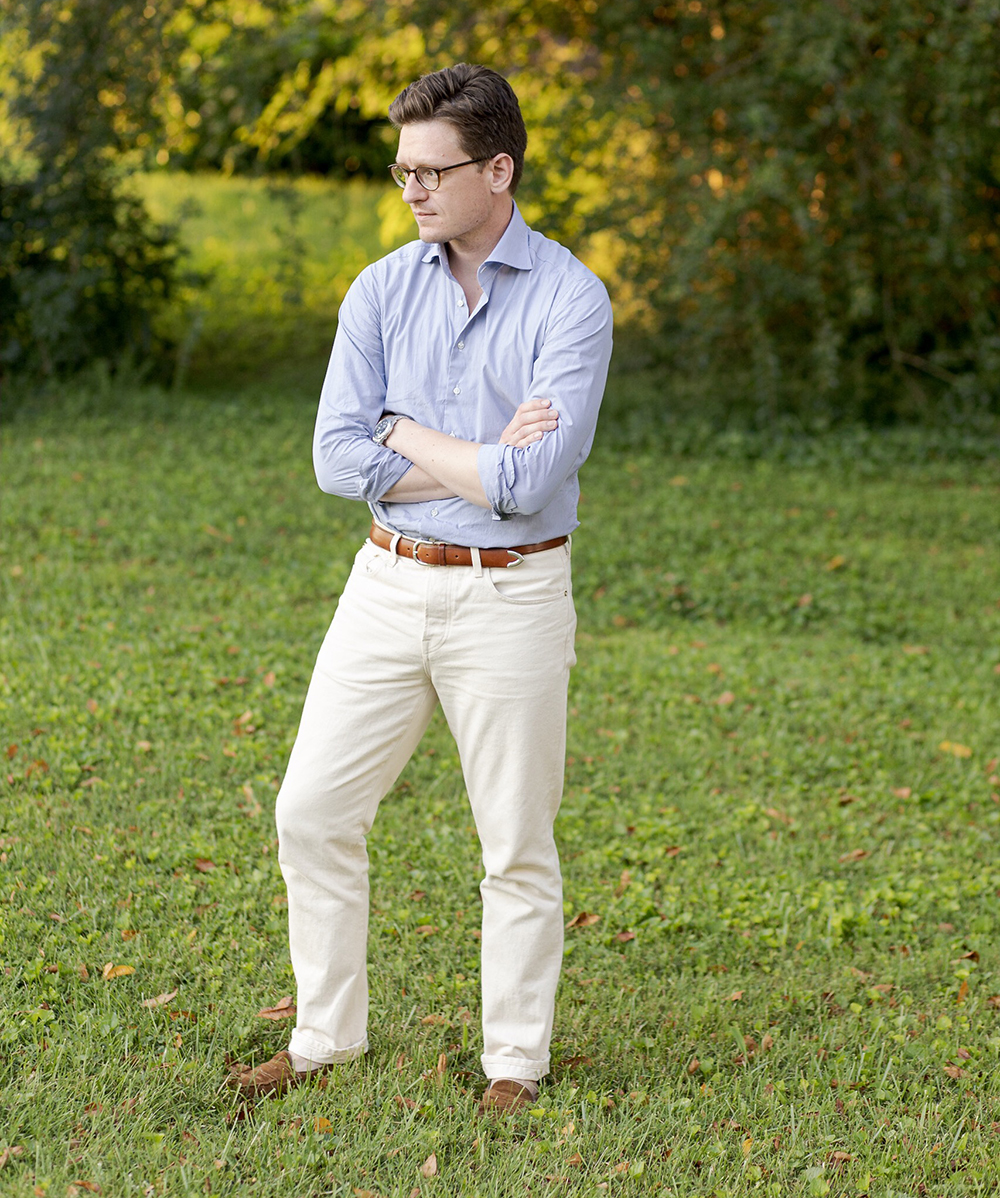 While in lockdown, I've been trying to wear something other than blue jeans and grey flannel trousers. Blue jeans get old after a while, and tailored trousers feel too precious for long afternoon naps on the couch. So I've been resorting to other things in my wardrobe: a pair of knitted "Agy" pants from Eidos, white double-knee painter pants, OG-107 fatigues, tan workwear chinos, and most of all, five-pocket pants in materials other than blue denim.
The term "five-pocket" refers to a pant silhouette modeled after traditional blue jeans (although the initial blue jean only had four pockets, as Levi's produced theirs with just one back pocket until 1901). Since these pants are typically made from sturdy materials such as denim, cord, and moleskin, they feel tough enough for long days of doing nothing at home. They're machine washable and don't need to be pressed. They pair easily with oxford button-downs, Shetland sweaters, shawl collar cardigans, and tees. Most of all, for guys who enjoy wearing clothes, they give you something different to wear when your wardrobe has been mostly reduced to just simple tops and bottoms.
Sid Mashburn makes tremendously good five-pocket pants. The style is very much in the company's wheelhouse: classic all-American clothing that feels like an updated version of prep. They're like a boutique version of J. Crew, where company founder Sid got his start in the clothing trade back in 1985.
The cut on these pants is slim but not skinny, and they have a flattering waist size and rise for aging guys like me. In some of Sid Mashburn's product photos, you may get the impression that these fit slimmer than they do. They are slim, but not nearly as unforgiving as five-pocket pants at hip high-street shops or Italian menswear stores. They're not even as slim as what you'd find at Ralph Lauren or J. Crew. I think the cut and silhouette are better represented on Mitchell Moss of Menswear Musings, pictured above. 
The company has them in what feels like every material and color in the world: denim, canvas, corduroy, and moleskin in yarn-dyed and garment-dyed varities. Like Mitchell, I like their natural colored denim the best. The color on their website looks brighter and whiter than in real life. In actuality, the jeans are closer to an ecru (Mitchell's photos are a better representation). These are just about the easiest to wear white jeans on the market, as they're not so bright as to be blinding, and not so tight as to be constricting. You can wear them with preppy staples such as OCBDs and Shetlands, with topcoats and a black knit as a baselayer, or with workwear items such as olive bomber jackets. For guys who like to wear denim with sport coats, white jeans are also a slightly dressier version of their blue counterparts, which helps bridge the divide between workwear and tailored clothing.
I also like Sid's five-pocket cords. Dusty greys and charcoal work surprisingly well with workwear items such as Western denim shirts and Lee's trucker jackets; tan is more versatile. Moss-colored canvas and moleskins can be worn like olive fatigues. I've been eyeing these chocolate brown cords in two shades. Both are on sale right now for just $75. The construction quality on all these is respectable — the seams are neatly finished, the pocket bags made from a charming oxford shirting (very on-brand), and they use very solid feeling hardware. If you're a stickler for details, I suppose you can complain that the buttons aren't backed with leather, as you might find on some pants (especially denim), and the brass washer rivets are unadorned (no stamped detailing). With some exceptions, Sid Mashburn also doesn't use selvedge fabrics. But the fit and styling are on-point and the prices are reasonable. 
There is a catch (there's always a catch). Sid's sizing can be a bit confusing, such that you have to size up. If you see five-pocket pants labeled as a 32, that often means that the actual waist measures 32″, not that it's meant for someone with a size 32 waist. If you usually wear a size 32, take a size 34 in Sid Mashburn's five-pocket pants. If you're unsure, you can always call one of their stores and have a sales rep measure a pair of pants for you. Their customer service is excellent. 
At the moment, there's a small selection of styles on sale at 50% off. This is the company's first round of price cuts, which means things are returnable if they don't work out. If you use their self-return label, they will deduct $10 from your refund. Once things get down to 70% off or so, things are final sale.
---