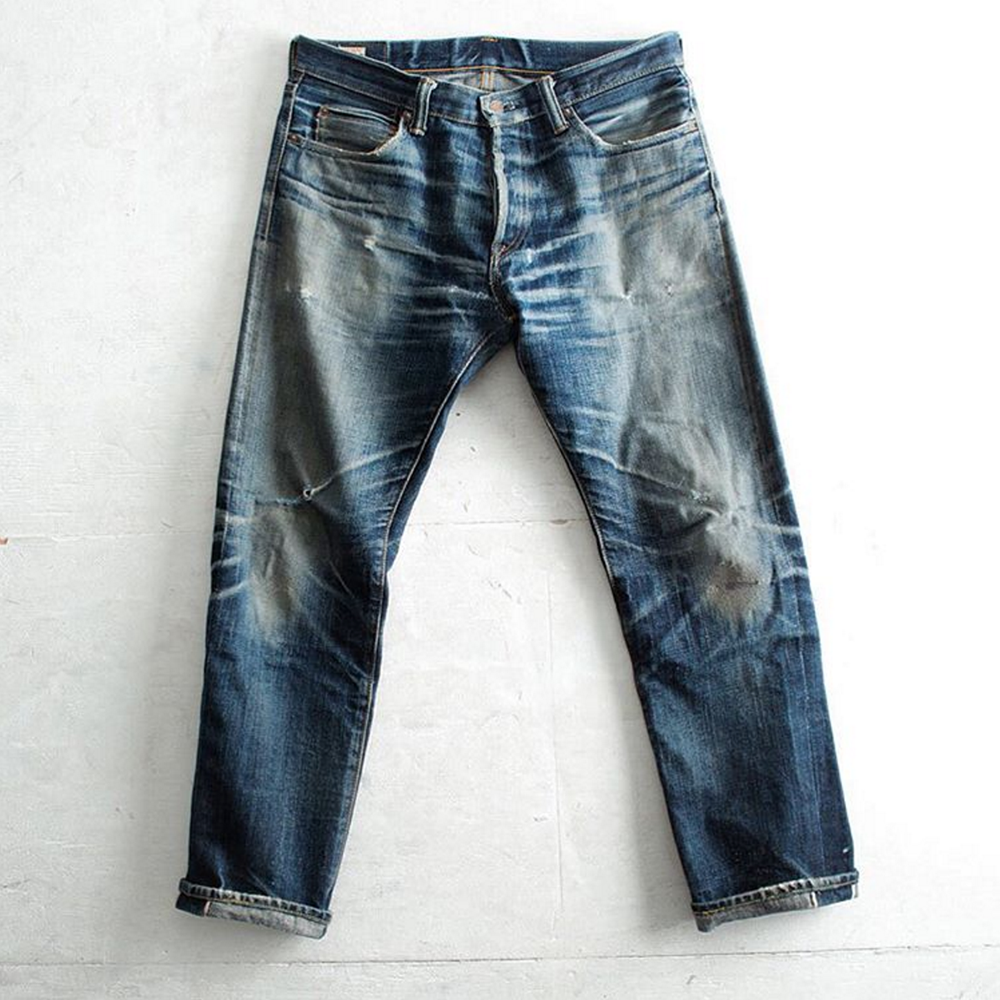 Ever since the raw denim revival has blown up in the US, dozens of specialty repair shops have cropped up to help people preserve their favorite pair of jeans. Denim is a hardy fabric, but – when worn day-in, day-out – even the best-made jeans will start wearing thin. I personally get my repairs done through Denim Therapy, although Pete has had pretty good experiences with Denim Surgeon. 
Most repair places use a process known as darning – where threads are essentially sewn across a damaged area in order to create new material. It's not only a sturdy way to repair jeans, but also nearly invisible. 
Context Clothing over in Wisconsin, however, recently launched First Settlement District Repair (named so because their shop is located in the First Settlement District of Madison). Their repair method: rough and patchwork-y for people who like to show their jeans' age. The style is somewhat of a mix of how they got started repairing jeans in the first place and the shop's appreciation for workwear brands such as Kapital (who are known for their patchworked ready-to-wear clothes). 
"We actually started our repair service in 2006," says Context co-founder Ryan Huber. "Back then, my business partner Sam had his mom repair some jeans for his daughter, who was two years old at the time. Kids really run through clothes, and after a few repair jobs, they were essentially at the end of their life – so we hung the jeans up in our store for display. People really liked the rough, patchwork style and soon asked if we could repair stuff for them. It's gotten to be a bigger service, so we decided to make it it's own thing through FSD Repair." 
FSD Repair essentially backs holes with new raw denim and ticking – a tightly woven, utility fabric that's sometimes used to cover mattresses. The two are then roughly stitched together with a sewing machine. "On certain places, such as the knees, we'll pucker the fabric a bit to give a bit of fullness," says Ryan. "That way, you can bend your legs without stressing the fabric surrounding the patch." 
Context charges about $50 on average for their repair service. With shipping both ways, it might be a bit expensive for readers outside of Madison, although they'll happily accept mail-ins (just contact the store). For something more affordable, you can also check with your local tailor, who may be able to do similar work. I've been sending my jeans to specialty repair shops for years – as they have the equipment and expertise necessary for more invisible repairs – but the photos above make a good case for not being too precious with what's essentially workwear clothes. See Jesse's old LVC jeans for more inspiration. 
(photos via FSD Repair's Instagram)
---