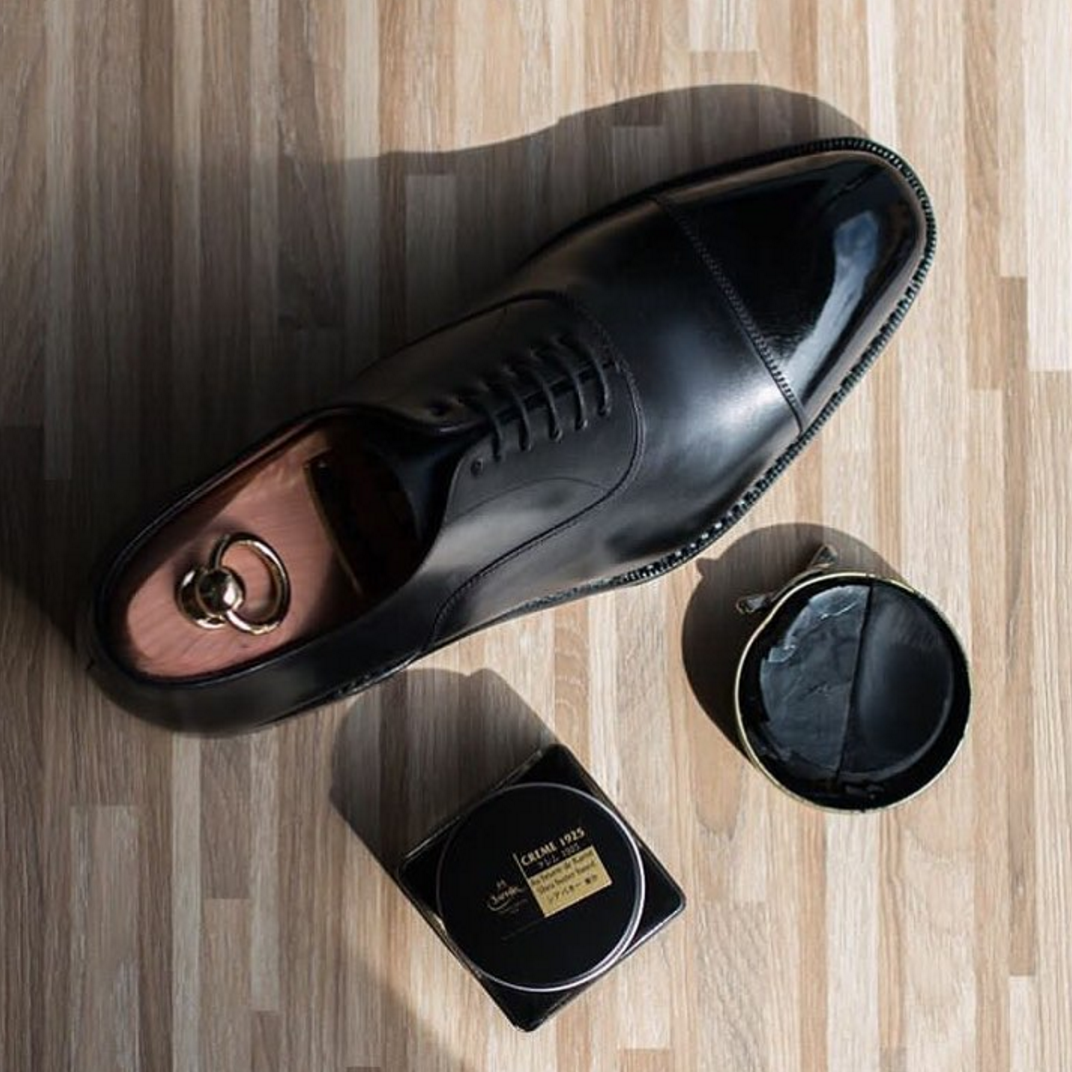 After Jesse's post yesterday on how the US Navy is implementing new rules around shoes, one of our readers emailed to ask why someone might want to use cream shoe polish instead of wax polish. 
First a bit about essentials. We don't call many things essential, but a proper shoe care kit is absolutely one of them. Unless you only wear sneakers, good leather shoes require you to have a shoe horn so you don't break the heel counter (which can be an expensive repair job). You can find cheap plastic ones on eBay or Amazon for a few bucks, although I like ones made from oxhorn. They just look better. 
You'll also want some leather conditioner to feed the leather; a horsehair brush to help buff the shoes; and something to maintain a polish. The only question is whether you should go for cream or wax polish. 
Cream polish comes in those little jars you see above. One of its main advantages is that it has more color pigments than wax, which means it can add color to your shoes. This is a great way to build patina. Don't worry about the cream polish not perfectly matching your leather. You won't want to use black polish on tan shoes, but something ever-so-slightly darker will help you build a bit of depth in the leather's color. 
The other advantage is that it has the nutrients necessary to feed the leather and keep it feeling supple. Think of it like a moisturizer. Leather conditioner does the same thing, but with regular application of cream polish every once in a while, you'll only need to use leather conditioner every year or two. 
So then, when would you want to use waxes? When you want to add a protective layer to shoes, making them a bit more water resistant. They can be great on a pair of boots, for example. They're also better for building a shine. With cream polish, you can only ever get a soft, matte finish. With wax polish, you can get something a bit glossier. Build up enough of it and you'll get a mirror polish.
Wax has two downsides, however. First, if you build up enough of it, it can crack, which means it'll leave an ugly white residue. That can be brushed out with a horsehair brush, but the better solution is preventative. Keep wax to a minimum around the areas of the shoe you'll be flexing. 
The other problem is that it can dry out the leather. Remember this is a protective layer, so with enough wax, your shoes won't be able to take in the moisture it needs from conditioners and creams. This can cause it to dry out and crack, which isn't something you can repair. 
Saphir's wax is a bit better in this regard, as it has a higher concentration of oils than cheaper products. But you still face the same problem over time. 
If you use wax polishes, wipe your shoes down every year or so with a leather cleaner (the orange Lexol bottle pictured above is a popular choice). You don't need to strip the shoes down, but a few good wipes are fine. This will remove the build-up and allow you to properly feed the leather with some conditioner. 
Personally, I use cream and wax polishes, but if you want to simplify the process, stick with cream. You'll never have to worry about your shoes drying out, although you'll also lose something in terms of shine. On more casual styles, such as loafers, that may not be something you want anyway. 
---