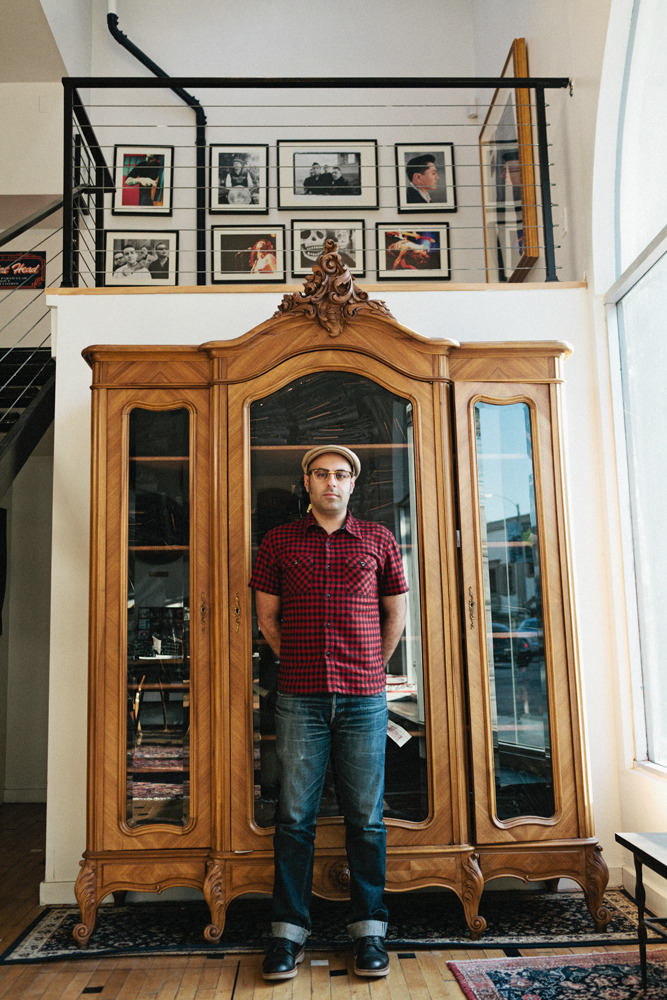 Jesse's excerpt from Marc Maron's hilarious NYT article yesterday coincidentally comes just a day before I finished my interview with Kiya Babzani. As Marc's article alludes to, there are some seemingly strange beliefs today on how to get the perfect pair of jeans: wear them in the bathtub when you first get them home, don't wash them for six months, stick them in the oven (!) or freezer if they start to stink, run around in the ocean with them on, etc. 
I asked Kiya if he could talk with us to see if some of these things are true. Kiya is the co-owner and founder of Self Edge, a very popular shop for jeans with locations in Los Angeles, San Francisco, and New York. On menswear forums, he's commonly considered an expert on denim, so I thought he'd be a great person to talk to about denim lore. 
Derek Guy: Let's start with the most popular piece of advice: that one should not wash their jeans for at least the first six months of them being worn. Is this true?
Kiya Babzani: To my knowledge, that's something that was started by APC and/or Nudies. There are a couple of reasons why someone would recommend that you shouldn't wash your jeans. First, people getting into raw selvedge denim are usually looking for a certain type of look – one that has high contrast fades with dramatically defined lines around the top of the lap and behind the knees. This kind of fading is difficult to achieve with denim that has been done to death, which is what most brands use.
DG: Can you explain what do you mean by "done to death?"
KB: I mean fabric that has been singed, mercerized, calendered, and sanforized. They've taken every bit of life out of the fabric, leaving something very smooth and even. With denim treated like this – yes, you'll normally need infrequent washings to get a very high-contrast fade at the end. But what most people don't talk about is how if you buy a pair of jeans made from unsanforized denim, you'll get these kinds of fades even if you washed your jeans every two weeks.  
With unsanforized loomstate denim, the fabric is rigid and creases set in far faster. Additionally, due to the micro-hairs on the fabric (which are sometimes visible), the denim is more abrasive, which will allow you to get that very defined, high contrast look naturally, even with frequent washings.
DG: So denim that has been heavily treated – singed, mercerized, sanforized, etc. – will need longer periods of not being washed in order to get those high contrast fades, but unsanforized loomstate denim can achieve that with regular washings (every two weeks or so)?
KB: Yes, but add to this the fact that washing your jeans regularly is the sanitary thing to do, and doing so will make your jeans last longer. Cotton fibers become brittle with time and they need to be routinely "moisturized" (for lack of a better word). The longer you go without washing, the more prone your jeans are to crotch blowouts and "punch holes" behind the knees.
In the end, however, you never get fades on sanforized denim that are as interesting as you would on unsanforized denim. Of course, this is all very subjective, but in my opinion, unsanforized denim will always develop a more beautiful and interesting look.
DG: What about denim that has just been sanforized, but nothing else?
KB: Sanforization is the leading cause of what I explained above, with everything else being a minor addition.
[Check back tomorrow for part two of our interview with Kiya]
(Photo credit: Farhad Samari)
---