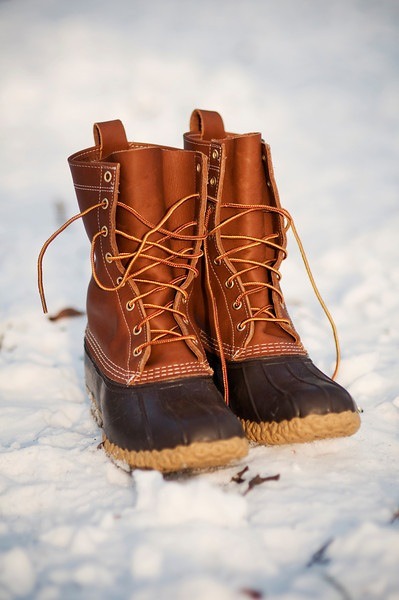 One of our most frequently received questions (three times just this week) is: "what shoes should I wear when it's raining/snowing/shitty outside?"
We argue for a policy of proportional response – the level of your action should be directly proportional to the shittiness of the weather.
Code Yellow: Wet Streets
Shoes with rubber soles (or a rubber sole protector over a leather sole) will wear better in wet conditions.  You should have at least one pair of shoes that either has a rubber layer on its sole (many good shoe manufacturers offer Dainite soles, which are long-lasting and very low profile) or a Topy (or equivalent) layer.  The Topy, if you don't know, is a thin layer of hard rubber that's glued to your sole to increase its life and traction.  If your shoe is on the ground, it's unlikely that either of these will be noticed.  With a slightly more casual outfit, you can probably get away with "commando" soles, which are slightly lugged.  I'd still strongly suggest against full rubber soles on dress shoes – blech.
Code Orange: Rain or Slight Snowiness
Depending on how far you have to walk, the above may still work in this situation, when paired with an umbrella.  Shell Cordovan is particularly resistant to wetness, as long as it's allowed to dry after wear.  Still, you may need to bring in bigger guns.  In that case, I recommend overshoes like Swims or Tingleys.  These galoshes will go over your shoes (and in some cases ankles, as well), preventing them from getting wet.  Tingleys can be had for as little as $15, depending on the model. Swims are a bit more expensive but are also lined and a little more attractive.  Both will do the job.
Code Red: Heavy Rain or Snow
There should be no shame in wearing shoes that are appropriate to the season.  If you live somewhere cold enough to merit cold-weather footwear, then wear cold-weather footwear.  If you work in a business-clothing environment, bring a pair of shoes in your bag or leave one at work. 
When it's raining heavily in Los Angeles, I break out my LL Bean Boots, which have served me quite well.  They're very reasonably priced (less than a hundred dollars) and come in a variety of heights and levels of insulation.  Obviously, as a resident of Southern California, mine are unlined, but with a Thinsulate lining I'm told they're quite warm.
Last year I took my first "snow trip" in years, to the Sundance Film Festival in Utah.  The heavens were dumping snow all over us pretty much continuously during our four-day visit.  Luckily, the kind folks at Sorel had offered me a review model, and after perusing their catalog, I settled on their classic model, the Caribou.  Frankly, most snow shoes are ugly (the Sorel catalog was no exception), but the Caribou is highly funtional and quite handsome.  They're also pretty reasonably priced – just north of a hundred bucks.
I'm also a big fan of Wellingtons.  If you are too, you should just go ahead and get Hunters.  If you're into them, you already know that you'll look a little ridiculous, but in kind of an awesome way.  So I won't really recommend them, because if you're not sure, it's definitely a no.  But know that if you do go with some pig-slop, English mud type boots, I've got your back.
(Photo by Peter Nettleton)
---