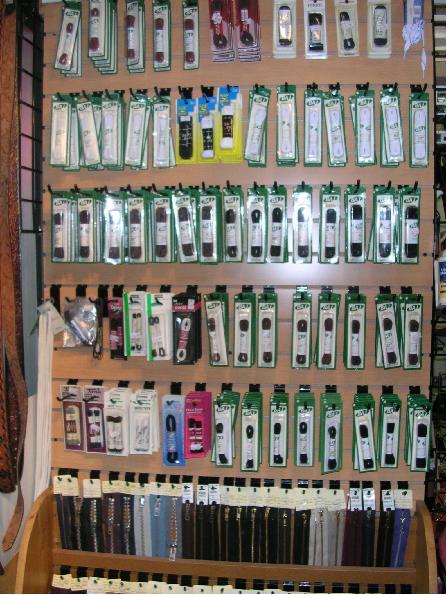 Frank writes (from Germany) about shoelaces:
I recently bought a bunch of shoe laces.
One of the leading German shoe-cleaning experts Rainer Ehrsfeld (http://www.schuh-lexikon.de/kolumne/kolumne.html) suggested "always have extra shoe laces with you when you travel. A disaster, if your lace breaks on travel right before an important meeting (and they always tend to tear exactly on these occasions, don't they?)".
I was not sure what brown was the right one, since it was hard to tell the colour just by a small pic on the net, so I ordered a bunch. I mean a lot. Sort of got carried away… but they were only 1-2 bucks a piece so I figured why not buy a whole lot of them.
When they arrived, I thought: OMG what have I done! I will never need those.
But then I spend a whole great evening trying out different laces with various shoes.  I was thrilled by how a shoe changes by just changing the laces!  So this is a great way of changing the looks of your shoes for just a buck!
I agree.  I'm a big estate sale-goer, and I always buy the laces I find at the bottom of a drawer.  They usually give them to you for a quarter a piece.  As Mr. Ehrsfield suggests, I always have some extra laces (along with some collar stays and a pair of cuff links) in my toiletry bag.
My personal favorite shoe fasteners are flat dress laces, which can be surprisingly difficult to find these days, but always lend a nice tone to your dress shoes.  Waxed laces can lend a bit of extra grip, too.  Your local shoe repairman probably has a wall like the one pictured above – don't be afraid to spend ten bucks trying out some new styles.
---