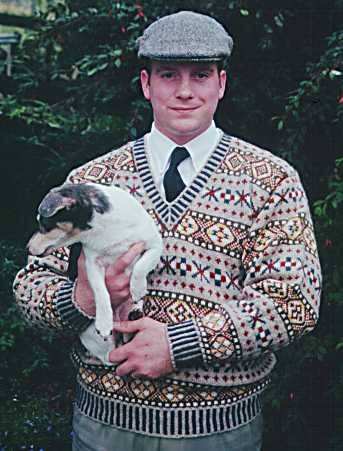 It's rare that I offer an out-and-out product recommendation on this blog, but I want recommend Louise Irvine and her Shetland Hand Knits.
Shetland Hand Knits make real hand-made sweaters, and they make them in Shetland, Scotland. With legendarily wet and chilly weather, Scotland has long been one of the epicenters of the world of knits. This is especially true for traditional Scottish styles like the Shetland and the Fair Isle, which just so happen to be Shetland Hand Knit's specialty.
These Fair Isles are made traditionally. That means they're worked in the round, with two colors per row, and a pallette of muted colors that reflects the Scottish countryside. The knitters, an email suggesting patience reminded me, are largely elderly. These sweaters are truly hand-made to order, including custom sizing specifications, and the results are simply spectacular.
They aren't cheap. My Fair Isle vest, in the Prince of Wales pattern (pictured above, and inspired by this famous sweater worn by the P of W himself) was over a hundred pounds – about $175. Luckily, mine was a Christmas gift from a loving mother. (Specifically, my loving mother. Thanks mom!)
What you get for your money is an heirloom. If you manage to avoid any big spills, this sweater will last your life… and it will be a life of elegant country style. So drop Louise a line and buy yourself (or someone you love) something truly special.
---