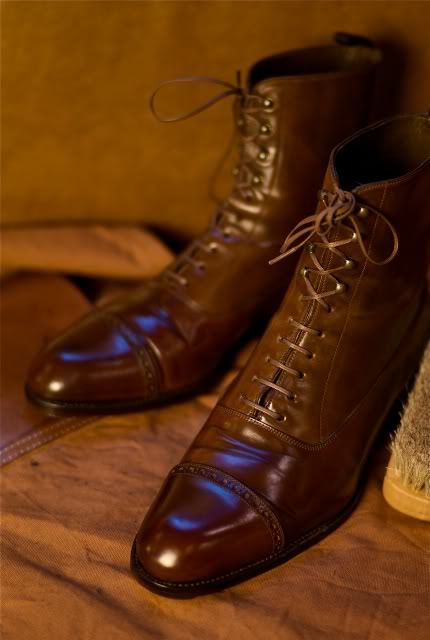 Pictured above is a beautiful pair of cognac shell cordovan boots, custom made by Carmina for Ethan Desu. As Ethan notes, these are his go-to wet weather boots, and they've taken quite a beating in their time. 
Shell cordovan is also my material of choice for rainy day footwear. Some men worry that harsh elements will ruin their "precious" shell cordovans, but it's important to remember that one of the material's main advantages is its toughness. You can walk through hail, rain, sleet, or snow in these things and your feet will stay bone dry. Yes, this may cause the leather to rise a bit in some places, but you can smoothen it out by rubbing it with a deer bone (or simply the curved side of a metal spoon), and giving it a vigorous brushing. If you wish, you can also help protect the leather by applying a bit of wax polish once or twice a year (any more and shell cordovan won't shine up well). 
Just take a look at the gleaming pair of shoes above. Although Ethan uses these as his rain boots, and has put in a lot of wear, he's taken a stiff brush and a little bit of water, and made them look better than most people's pampered dress shoes. 
Don't be afraid to use your things. 
---