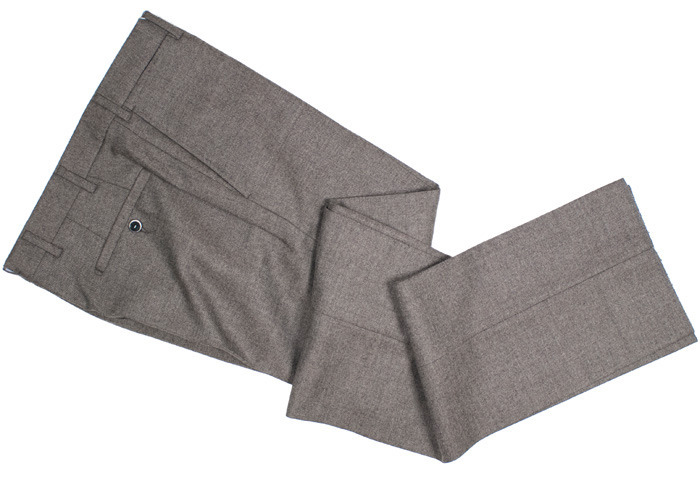 I ordered a pair of brown sharkskin trousers from Howard Yount two months ago. Sharkskin, also known as pick and pick, is a twill weave with a sort of "stair step" pattern. When made with two strongly contrasting yarns, you get a cloth that looks very striking. When made with yarns that are more similar in color, you get a subdued fabric that relies more on texture.
Many people think of sharkskin as shiny, but it doesn't have to be. It largely depends on how tightly the yarns were woven and how the fabric was finished. Howard Yount's sharkskin trousers, for example, are quite matte and I've been wearing them easily as odd trousers. When put together with a white button up shirt, navy sweater, and charcoal wool coat, this fabric can lend a bit of a visual interest to an otherwise simple ensemble. As always, it's good to know how to rely on variations in textures and fabrics to make things interesting, especially if you have a very basic wardrobe. Fabrics such as nailhead, pinhead, birdseye, herringbone, and sharkskin can help achieve that for you.
The quality of Howard Yount's pants, by the way, is fantastic. There are nice features such as hand stitched details and a belt prong loop. Most importantly, however, is the fit. Most men experience one of two problems when wearing trousers. The seat is often too full, thus giving the wearer a "diaper butt," or the fork (the part of the leg that joins the trunk) puckers, pulls, or ripples. Obviously, every man is built differently, but I've found that these trousers suffer none of those problems. All the lines are uninterrupted and everything fits cleanly, thus forming a strong and elegant silhouette. At $185, they're not the cheapest pants around, but they're a great value and the company stocks a wide range of colors and fabrics every season. I'm already looking forward to my next order.
---