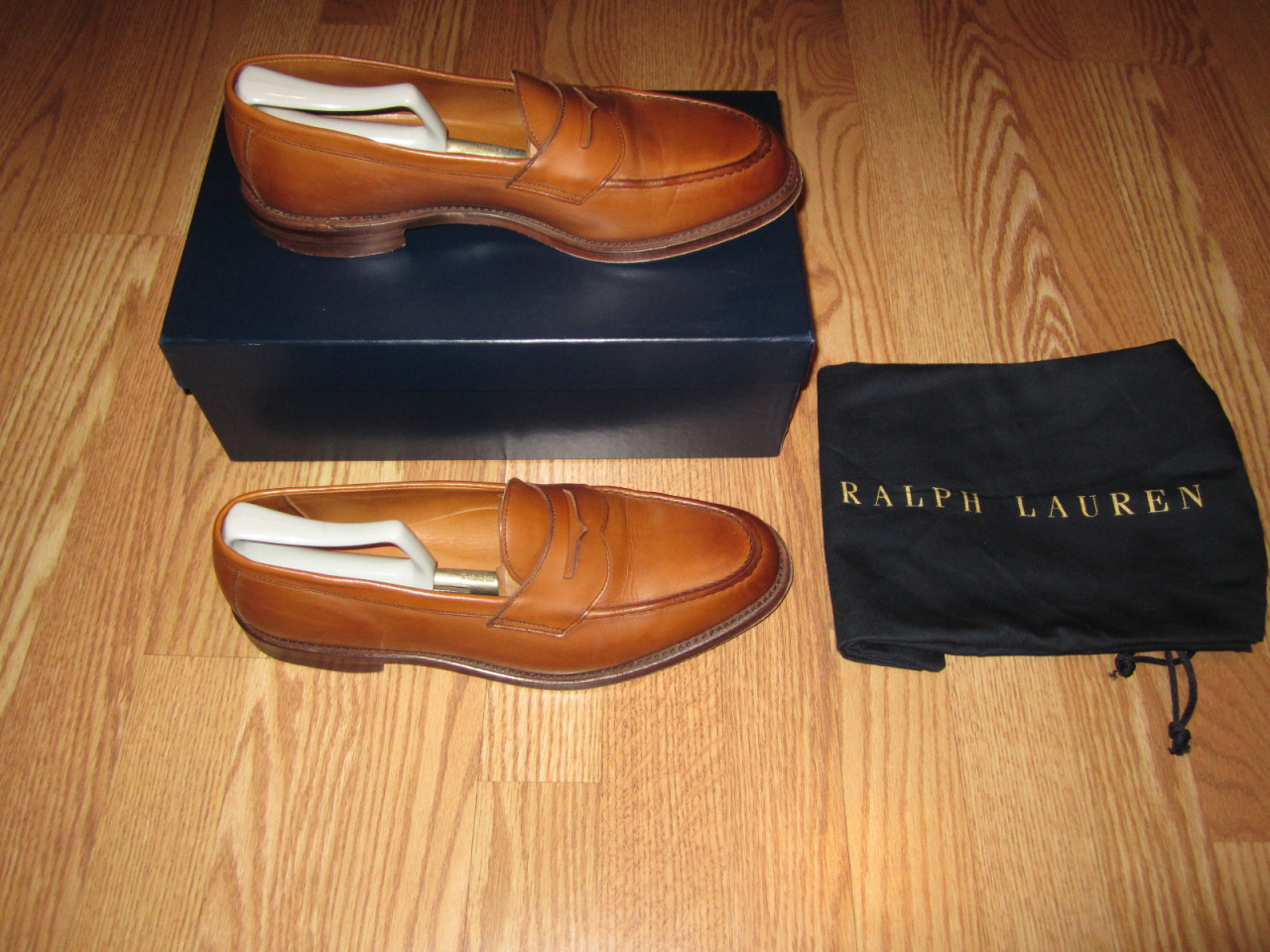 Ian from the blog
From Squalor to Baller
has been writing a pretty good series on how to build a basic 
business casual wardrobe
. His latest entry on
footwear
 reminded me of something: Ralph Lauren shoes on eBay are one of the best ways a man can buy decent-quality, classic shoes for not too much money. 
To be sure, Ralph Lauren makes a lot of crap (sorry, Ralph). His company basically sells things at every price point on the spectrum, and the lower end stuff isn't terribly worth buying.
But that's also maybe why Ralph Lauren shoes don't go for much money on eBay. Most people don't want to sift through the chaff. If you're willing to, however, you can find some great deals. For example, see the following auctions that just ended:
If you look hard enough, and are patient, you can score some decent shoes for $125 and under. The problem is obviously trying to figure out what's worth buying. Unfortunately, it can be difficult to discern the true quality of things from just a photo on eBay (sometimes a bad photo at that). There are some things you can do, however. 
First, use a more refined search link. Ralph Lauren generally makes terrible sneakers and tennis shoes, so you can exclude those from your search by keying in "-tennis, -sneakers, -sneaker" to your query (minus the quotation marks). These will take out the words "tennis," "sneakers," and "sneaker" from your search. You probably also want to take out anything from the Chaps line, and exclude RLX shoes (as those won't be in the classic styles you're presumably interested in). So add "-Chaps, -RLX" to the end as well. Here is a link to the search with all these conditions, which you can use to find shoes in your size. Feel free to amend the query with even more parameters as you see fit. 
Second, while I hate to encourage people to think about a garment's quality in terms of its country of origin (which is often not a very reliable way to determine quality, by the way), it's generally true in this case that RL's shoes made in England and Italy will be of higher quality than those made in Asian countries. So, if you can, look for a photo that shows a label declaring where the shoes have been produced. If you don't see one, ask the seller. Or, better yet, you can do an advanced search and add "(England, Italy)" to your query (again, without the quotation marks). Then tick the box for "Search Titles and Descriptions." This will pull up any auctions that have the words England or Italy in them. (Note, this will also pull up any auctions that have used the words Ralph Lauren, but are not actual Ralph Lauren shoes, so be careful). 
Third, while it's not always true that more expensive things will be better made than less expensive things, it's generally true here. If you see a manufacturer suggested retail price (MSRP) of $350+ or so, it's not a bad bet that the shoes have been decently made. 
Fourth, avoid shoes with overt branding. That is, shoes with pony logos, the word "Polo," or the name "Ralph Lauren." It's fine if these are on the bottom of the sole or the inside of the shoes, but anything on the uppers is generally a mark that it comes from a lower-quality line.
Finally, as a general rule, try to go for shoes with hard bottom leather soles. Shoes with rubber soles or even half rubber soles (like this) are more likely to be of poor quality. There are exceptions, of course. Suede bucks and boat shoes will almost always come with rubber soles, so this won't be an indicator of anything. Use smart judgement. 
Again, there are a lot of ugly and poorly made Ralph Lauren shoes on eBay, but with some smart searching and a lot of patience, you can find decent shoes on eBay for less than what you'd pay for if you were hunting for Crockett & Jones or Allen Edmonds. Many of those companies are the ones producing for Ralph Lauren anyway; you're just getting a different logo on the inside of the shoes. 
---