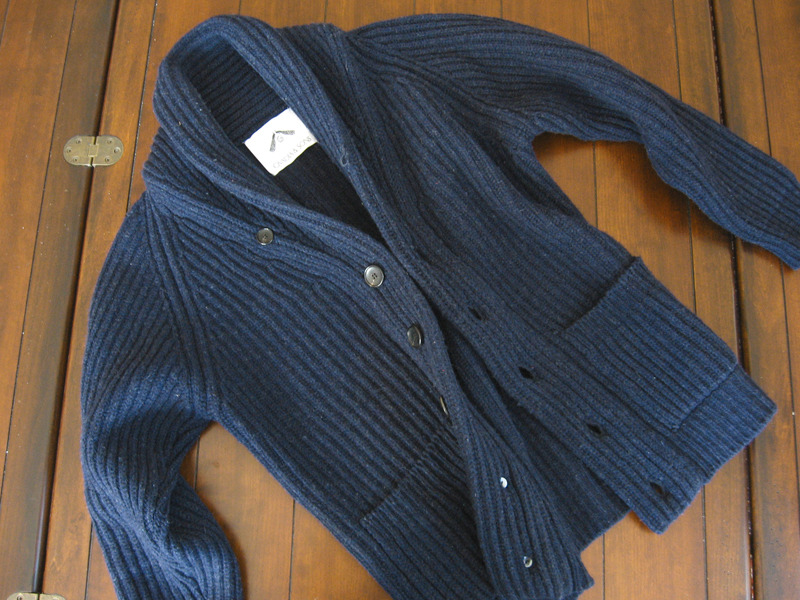 I was chatting with my neighbor last weekend, who was lamenting how high her heating bill has gotten this past winter. Just under $200 a month to heat a small three-bedroom apartment (many of us here in the Bay Area have terrible insulation).
I was shocked until I realized I was paying the same two years ago. Lately, however, my heating bill has been around $100 a month. That's because whenever it gets chilly, I just throw on this thick lambswool cardigan by Ovadia & Sons, which you can see above. I bought it last year on sale from CHCM. The price was $350, which was a lot for me, but I've wanted a chunky shawl collar cardigan for some time now, and since I'm unusually skinny, it's hard to find things in my size. Slightly more fashion-forward brands like Ovadia makes slimmer fitting clothes, which sometimes can work in favor for a guy my size, so I jumped on the sale.
As a result, I've been able to use my heater less. Apparently about half as much as my neighbor, who has about the same size apartment as I do. You figure with approximately $200 in savings from December and January's heating bills, this cardigan will have paid for itself by the end of next winter. 
Obviously, I'm not advising everyone to go out and spend $350 for a cardigan. But I am saying that if you can find some nice warm knitwear, it can be a better expenditure than relying on a heater. This 6-ply lambswool cardigan is so thick that is wears like a jacket. Other knits, which are meant to be worn as layering pieces, aren't as warm simply because they're not as thick. If you can find a truly chunky, warm-as-a-down-comforter sweater, it can be worth the investment.
On a budget, however, I recommend Smartwool Long Johns. If you layer their midweight wools underneath a button-up shirt and regular wool or cashmere sweater, you can stay pretty toasty. Campmor always seems to have them on sale for about $50-70. At ~$120 for both the top and bottom garments, these could pay for themselves in one or two months' time.
---