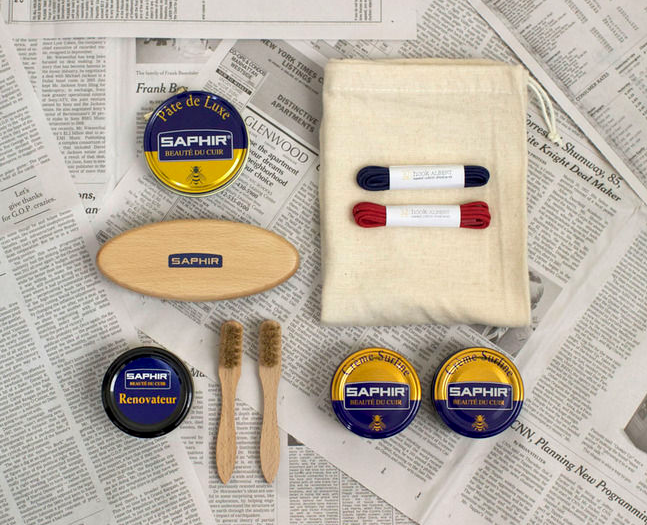 Several years ago, my parents bought me a shoe-polishing kit for Christmas that sat unused in my closet until I finally bought a real pair of dress shoes that required polishing. Since then, it's been a practice that I've found enjoyable and really ought to do more often. 
If you're looking for a way to get a start on polishing your shoes and don't have the basics yet, consider picking up this shoe polishing starter kit from Bespoke Post that features Saphir products. 
For $45 you get a tins of Saphir Renovateur, black and brown polish, pate de luxe neutral wax, two applicator brushes, a buffing brush, a shoe bag and some spare laces. 
The tins are the standard line of Saphir products (not the Gold Medal line, which is typically three times more expensive), but it's more than enough to get you started. If you begin to run out, then you can always pick up Gold Medal Saphir from Hanger Project or A Suitable Wardrobe Store. And, of course, if you need a quick primer on how to shine your shoes, check out Put This On Episode 2 of Season 1.
-Kiyoshi
(Thanks to sashu for the head's up on this deal. And thanks also to Will Boehlke for telling me the difference between the standard and Gold Medal line of Saphir.)
---