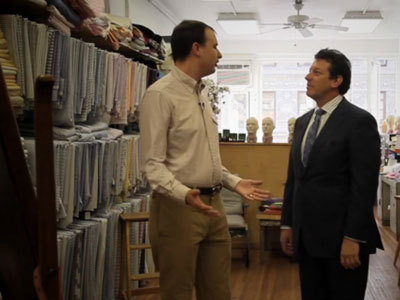 Our pal Carl Goldberg emailed to let us know that he's holding a sample sale at his shop, CEGO Custom Shirtmaker in New York. It's this Thursday, Friday and Saturday, with hours running 10-8, 10-7 and 10-4 respectively. Thursday night there'll even be complimentary beer and wine from five until closing.
Carl always has a bunch of interesting stuff to buy at these sales – from misfit shirts and production samples (for between twenty and eighty bucks each) to ready-to-wear shirts ($80) to crocodile belts ($150). He's even got handkerchiefs made from the end of his shirt runs – they're only ten bucks. He's also selling $200 gift certificates for $150.
For a kicker, he says if you buy a shirt and tell him you saw this note, he'll throw in a handkerchief free.
Of course, you can also have Carl measure you up for custom shirts – I use him personally and order a few shirts whenever I'm in town. Here's a pro tip: if you don't have a super-disciplined wardrobe with particularly specific requirements, ask Carl what fabrics he has on sale. There are always a few lonely bolts of something interesting, and he'll cut you a deal.
The sale is at 254 5th Avenue, 3rd floor. The number at CEGO is 212-620-4512.
---