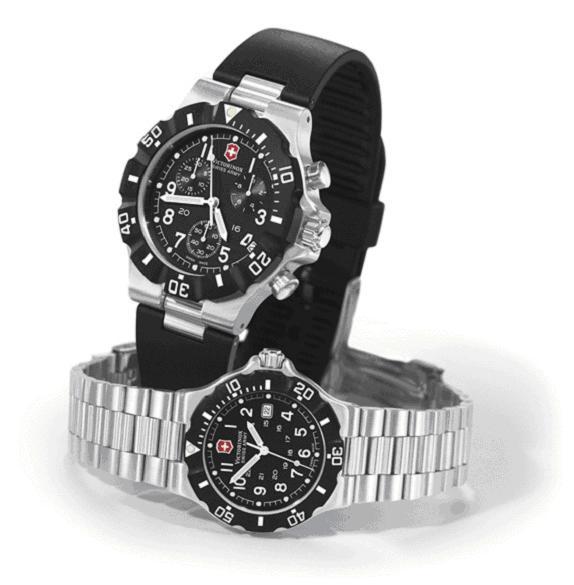 James asks: I've been concerned recently about the occasions on which it is appropriate to wear my current wristwatch. The watch is a handsome and somewhat expensive Swiss Army Chronometer in a very nice burgundy. Color matching is no issue, but the problem is the black rubber wristwatch band. The band seems a fairly inelegant piece. I've considered replacing the band, but I can't find one that seems appropriate, so I'm fairly committed to the band I have. Does this choice mean that I cannot wear this wristwatch in semi-formal or formal occasions?
Your instincts are right on.  A watch with a rubber band is strictly for casual or sporting wear.  A metal band is generally for casual wear, and a leather band is suitable for any purpose.  When you think of the formality of a watch remember that watches are made for purposes.  A chronometer is made for sport, usually styled for sport, and generally should be worn for sport (or at least in a casual situation where you can pretend sport might break out at any time).  Certainly there are exceptions, but with a rubber band and a colored face, your watch isn't one.  With watches, simple means formal.  A plain white face, without complications, and a black leather band is as formal as it gets.
If you like this watch, hang on to it, and wear it casually.  Enjoy it.  Consider investing in something more formal for more formal occasions.  You can probably buy a lovely, good-quality precious metal manual-wind watch from the middle of the 20th century – say a Longines or a Bulova – for a couple hundred dollars that will do you well for the rest of your life.  Buy something you can afford, that appeals to you, with a real movement (no quartz), and buy something made by a company that makes watches, not clothes or even (sorry) pocket knives.
---