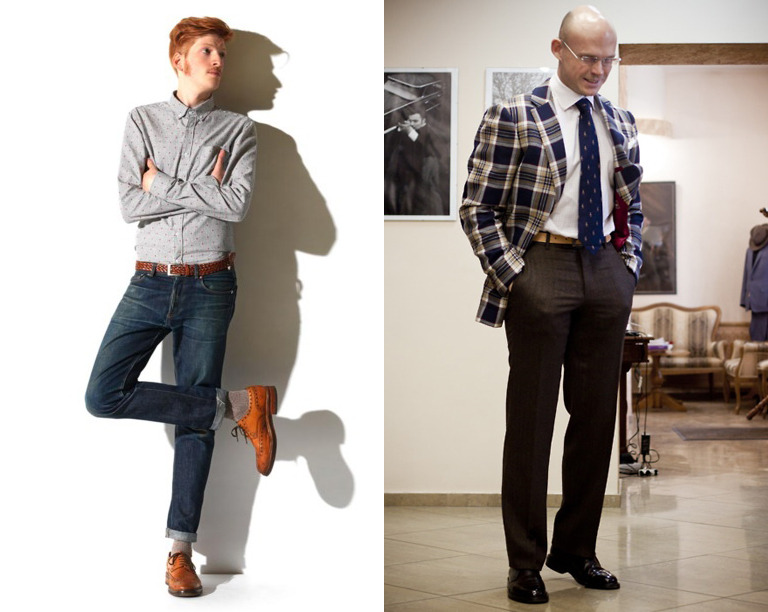 I strongly believe that pants look best when they sit on, not just at, your hips.
Where your pants sit on you is determined by your rise, which is the distance from your crotch seam to the top of your waistband. The trend, unfortunately, is for low-rise pants, which often sit below the hips. If you're lucky, you can sometimes find pants that sit at your hips. If you look harder still, you can find pants that sit on your hips. The last is what I think looks best on all men. 
Assuming you tuck in your shirt (which you should be), there are two unfortunate effects when your pants sit too low. The first is that your torso looks unnaturally long, thus ruining your proportions. The second is that you'll look heavier, especially if you already have a gut. Very few men are skinny enough for low rise pants to not have this effect. 
The photo above shows two men, one with low-rise jeans and the other with a higher rise pair of trousers. The one on the left is skinny enough to not look heavy with his jeans, but his torso still looks unnaturally long. The man on the right, on the other hand, has his proportions down. 
When buying pants, make sure your trousers sit on you properly. On my 30 inch waist trousers, I like my rise to be around 10 to 10.25 inches, but your personal tastes and body proportions may differ. 
---