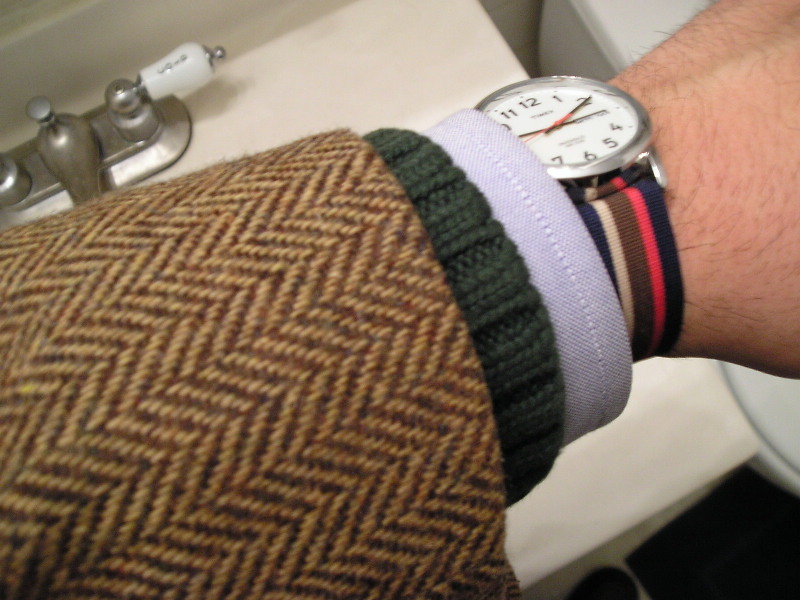 If you don't have the money for a fancy watch, but you're still looking for something with a little more style than the average $60 watch from Macy's, there's a simple solution.
Start with a simple watch.  If you prefer not to wind your watch, you can use the Timex Easy Reader, a battery-powered watch with a lovely face (I prefer the model without the clutter of day and date).  If you want to wear a piece of horological engineering on your wrist, you can start with a plain, inexpensive mid-20th-century watch from Ebay.  Brands like Oris and Hamilton (or even Soviet Russian watches) don't have much value to collectors but have made solid, aesthetically simple watches you can buy for $50 or $100 on Ebay with ease (or $25 with some looking).
Have a jeweler remove the band for you, but leave the posts.  Any jeweler or watch repairman can do this, and they'll charge you $2 if anything.
Replace the band with a ribbon band, running it over the post, behind the face of the watch, then over the other post.  You can choose a selection of colors here – five for thirty bucks.  Those are nylon, which are a little less refined than the traditional silk grosgrain, but it's also extremely durable and even washable.
With a solid olive or navy-and-gray band, your watch is ready for turf warfare.  With a red white and blue band, it's ready for a summer picnic.  Solid navy or black and it's comfortable with a suit.
---