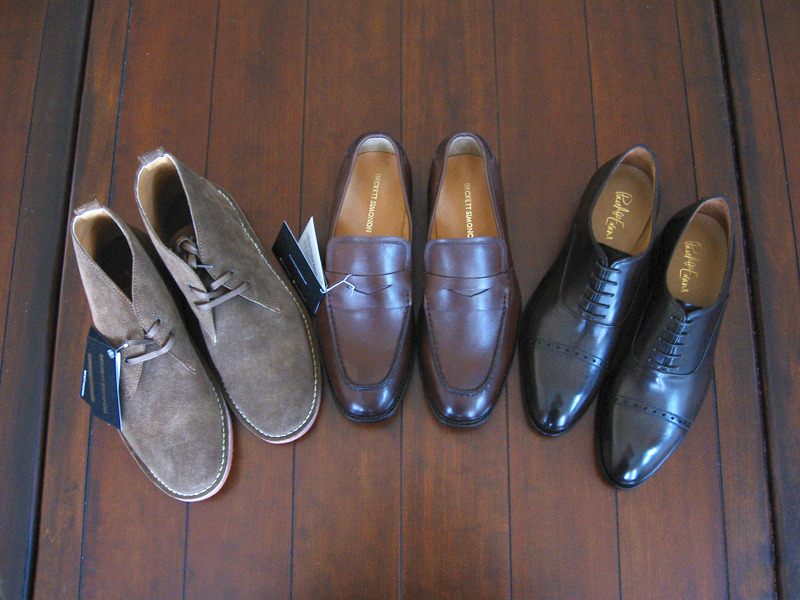 I'm genuinely amazed at how many new footwear companies have cropped up in the past few years. Every six months there seems to be a new entrant, which makes me wonder how anyone is making money. It's good for consumers though – more choices, more competition. It's been particularly good for consumers on the lower end of the price spectrum, whose options have opened up pretty dramatically.
Two such companies recently asked if they could send me some shoes for review (I took them on loan). Here are the results.
Beckett Simonon: Is Cheap Worth It?
The first is Beckett Simonon, who is offering two lines of affordable footwear. The first is a Goodyear welted collection made from vegetable-tanned, full-grain leathers (which are sourced from Poland). Those are available for pre-orders at $115-130, and come with a one-year warranty (which is nice). They also have a line of rubber-soled shoes that's priced between $80 and $90.
I received a pair of their Goodyear welted loafers and some brick soled chukkas. The chukkas are comparable to what you'd get from Bass or Clarks, but are offered at a lower price. I like the shape of Clarks' Desert Boots a bit better, as it's a bit narrower in width, but the difference is so small that it's barely worth mentioning. Quality wise, they're pretty similar, though at that price, I suspect the suede options will be safer than the leather ones.
At $115, the loafers are a particularly interesting offering. The Beckett Simonon shoes are considerably better in construction and style than the similarly-priced John Doe shoes I reviewed two months ago, and they're certainly a step up from the department store competition. Of course, there are trade-offs here, too. The leather, in particular, isn't of the quality you'll find on more expensive shoes. The shapes are also a bit boxy.
So are they recommendable? I think there are still better options out there for the budget conscious consumer (I made some suggestions here), but those will cost at least $75 more. Still, if you find a style you like, and can't swing the extra money, these are certainly worth considering.
Paul Evans: More Competition at $350
I also looked at Paul Evans, whose shoes, like a lot of the new footwear companies we've seen, price out at about $350 a pair. As the price might suggest, the quality of materials here and construction are considerably better than the inexpensive Beckett Simonon. But how do they compare to their direct competitors?
There was a time when the $350-tier was the sole domain of Allen Edmonds, but these days, there are more options. I don't have Allen Edmonds' calfskins here to compare, but I do have some Loake's 1880s and Meermin's Linea Maestros. Both of those seem to be made from nicer leathers that don't crease as easily, and I found them a bit more comfortable just under the heel. 
The upside to Paul Evans, however, is the design. These simply look very nice and the shape is much more appealing than what you'd typically find in an Allen Edmonds' store. The toe box is slightly sleeker and the waist curves in more to hug the foot. They're sharp shoes.
In any case, shipping and returns are free, so if you're on the market for $350 shoes, there's little lost in checking them out. 
(First photo, moving left to right: Beckett Simonon suede chukkas, Beckett Simonon calf loafers, and Paul Evans Grant cap toes)
---