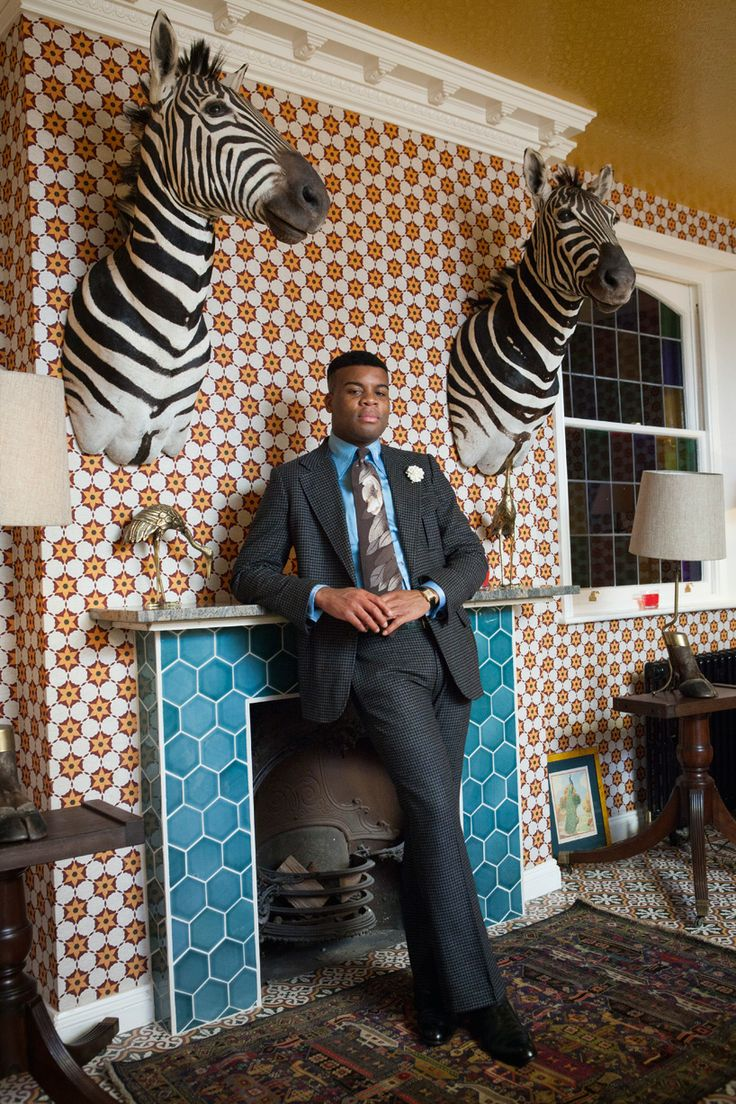 The usual advice for how to wear bold items goes something like this: pair one or two wild items with quieter and more conservative pieces. Something like a pair of whimsical socks with a navy suit, or go-to-hell pants with a sedate sport coat. In this way, you'll take the edge off of the louder piece and won't risk looking like a train wreck.
Although this sometimes works, most of the time, it just makes your one conspicuous item look even more conspicuous. Dressing well and boldly often requires more than just throwing some wild thing on.
Of all the bold dressers I know, few are as stylish as Barima in London. He describes his style as a sort of flamboyant minimalism. "As a Brit, I'll never quite escape the lure of a grey or blue suit, even if it's houndstooth or shot silk," he says. "The details are more stripped down nowadays, partly because I wear suits more than separates, but the colors persist." Such grey or blue suits get paired with bolder items, such as vintage ties or unusually colored shirts. (The wearing of bold shirts is actually a very British thing, although Barima says he gets his inspiration from elsewhere. "Many of my favorite dressers are British or American, but the deeper I get into Francafrique, the more I identify with the great tailors of Paris and the dangerous dignitaries who love them.")
The secret to Barima's success isn't his wild accessories, however. It's how he combines things. The unusual shirt and tie you see in the first photo are paired with a seemingly conservative grey suit, but when you look closely, you'll notice that the suit itself is bold (the lapels are wide and the pockets are inspired by designs typically seen on hunting coats). On the other end, the purple sport coat has slim lapels, which Barima plays up by wearing a cobalt-blue knit tie and a groovy, zigzag shirt (making this a 1970s psychedelic version of '60s Mod style). 
This is a much more considered and intricate way to approach bold dress – something like how a florist makes a good arrangement, or an interior decorator designs a room. "If I had to reduce it, I would say it's about relating colors to one another. Even an outlier color – say, in a tie or pocket square – should be at home with one other element, such as one's trousers. At the same time, the shirt or trousers can be ways to ground the jacket or accessories."
Of course, even when you're pushing the bounds of Western men's style, there are some things worth observing. "Fit is everything, and with quality finishing – and fine materials – almost any idea can pass as clever."
To see more of Barima, you can check him out in Rose Callahan's I Am Dandy. He can also be seen here talking about his final project for a diploma in interior design. 
(photos via Barima, Rose Callahan, Alex Wilson, Anthony Lycett, Kahlil Musa, and Daniel Barnett)
---