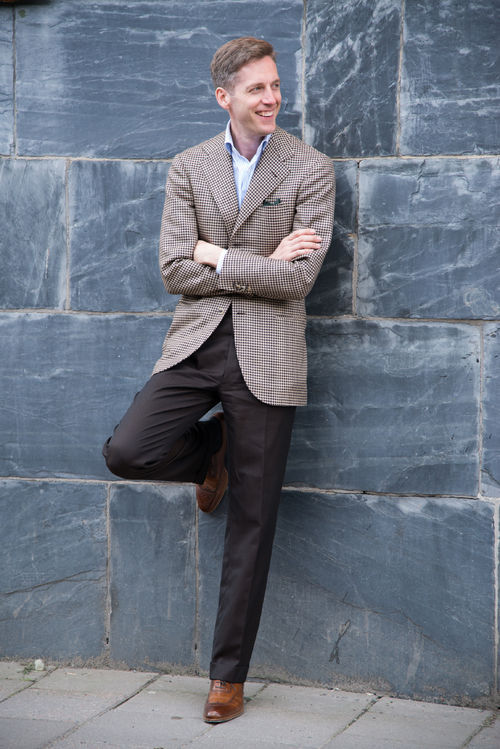 Here's a great example of that "middle ground" we talked about a few weeks ago – that fine line between conservative business dress and unbridled dandy-ism. Patrik in Sweden switches things up by relying on monochrome colors. Rather than the usual navy jacket with grey trousers, he uses a unique, but still subdued, combination of mid-browns, dark browns, and bright chestnuts. The open-collared, tieless shirt gives him a more relaxed look, while the pocket square keeps things sharp. 
There's also the inverted contrast. When it comes to sport coats, most men will pair a dark jacket with lighter colored pants – partly out of convention, but also partly because it's easier to create a pleasing effect when you set a dark jacket and tie against a light colored shirt. Here, Patrik flips things around a bit by pairing a dark pair of trousers with a lighter colored jacket. To balance things out, he's chosen a chestnut pair of shoes, which prevents the bottom half of his outfit from looking too heavy. 
In the above, the jacket is by Liverano & Liverano, shirt by Simone Abbarchi, trousers by Napolisumisura, pocket square by Sam Hober, and shoes by Saint Crispin's. 
---