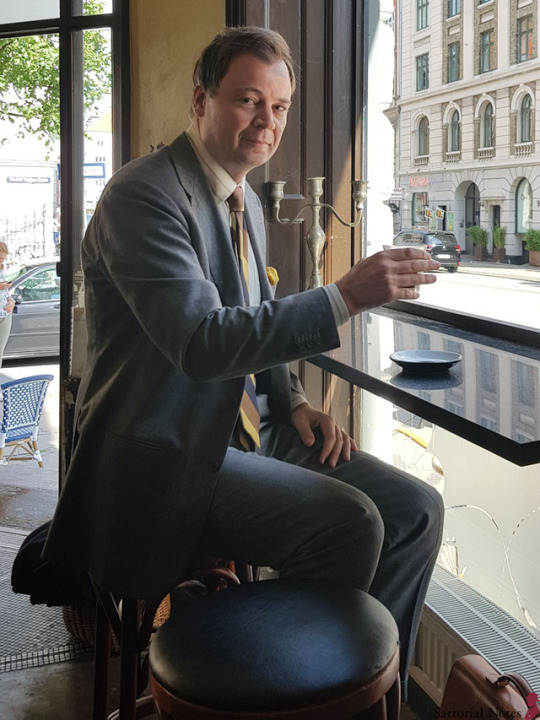 It's been almost fifty years since men have worn tailored clothing en masse. The hippie revolution of the 1970s did a lot for what Bruce Boyer has called prole clothes — those items in our wardrobes that take inspiration from the working class. Things such as jeans, chambray shirts, army field coats, motorcycle jackets, and white tees are no longer just the uniform of blue-collar workers. Plus, with the spread of the "casual Friday" movement — which started in the '90s and has continued since — it's become all but impossible to wear a formal suit outside of certain environments.
That said, tailoring has gone through somewhat of a revival in the last ten years. Some men are making an effort to dress up again, but while the coat-and-tie hasn't been widely popular since the 1960s, people still want to look different from the previous generation's dressers. Clothiers often tell me how customers want to look less stuffy, less conservative, and less formal. Even Thom Browne — who has heavily borrowed from that mid-century Man in a Gray Flannel Suit look — has had to reinvent the style in order to get people to buy things.
I also like tailoring that's a bit more interesting — something that's a bit less staid than traditional business dress. That question is how do you ride the line between something expressive and something that looks like it belongs at Pitti Uomo. A step too far and suddenly your outfit becomes a costume.
Torsten in Copenhagen is one of the few men I know who ride this line exceptionally well. By day, he works as a project manager in communications, web, and government. By night, he runs one of my favorite men's style blogs, Sartorial Notes. Torsten's sense of style leans towards the classic end of things, but it's never overly retro or anachronistic. It also looks at home in a modern setting in a way that feels natural and comfortable.
Torsten is fortunate enough to have things made for him, often by some of the world's best tailors — Volkmar Arnulf in Berlin, Loris Vestrucci in Florence, Francesco Guida in Prato, and Malcolm Plews in London. And in doing so, he's been able to worry less about fit and focus more on silhouette. In the photos immediately above, you can see how two double-breasted suits — both 6×2 configuration with notch lapels and a similar gorge line — can look completely different depending on how the shoulders are cut. The first has a softly padded shoulder line, giving the jacket a rounder and more relaxed look. The second, by contrast, is more angular and padded, giving it an authoritative sensibility. Both look great not just because they fit well, which should be the bare baseline for any outfit, but because they have a flattering silhouette.
It takes a while to train your eye towards these nuances, which is one of the advantages of having a good tailor (they can take care of these things for you). If you're out shopping off-the-rack, however, beware of things that fit too slim. "Clothing should be accountable to your personal architecture, not fashion," says Torsten. "Even men who get clothes made for them often go too tight — I don't think they're aware of how strong the invisible hand of fashion trends can be. You notice they don't feel relaxed in their suits, often they will leave the jacket open to feel comfortable."
The fit and silhouette of your clothes are the baseline, the next step is about how you combine things. In some of the photos above, you can see Torsten's use of patterns — a vintage-styled checked overcoat, but cut in a modern way, or a block striped tie with a unique, almost retro use of goldenrod, mid-brown, and dark blue. Things feel classic without being boring; stylish without looking outlandish. On how to carefully ride this line, Torsten says:
I'm not fond of overly retro clothing. It's too baroque, too playful. It's more about expression than fit, and I'm too serious for those retro-centric styles. That being said, I like bringing vintage cloth to the tailor. A tailor can transform this artifact of the past into contemporary clothing with a bit of extra interest. I also think honesty and comfort are important to get clothing right. We all imitate, however it's crucial that we don't lose ground in that process. There must be a strong link between you as a person and the outer look. It shines through, if the link is missing. Again: it is about creating a strong link between you and your clothes, and fit is key. The rest – style! – will follow.
On this link, Torsten also thinks there ought to be a connection between your clothes and actual environment. For weekend wear, he ditches suits and sport coats and swaps in slightly more dressed-down chinos, jeans, oxford shirts, knitted pullovers, and soft leather shoes. "If I can speak about Danish brands, I think S.N.S. Herning and Andersen & Andersen are doing really fine jobs keeping a quality knit tradition alive," he says. "I also like the Danish brand Duckfeet. They produce Blake stitched, full-grain leather shoes with a crêpe sole, which I wear on weekends."
In the outfit above, you can see him in a traditional Icelandic sweater, some corduroy trousers, and those Duckfeet bluchers. "Reality is that, to dress down, sometimes you have to give up tailored clothing. Southern Italian suit jackets and sport coats are a great way to help dress down a coat-and-tie look, as they don't scream out for a tie like a classic Savile Row coat. But at some point, I don't see much sense in trying to turn formalwear into casualwear."
As for what he considers essential in his personal wardrobe, he says:
If I could only have two suits, I would get one in a 300-400 gram navy herringbone, then another in a slightly mottled charcoal serge made from a similar weighted cloth.  For sport coats, a brown Shetland tweed and grey herringbone Harris Tweed cover many days for me. I can pair them with tan cord trousers, grey flannels, and even blue jeans. And of course, there's the blue hopsack blazer from a medium-weight fabric, which I find to be very versatile. Tailored clothing plays a smaller role in my life during the summer, but I do wear my tobacco brown linen suit often.
You can keep up with Torsten by following his blog, Sartorial Notes (it's one of my favorite reads nowadays). He doesn't update that often, but there's a feature on the site where you can be notified by email whenever he does. He also posts some really nice streetstyle photography on his Instagram account.
(photos via Sartorial Notes)
---