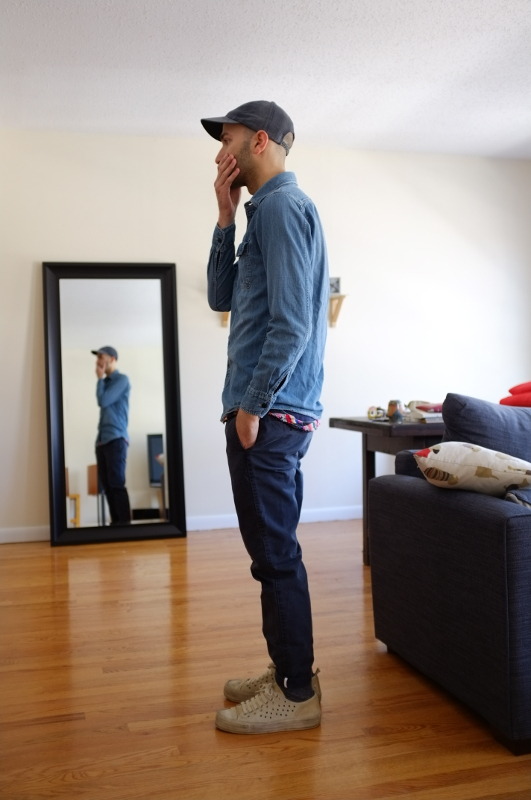 My wardrobe sometimes feels like it suffers from being too serious. I wear lots of leather jackets with jeans and t-shirts these days, as well as sedate sport coats with grey or tan trousers and light blue shirts. Recently, however, I picked up this zigzag lambswool sweater from Ka-Pok (it was made by a relatively new German label called A Kind of Guise). Although it's not overly wild in terms of design, it's playful enough to add an element of humor to the more boring and conservative outerwear I mostly own. 
Part of this was inspired by my friend Kyle in New York City. His style feels like a breath of fresh air in the world of menswear aficionados nowadays, where most men are either dressed like Italian magnates or Rick Owens (for those counting, which I am, this is the sixth mention of Rick Owens at Put This On).
Kyle, on the other hand, wears stuff with a lot more levity. This Monitaly jacket, for example, looks like an Americana bastardization of the much more serious Maison Martin Margiela 5-zip. This Eo To To henley he has layered underneath a blue shirt looks a little more fun because of the multi-colored trimmed hem; this Opening Ceremony jacket layered underneath a Gap vest has a cork print on it; and this hooded Stephen Schneider cardigan is made from a very unique, textured cotton fabric.
Oh, and there's this Persian rug jacket with leather sleeves, made by Tim Coppens for his first collection. I want one so bad, but apparently, there were only two ever produced. One is owned by Kyle. The other is owned by Tim Coppens.
Of course, when he needs to, Kyle can also pull off a much more sober look. Here he's in a grey suit; green mini-paisley tie, and a mauve, Bengal striped, button-down shirt. Very 1980s American, in a way. If I had to guess, however, I assume Kyle would much rather be in an emerald green suit, if he had to wear one. 

(Photos via Kyle and Third Looks)
---