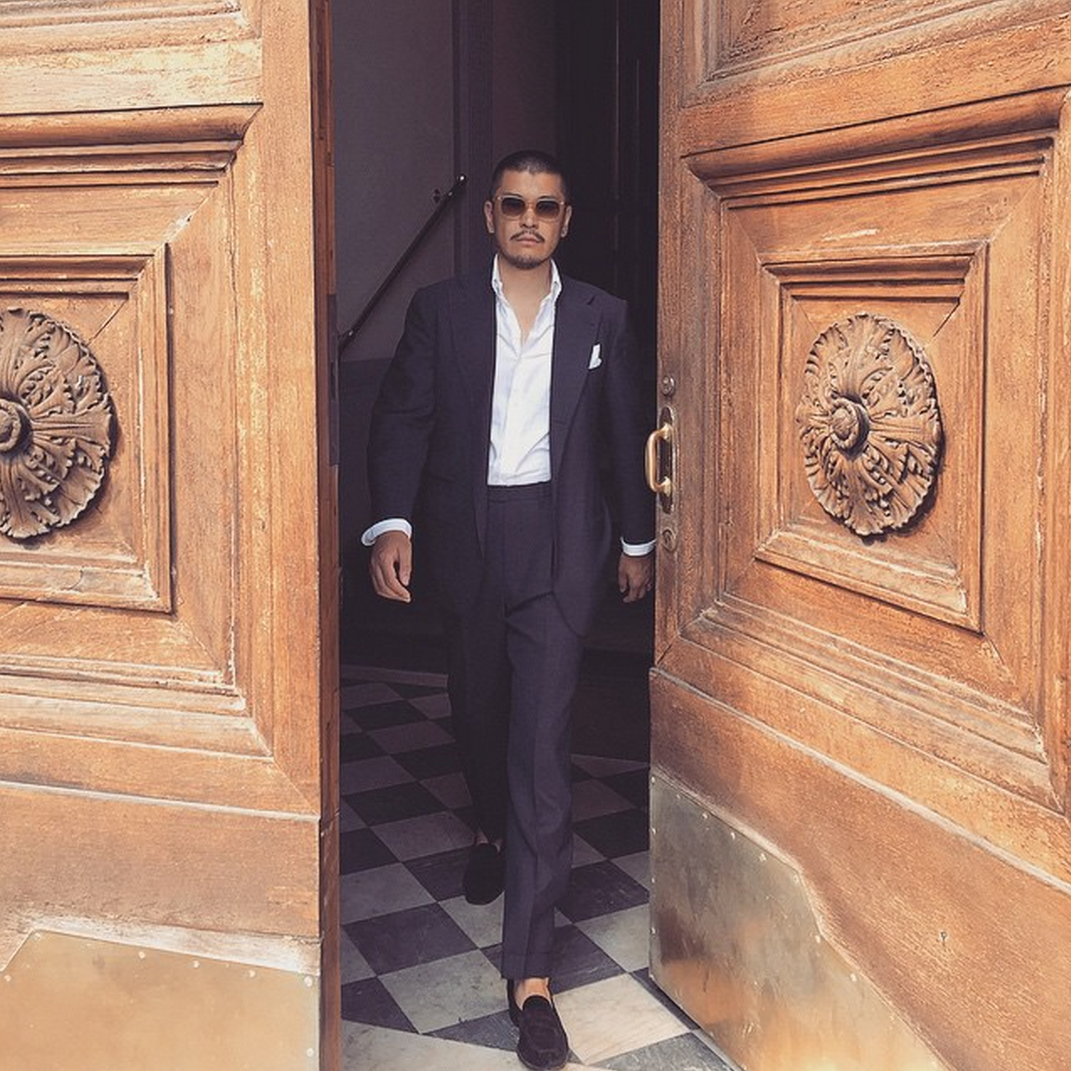 Conservative commentator Ben Stein once lamented the death of neckties on a CBS Sunday Morning segment eight years ago. This was after the Wall Street Journal reported that only 6% of men wear neckties to work, and claimed that traditional neckwear was being run down by history. Stein's retort: neckties show you have a bit of class, a sense of organization, and some dignity about yourself. "Plus, the necktie helps cover over a bit of one's paunchy stomach," he said. 
Hard to argue with that, although sometimes it's just easier to forgo neckwear. An open collar is the easiest way to dress down a tailored jacket, and on a really hot day, the extra breathability can be more comfortable as well. Our friend George in Beijing, who recently opened the menswear shop BRIO, pulls off these sorts of looks well. Some takeaways:
Go for a Knit: Dress shirts sometimes feel a bit empty without neckwear, so consider knits instead. Polos work well for summer; turtlenecks for winter. If you go for a polo, choose something with long sleeves, so a bit of shirt cuff shows (Kent Wang's are a great affordable buy, although if you have a bit more coin to spend, there's also Proper Cloth and Ascot Chang). 
Grab Casual Shirts: For wear with sport coats, grab a casual shirt. Something made from a chambray, dressy denim, or a brushed flannel should be too casual to wear with a necktie anyway. If you do choose a dressier cotton, try to pick something with a bolder check or stripe. The strong pattern will help take up that negative space on your chest. 
Suits Without Ties?: Yes, it's do-able. Just grab a dressier white shirt (Tom Ford does this look all the time). Probably not right for conservative business environments, but might be good for grabbing drinks afterwork with close friends. 
Pick the Right Collar: Above all, make sure your collar can stand on its own without a tie. I find semi-spread collars with medium-soft interlinings are best. For an easy solution, get a button-down collar with a good roll. Those will always stand on their own. 
Pay Attention to the Neckline: Seinfeld was right, shirts look better when they have a slightly lowered second button (it just makes for a better looking neckline). Ledbury puts this detail as standard on all their designs. 
Pocket Square: Going tie-less almost always requires a pocket square. Just make sure to choose something that's not too loud – and tamp it down so it's not exploding three feet in the air. Without a necktie to balance it, a poorly chosen square can sometimes stand out too much. 
So yes, you can wear a suit or sport coat without a necktie. The reverse, however, is almost always a bad idea. 
---