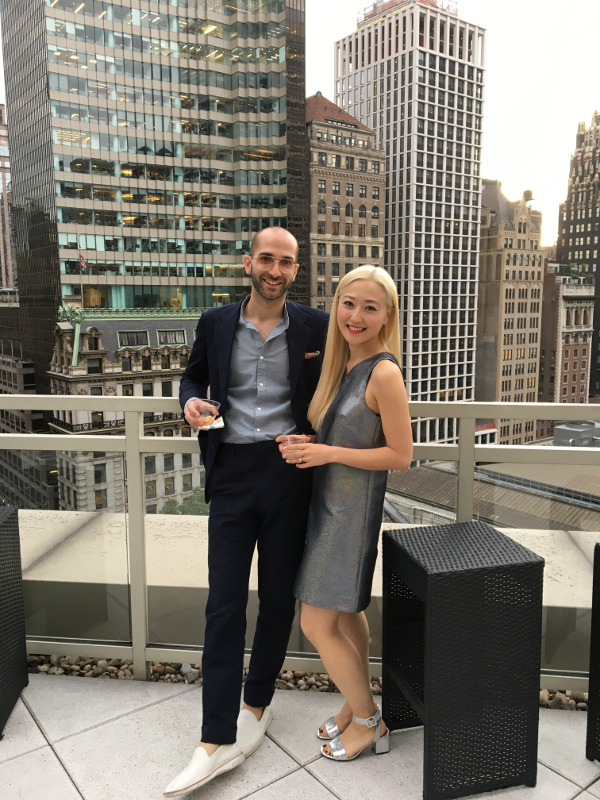 Unless you work in certain industries – say, law, finance, or government – wearing a suit these days takes a bit of thinking. It's hard to wear your basic dark worsteds when everyone else is in casualwear. And if you, like me, enjoy tailored clothing, then the suit is the Platonic ideal. Frankly, even the best sport coat and trouser combo won't come close to a well-executed two-piece.
The obvious solution is to learn how to wear suits a bit more casually. They'll still be dressed-up, to be sure, but they won't be as formal or stuffy as a navy nailhead or chalkstripe. A few weeks ago, before our friend Kyle in NYC got married to his lovely wife Saki, the two soon-to-be newlyweds spent a weekend partying it up with friends on a private hotel terrace. And, given the occasion, they took the opportunity to dress up. Kyle here is wearing a suit, but it looks relaxed and natural. His advice on how to do casual suits well:
Pick Something Obviously Informal

To start, choose a suit that's obviously not intended for Monday meetings. Kyle's suit is a navy tonal seersucker from this season's Camoshita collection, which has all the charm of the original blue-and-white puckered cloth, but looks a bit less preppy (The Armoury sells something similar from Ring Jacket). I also like colors such as olive, tan, and brown for the same purposes, especially in fabrics such as silk-blends, linens, and cottons. Wool can also be nice, so long as you avoid formal patterns such as nailhead or birdseye. Check our post on how to read formality in tailored clothing. 
Get a More Interesting Shirt

You can wear a casual suit with almost any kind of shirt, but if you'd like to dress it down further – or exert a bit of personality – aim for something off the beaten path. Kyle recommends band collar or popover shirts in off-duty fabrics such linen, seersucker, or some kind of textured blend (his above is from Camoshita). "It helps if the shirt looks inherently low-maintenance," he says. "Something that doesn't have an overly structured collar, and ideally looks better when it's worn-in and has a bit of wrinkling. Something you can pull from the laundry machine, rather than iron and starch." For winter, you can also try wearing thin merino turtlenecks in lieu of a proper button-up.
Find Some Slip-Ons
Although they were once considered informal country shoes, things such as wingtips and split-toe Norwegians aren't really casual anymore. For something more relaxed, try soft leather slip-ons or suede loafers. "The lighter the color, and the less structure in the uppers, the better," Kyle notes (his, if you're wondering, are Margiela's babouches). "If they're going to be leather, instead of suede, go with a color other than black or dark brown." Sneakers, on the other hand, can be dicey. "White Vans slip-ons can work, but everything has to be really casual. No matter what, don't wear suits with Chuck Taylors."
Accessorize Well

The rest is in the accessories. You can skip the necktie for a more casual vibe, but if you do, wear a pocket square (Kyle prefers throwing a matte wool-silk blend into his pocket with a bit of a puff, rather than using the more studied white linen TV fold). Sunglasses can be a bit of a delicate dance. "If the design is too classic, or the lenses are too dark, you can end up looking like a G-Man," he says. "At the same time, anything cheap or corny, such as colorful Wayfarers, will make you look like you're trying too hard to have fun. Find something with actual personality." You can also aim for straw hats or jewelry. "I would just shy away from the GQ layered bracelets looks," says Kyle.
And finally, as ever, the key is to not overdo things. "As much as I've said you don't want to look like you're at work, you also don't have to go overboard," Kyle stresses. "It has to be a combination of things that makes you feel comfortable and doesn't look forced. Embrace the spirit of Jude Law in The Talented Mister Ripley's bar scene. Yes, he's handsome, and yes he's wearing a tie, but the point is you should be having fun and looking like it too!"
Some possibilities for casual suits this season: Brooks Brothers in blue-and-white seersucker ($373); Suitsupply in brown wool-silk-linen blend or cream linen (~$550); Eidos in tan Solaro or French blue linen (~$1,500); Ring Jacket in tan linen or olive covert twill (~$1,675); and Sartoria Formosa in olive cotton or tobacco linen (~$1,900)
---