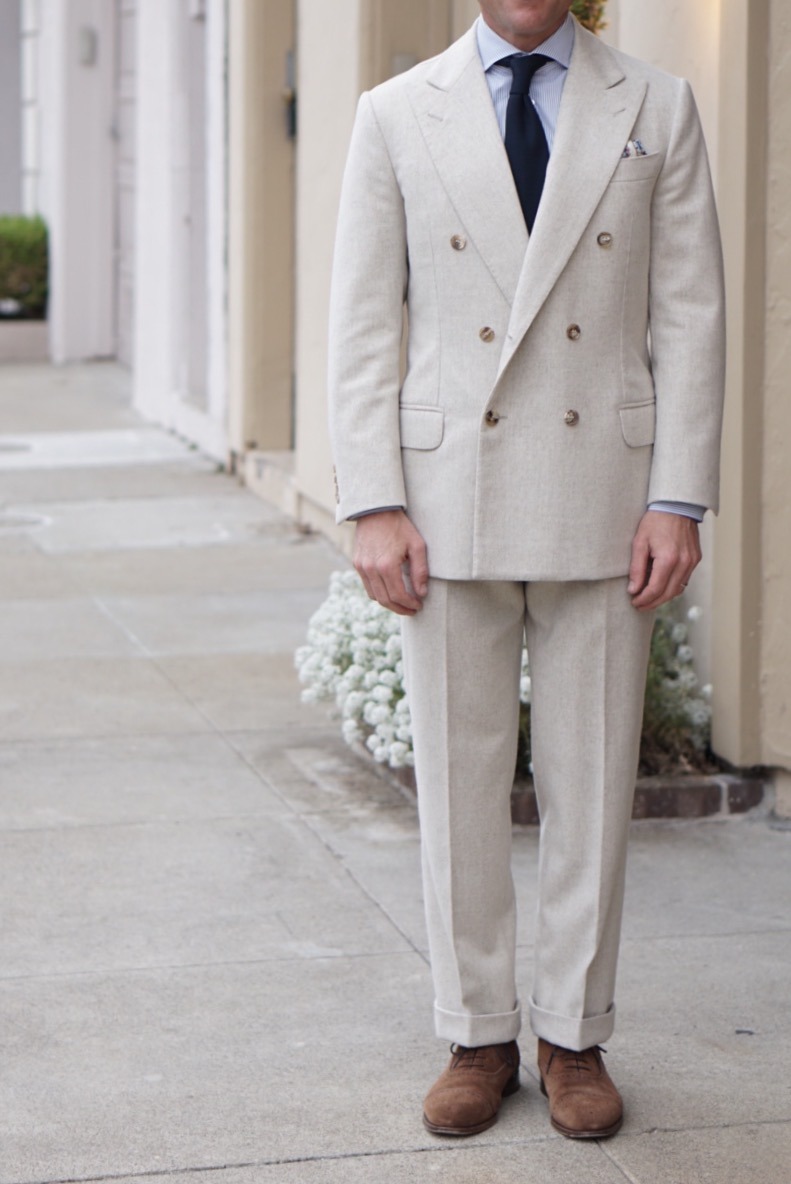 It's no secret that bespoke tailoring is expensive. A handmade, custom tailored suit from Savile Row will run you about $5,000 (give or take $1,000, depending on the tailoring house). And that's just the starting price for basic fabrics. Get something made from pure cashmere – or the more prohibitively expensive vicuña – and you could pay somewhere in the five figures. 
Among people who get custom suits made, however, there are rumors of more affordable tailors in Southern Italy. Talk of expert craftsmen hidden away in Byzantine alleys or tucked inside courtyard apartments. Supposedly they'll make you a world class, handmade suit for about $1,500, but you have to know where to find them. 
Our friend Pete in San Francisco recently had a go at it. He and his wife went to Sicily for a two-week vacation, and although Pete didn't know any of the locals, he was armed with Sleevehead's e-book on Sicilian tailors. 
For their trip, the couple started in Catania – a small Sicilian city facing the Ionian Sea – and ended with a four-day stay on the Aeolian Island of Panarea. Sometime during the vacation, Pete made an appointment with Pippo Arrigo, one of the tailors featured in Sleevehead's book. Much like people from his generation, Arrigo doesn't speak any English, but luckily Pete knows Italian. 
Along with a handsome, navy sport coat, Pete commissioned the cream flannel double-breasted jacket you see above (the trousers were made separately by Tailors' Keep in San Francisco). It's lightly padded across the shoulders and chest, and comes with "rollino" sleeveheads (the Italian version of an English roped shoulder). There's pick stitching along the edges of the coat; flapped hip pockets; and a 6 x 2 closure (six buttons at the front, two for buttoning). The lapel has been pressed to the bottom button, so that when the top button is unfastened, you get this longer lapel line. The Duke of Windsor used to wear a similar style, although his DBs were typically 4x1s. 
The results, as you can see, came out fantastic. Fully handmade, bespoke jacket for the price of what you'd pay at Brooks Brothers for ready-to-wear. At the moment, there's talk of bringing Arrigo as a traveling tailor to the US, but as these things go, travel costs will natural push his prices up much higher. To get that alluring low price, you essentially have to go to Sicily. 
If you do travel to meet tailors, Pete has a few tips:
Call first to see if the tailor can accommodate your travel schedule. Bespoke tailoring typically requires two or three fittings, which means you'll want the tailor to be able to finish the job in the time that you're there. Pete recommends allowing at least seven to ten days, although exact times will depend on the tailor. 
Don't choose a tailor based just on price, or try to get your tailor to make something out of his usual style. Stick close to things you've seen from him before, either through photos or at the shop. You'll stand a much higher chance of getting something you'll like. 
Finally, if you don't speak the language, get a translator. Tailoring can be tricky, so even if you can point to a three-roll-two jacket or double-breasted coat, you'll need to clearly communicate some of the smaller, nuanced details. Personally, I find hotels and hostels usually have good connections to translators you can hire in the area. 
My own tip: you may be tempted to replicate this experience in East Asia (say, China or Vietnam, where cheap, custom tailoring is everywhere). Unfortunately, good tailoring there is expensive (about $3,000+ for a suit) and everything cheaper is typically not worth buying. It also helps to have a keen eye when shopping for an affordable bespoke tailor, as well as some experience with tailored clothing. This is perhaps not something for the novice, but if you're willing to give it a try, secret adventures await you in Southern Italy. 
For more on Pete's trip, you can visit his StyleForum thread. He's also on Tumblr and Instagram. 
---