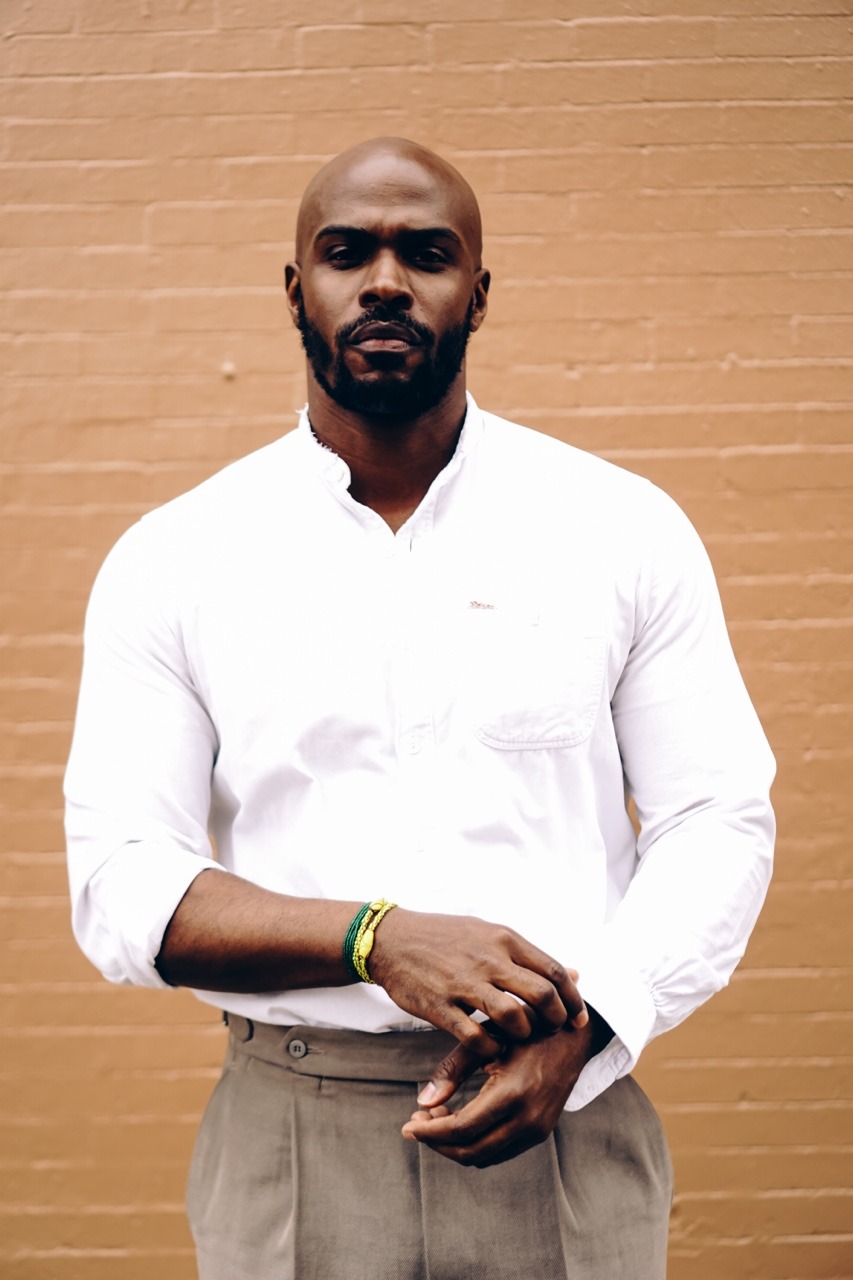 Everything looks better with a beard. At least that's what I get from Jabari Brown, an actor and artist living in NYC. Jabari shops at many of the basic stores you can find in any American city nowadays – Ralph Lauren, Uniqlo, Gant, APC, and J. Crew – but he looks a lot better than their average customer.
Part of that can be chalked up to his good looks and awesome beard, but part of it is his willingness to mix-and-match things in untraditional ways. Rather than your usual suit jackets and sport coats, Jabari teams his wool pants with things such as black quilted vests and off-white henleys (which somehow look natural here with slip-on loafers). Similarly, his made-to-measure Stoffa trousers – cut with a high rise, shallow reverse pleats, and side tabs – look right at home with that beige APC stadium jacket.
Some combinations are more conventional, even if not obsessively rule-driven. His vintage, digi-camo parka – which has been buttoned at the top for an A-line silhouette – is paired with rugged chinos, while that suede RRL trucker jacket is worn with raw denim jeans (the photo is black and white, but the colors are actually an interesting combo of golden tan, bright white, and black). His cream-colored Gant turtleneck also nicely complements that fur collar on the RRL shearling. The knitted J. Crew cap only underscores the rugged workwear vibe.
A lot of what I like about Jabari's outfits are the details. The white Ralph Lauren dress shirt that he converted into a band collar (a simple DIY operation anyone can do with a pair of scissors). I've done the same with a washed denim Wrangler shirt, which I find makes the shirt look more interesting, particularly when layered. Jabari also makes good use of textured knitwear – a move we've recommended in the past. Swap the sweaters out for some plain merinos and these outfits become less compelling. And while I have the same African indigo scarf, Jabari clearly wears his much better. (We sell similar scarves).
Jabari's advice on how to dress better: bring everything to the alterations tailor, from suits to outerwear, so you can get a better fit. Also, be open to trying new things. ("Agyesh from Stoffa got me to step out of my comfort zone with these pleated pants, and they work," he notes). Finally, don't be afraid of adding interesting details, but know when to stop. "Wear a pocket square, but maybe not the square and a tie bar and a lapel pin. Bracelets are fine, but not ten at a time. Less is always more."
I would maybe add, be impeccably good looking and have a great beard.
For more of Jabari, you can follow him on Instagram and Tumblr. 
---