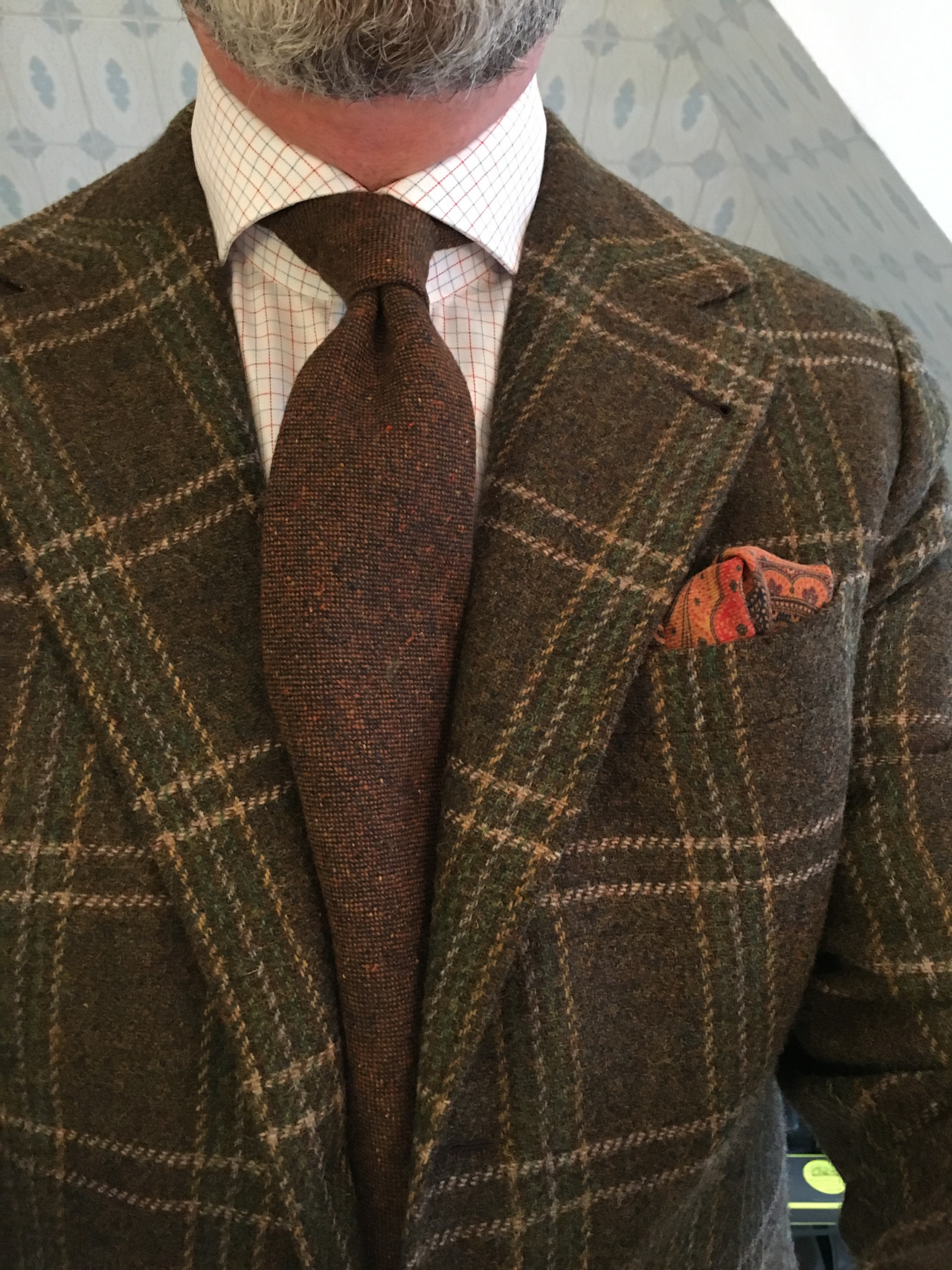 For a lot of guys, getting a good balance between the jacket, shirt, tie and pocket square is the trickier part of wearing tailored clothing – even if they know how clothes should fit. After all, trousers are pretty straightforward. If you're wearing a suit, the pants will be chosen for you; if you're going with a sport coat, grey pants in a seasonal fabric will work with almost anything (tropical wools in spring/ summer; heavy flannels in fall/ winter). Dark brown shoes are also pretty failsafe. 
The shirt and accessories are a bit harder, but Herbert in Frankfurt above demonstrates some good, basic principles. 
Shirt: Light blue and white shirts are easy defaults, but if you want something more interesting, try a shirt with a simple check or striped pattern (but still a light blue or white base). For something more casual, a turtleneck is a great way to dress down a tweed sport coat, while casual shirts in chambray or linen go well with summer jackets. The key to wearing a shirt without a tie: finding a collar that will stand up on its own. 
Neckwear: Conservative neckwear with small, tasteful prints go well with business suits. Slightly larger prints and/ or textured ties can sometimes go either way, but are generally good choices for sport coats. Simple, striped silk ties work with almost anything. Generally speaking, stick to mid- to dark shades. They're easy to wear with lighter colored shirts. 
Pocket Square: Solid-colored silks and matching squares are best left to prom DJs and cruise magicians. Instead, choose something that picks up a secondary color in your jacket or tie (in the first photo above, Herbert wears an orange pocket square that highlights the orange flecks in his tie). You can also go with a complementary color. That can mean choosing things in a slightly different shade, or in colors that are either adjacent or directly across from each other on the color wheel (Herbert's brown pocket square above is a nice choice for his mid-blue tie). When in doubt, go with white linen – you're almost always safe with that. 
Of course, the best dressers never just follow rules; they develop an eye for cloth, color, and combinations. When asked how he puts things together, Herbert simply answered: "I aim for something with harmony. The eye will say yes or no to the choices." 
Sometimes it's as simple as that. 
(photos via Grimond de la Reyniere)
---