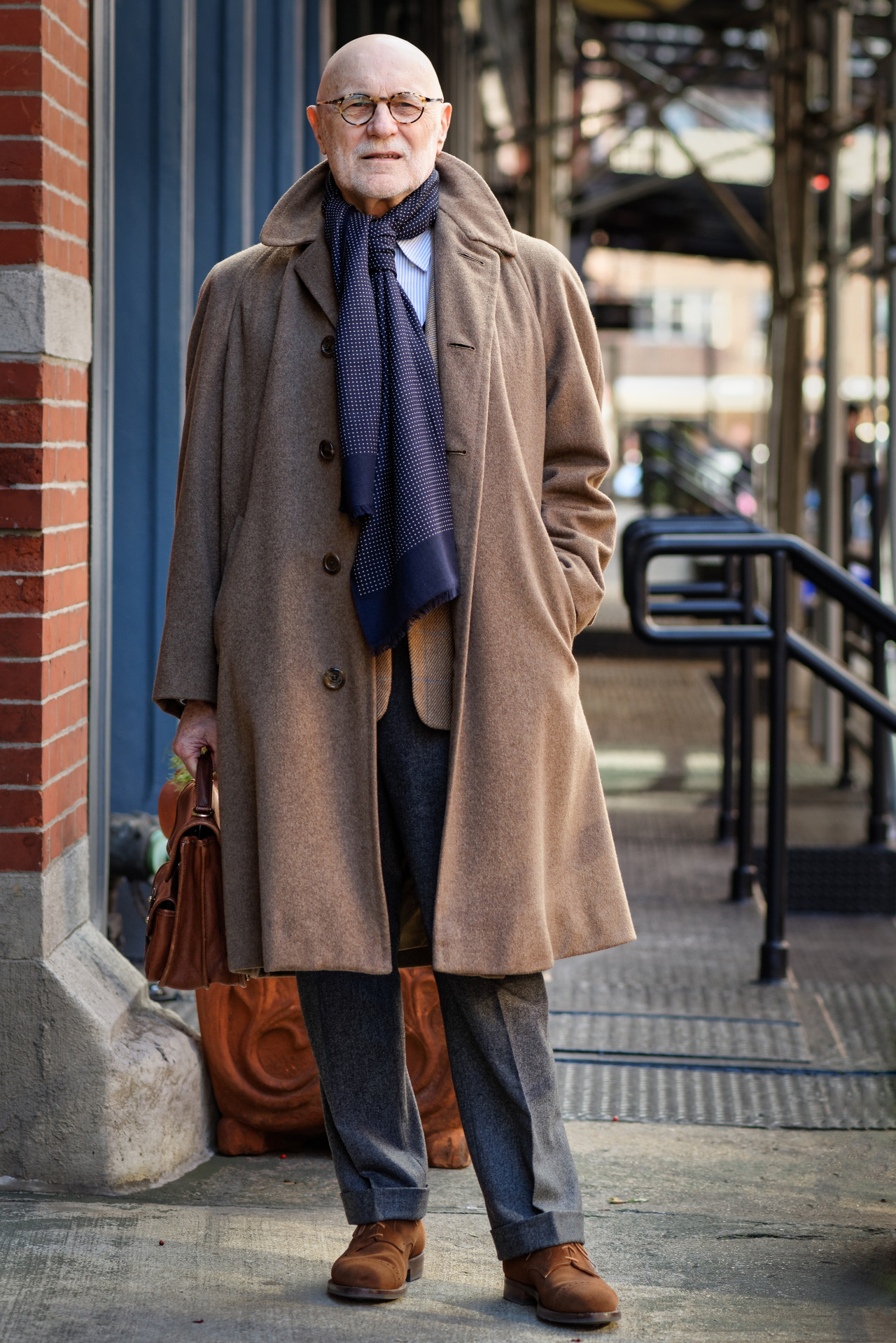 In the world of classic men's clothing, Bruce Boyer is something of a legend. He's been a fashion writer for more than thirty-five years, having served as an editor for Town & Country and a writer for The New York Times, Harper's Bazaar, and The New Yorker. His books on the subject of men's clothing are some of the best written, and I still revisit his articles over at Cigar Aficionado from time to time. 
Bruce also happens to be one of the best dressed men I know. He's always well put together, without looking overly thought out, and his clothes always fit perfectly, without seeming overly fussy. In fact, when we featured him for the second season of our video series, he said: "I always had it in my mind that I was going to be kind of rumpled anyway, and there's nothing wrong with that. You play to your strengths, you know? My strengths happen to be rumpled." If there's such a thing as American sprezzatura – an Italian term for doing something well, but also seeming like you've achieved it effortlessly – Bruce embodies it. 
In the photo above, Bruce is seen on his way back from a visit to The Armoury in New York City. A breakdown of what he's wearing, with links to further reading for those interested:
Overcoat: A long, classic overcoat is great for the wintertime. Get something sized a little bigger, so that you can layer it over a suit jacket or sport coat. It'll not only keep you warmer, but it'll also give that multi-layered look that can be very stylish. Should the back of your collar naturally pop up when you put it on, all the better. 
Silk Scarf: Accessorize a heavy overcoat with a silk scarf. The one Bruce is wearing is a wool-silk blend, but you can see how a little sheen helps balance the matte look of wool.
Brown Sport Coat:

 

A navy sport coat will always be your most versatile, but brown tweeds and corduroys are great for the colder months. That's why we recommend getting your second sport coat in brown. 
OCBD: The US has always championed a more casual approach to tailored clothing, and at the heart of this spirit is the oxford-cloth button-down shirt (which is an American invention). Check out our series on OCBDs, which has a list of recommendations for where to get one. 
Gray Pants: As Jesse once said, there are two essentials when it comes to casual pants: blue jeans and khaki chinos. For every other situation that doesn't call for a suit, there's only one: grey wool trousers. Get them in light- to mid-shades for maximum versatility (here are some sources). If you need a guide to figure out whether or not to cuff your trousers, we have two. 
Suede Shoes: A good way to dress down a tailored jacket is to understand the different formalities in footwear

. Brown is more casual than black; suede more casual than calf; and derbys more casual than oxfords. Bruce's shoes here are all three, which match the formality of his tweed jacket well. You can wear suede shoes in the wintertime if you 

know how to take care of them

. 

Leather Briefcase: Briefcases tend to be a little heavier when they're made from leather rather than canvas, but over the years, they can develop a much richer patina. Here's a roundup of options. 
Tie: Unseen is Bruce's tie, which he tells us was a gray Shetland wool that day. Again, a perfect choice for the rustic tweed he has on. 
Mixing Patterns: Lastly, if you're mixing patterns, be sure to vary the scale. Notice how Bruce has combined a pin dot with a Bengal stripe with a large windowpane. In other words, a small-scale pattern with a medium

-scale

 pattern with a large

-scale

 pattern. 
Of course, you don't have to think about all these things so methodically when getting dressed in the morning. Doing so only ruins the kind of nonchalance that makes Bruce so stylish in the first place. However, if you're just starting to become interested in classic clothing, then understanding the subtleties behind why something looks good can be useful. Think about them for a while, and then just dress according to what looks and feels good, rather than arbitrary rules. Aiming for style rather than perfection is true sprezzatura. 
(photo via gothamred)
---