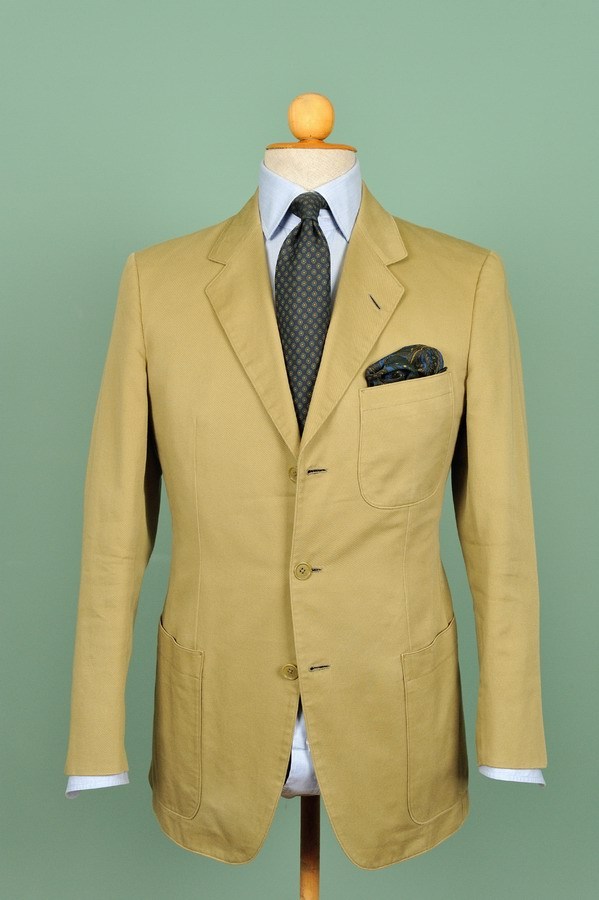 Let's get something straight: wearing a suit or sport coat in 2015 is going to make you look dressed up. The lounge suit (what we think of today as a business suit) was originally considered casualwear in the late 19th century, but today it's become the uniform of businessmen, politicians, and Very Important People. When you put on a coat-and-tie, you assume some of that identity.
Some men try to get around this by pairing tailored jackets with jeans, sneakers, and quirky accessories. Sometimes this works; sometimes it doesn't.
If you're trying to tone down the formality of tailored clothing, it's best to start with the things that determine a jacket's formality in the first place. That is: the cloth and details.
The Differences in Cloth
At the heart of formality is cloth. Smooth, silky wools will look dressier than anything textured (e.g. tweeds) or anything non-wool (e.g. linens, cottons, hemps, and silks). Dark blues and grays will say "business" in a way that browns and greens won't. And if you have a pattern, remember: the bolder the design, the more casual the garment. Pinstripes here are the exception, as they're always reserved for boardrooms.
Details Matter
Next are the details: how the pockets, buttons, and lapels are configured. The easiest way to think about these things is to remember that evening wear (i.e. black tie) remains at the top of the formality pyramid (technically, white tie is more formal, but in today's age, it's all but disappeared). The classic dinner jacket is a single breasted coat with peak lapels, jetted pockets, and a single button for fastening. Just under this in formality is the double breasted dinner jacket with the same configuration, or a single breasted coat with a shawl collar. (The differences here are subtle and nuanced, but essentially – a full dress vest and stiff collar will go with a single-breasted, peak lapel jacket in a way that they won't with other styles).
The closer your jacket approaches traditional evening wear, the more formal it's considered. So notched lapels will look less formal than peaks or shawls. Two buttons are less formal than one (and three less formal than two). Welted flapped pockets are less formal than jetted. Patch pockets less formal still. And flapped patch least formal of all.
Italians sometimes add their own casual details – prominent pick stitching along the lapels and pockets; shirring at the sleevehead (aka spalla camicia); and fewer buttons at the sleeves (four is traditional, but sometimes three, two, or even one button is used to make a sport coat look more casual).
Added Up
These details might sound minor, but added up, they can have a powerful effect. Take the sport coat pictured above, for example. It's a single breasted jacket with notch lapels, a three button front, and triple patch pockets. Made from cotton drill, rather than smooth, worsted wool, it's about as far away from a business suit as you can get.
If you want to wear tailored clothing without looking too formal, start with the jacket. Something like what you see above can be worn with chinos, leather loafers, and an open collared shirt. You'll still look dressed up, but you'll look like you're heading off to a Sunday brunch, rather than a Monday meeting. Once you learn how to read formality in tailored clothing, you can use the language to express what you want.
(photo via Possanner, a bespoke tailoring shop in Vienna)
---