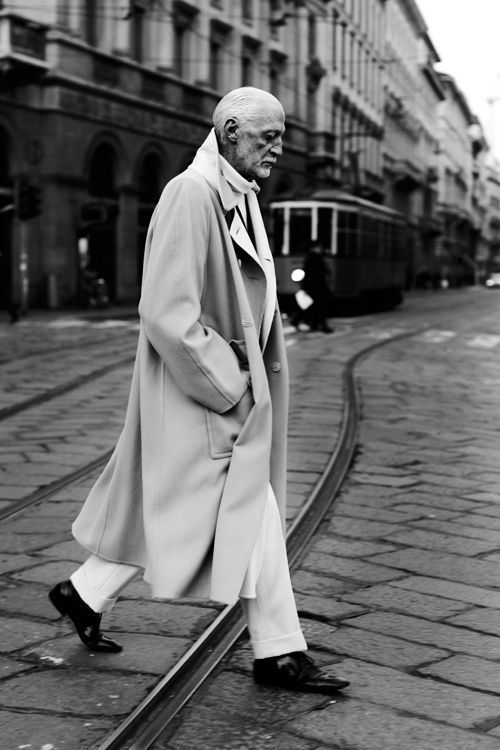 Of all the oversized and voluminous looks to come back this year, the one I'm most excited about is the long overcoat. Something traditionally sized, coming to about your knees, with enough material to allow the coat to sway when you walk. For years, even decades, most coats have ended around the middle of your thigh – what's sometimes referred to as a car-coat length since that's what you want if you spend a lot time getting in and out of cars. Much of the short coat trend, however, can be chalked up to the general shrinking of men's silhouettes. As the hems on suits and sport coats have slowly crept up in the last twenty years, so have the hems of their accompanying outerwear.
Properly sized, long overcoats are coming back into favor, however, as men's silhouettes are starting to fill out again. And I couldn't be happier about it. Long overcoats look tremendous with tailored clothing, but they can also be worn more casually with a pair of jeans and a chunky, textured sweater. For guys who don't wear sport coats often, overcoats can be a great way to incorporate  dressier items into your life without seeming overly formal. They add sophistication to casual ensembles, a sense of drama when you walk, and help give you all the flattering effects that come with good tailoring.
Unfortunately, quality overcoats are expensive. Figure that, even at wholesale prices, quality materials will run a company at least several hundred dollars alone, not to mention the cost of make, delivery, and marketing. That means means good overcoats will run you at least – if not more – the price of a good suit. If you have the means, you can find some wonderful ones at trad clothiers such as O'Connell's and The Andover Shop. More contemporary designers such as Camoshita have done them in the past; Todd Snyder and Private White VChave some this season. My favorite purchase this year is this "Traveler's Coat" from Kaptain Sunshine, a Japanese company that remixes classic Americana and workwear, but it looks like they're sold out.
The good news is that classic overcoats haven't changed much over the years, and their sturdy construction means you can find them in thrift shops for pennies on the dollar (see our thrifting guide). Years ago, I bought a Ralph Lauren overcoat – originally made for Wilkes Bashford – for about $75. If you're looking to get a classic overcoat this season, but aren't trying to break the bank, you can probably find something local if you spend a few weekends hunting around. Some things to consider when shopping:
Silhouette: Like with all clothes, key to the overcoat is its silhouette. Some have an A-frame shape; others can be blocky. When wearing the coat, pay attention to the shape and think about what sort of silhouette you're trying to create. Even traditionally sized, vintage pieces can look great if you contrast them against a more contemporary ensemble.
Sleeve Treatment: Most overcoats have set-in or raglan sleeves. The first will give you a defined shoulder line and help "T" off the top of your silhouette. Raglan sleeves, on the other hand, are rounded, relaxed, and relatively more casual. Without that defined shoulder line ending at the shoulder bone, these will show the natural curvature of your body. They may not sound flattering – and sometimes they aren't – but on something like a Balmacaan, raglan sleeves can help hide an oversized fit. Without the sleeve seams falling off your shoulder bone, you can layer an oversized, raglan-sleeved topcoat over almost anything without someone easily noticing the fit is roomy.
Balance: In tailoring, balance refers to how a coat hangs off your shoulders. The most important aspect is what's known as the "front-back balance," which is the relation of the front of your hem to the back. You want to think of this like a finely tuned measuring scale. When viewed from the side, the front of your hem should be even or slightly lower than the back. If it rides up, the coat simply doesn't fit and it'll be expensive to alter. Ignore this and the coat won't hang properly.
Material: At the heart of it, a coat is only as good as its material. Stiffer and heavier fabrics can give you a really nice silhouette. Lighter and softer materials may hang more like a tube, but they can move in really beautiful and dramatic ways. Pay attention to how the material hangs and moves when you put on the coat. If you try on enough coats across a range of makes, you'll get an appreciation for how different coats can feel and look.
Collar: Not all collars can be worn up – a lot depends on the material and cut of the collar – but see how a coat looks when you pop the collar from the back. Doing so can be a nice way to help frame your face. Sometimes a coat can look boring when worn one way, but come into its own when you adjust this detail.
Alterations and Repairs: Know what can be easily altered and repaired. Depending on the coat's design, you can shorten the length, nip the waist, and adjust the sleeves without too much trouble. If you plan to wear this over a suit jacket or sport coat, make sure there's enough room in the chest and shoulders to accommodate for one – those areas aren't easily let out. If you see moth holes, those can be rewoven in a way so that you don't notice the repair, but skilled work can be expensive. If your heart is set on something, companies such as at The French American Reweaving Company, Without a Trace, and Best Weaving & Mending are known for their quality repair work.
---