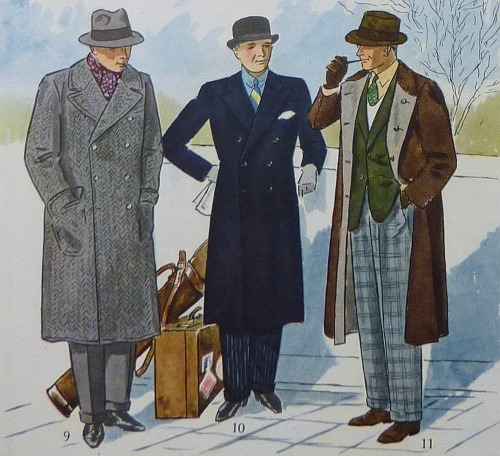 Aaron writes to ask: When it comes to sizing, do overcoat sizes match suit sizing, or do you buy commensurately larger to allow for jackets underneath? What is the way to find the right fit/cut with an overcoat?
The label size of an overcoat should correspond to the size of your chest, just like a suit coat would. So if you have a 42 inch chest, you wear a size 42 jacket and a size 42 overcoat. Generally speaking, the chest of an overcoat will measure about four inches more than its tagged size – so a size 42 will be about 46", giving you room for your suit or sport coat underneath.
That said, fit is a matter of personal preference. You may want a slightly tighter fit for a coat which is to be worn mostly over sweaters, or a slightly roomier fit if you'll be wearing it over suits. Sizing off the rack for overcoats is typically on the generous side.
Similarly, as you can see in the illustration above, some coats are cut to hang more or less straight down, others have suppressed waists for a more hourglass-shaped figure. The latter can look a little sharper, but the former can be more comfortable and forgiving.
The upshot? If you're particular about the fit of your overcoat, you'll want to try it on in person. Tailoring is an option, but if you go that direction, be sure to bring a few of the sorts of garments you'd like to wear underneath so your tailor can judge effectively.
---