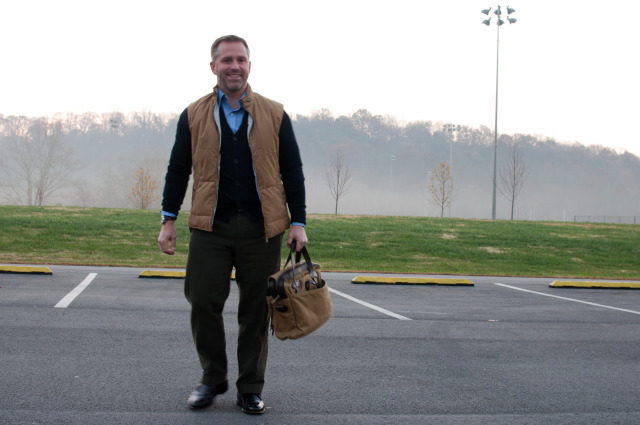 Jason asks: What are the rules re: sweaters and vnecks and wearing shirts underneath them again? V-necks = no collars. Crew necks with collars, right?
Turtlenecks (or roll necks) should be worn with an undershirt, and can be worn in lieu of a shirt and tie in casual situations.  They're particularly suitable in inclement weather, in the country, or in the evening.  They should typically go under a top layer of some kind – either a tailored jacket or something more wintry.  Without something on top, they can sometimes look a little Learning Annex teacher-y.
Crew neck sweaters are generally even more casual, and are usually worn instead of a jacket, rather than with a jacket.  They can be worn over a collarless shirt (like a t-shirt), or with collared shirt, but aren't usually worn with a tie.  If you're wearing a crew neck sweater with a collared shirt, you typically will use the collar of the sweater to keep the collar of the shirt up, rather than pulling the collar of the shirt out over the collar of the sweater.  A button-down collar will help.
A V-neck sweater can be used in more formal situations, as it provides room for a tie.  It can also be layered with a sport coat, or even a suit in a not-too-formal situation.  If you're going to wear a v-neck without a tie, your collar should usually be button-down, or you'll end up with it splayed over your sweater like John Travolta in Saturday Night Fever.  There is the occasional non-button-down collar that will stay up with a v-neck, but it's not generally the rule.  A v-neck is particularly useful with a bow tie, because it keeps you from showing a lot of distracting shirt space below the neck.  You can wear a v-neck with a tie but without a jacket, but I don't necessarily recommend it – it sort of makes you look like you left your jacket somewhere, or you have to go to a job interview and don't own a suit.
Above, Greg from Knoxville demonstrates an excellent casual use of a v-neck, with an under-control shirt collar and a down vest.
---