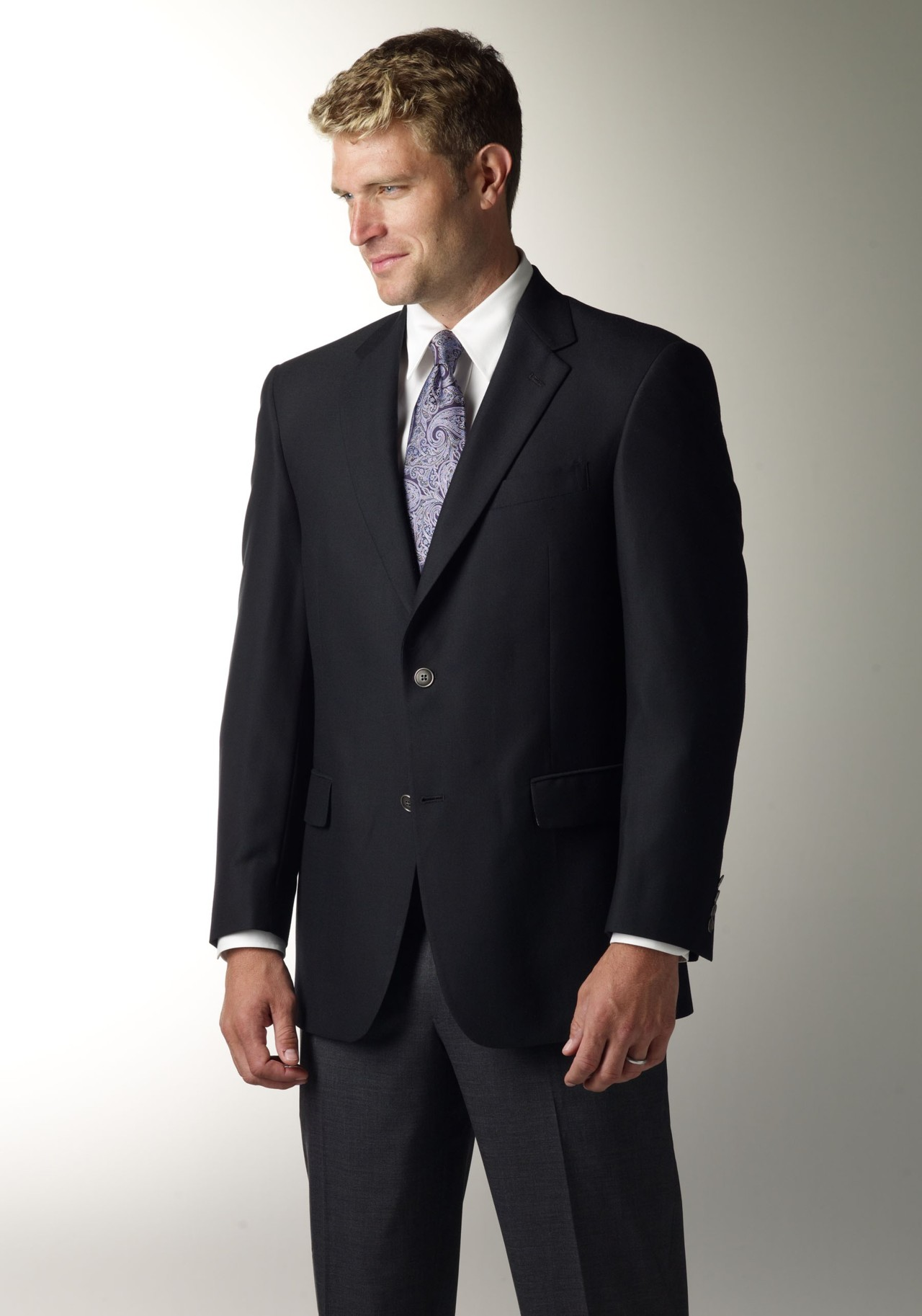 Sam writes: So I recently made a cardinal sin and bought an item, rather than an outfit. I saw on eBay a beautiful Ralph Lauren Purple Label Black Cashmere double breasted jacket, for a steal, which I grabbed. (It was from your eBay round up from last week.)
It was my first eBay purchase and after trying it on, it fits me perfectly. But – I have no idea what kind of clothes to match it with. Can you give me any suggestions?
You're in a tough spot. Black is a deceptively difficult color to match. One's inclination is to believe that it matches anything, but the truth is that in practical menswear terms, it matches very little. As you can see on the gentleman above, it tends to wash out the faces of most men whose coloration isn't very high contrast (meaning very dark hair and very fair skin), and it tends to look less than classy under natural light. It's a nice color for the evening, but in blazer form, it's still tough to fit into the wardrobe.
Before I get into specific advice, though, I'd urge you to reconsider the idea that you should buy outfits rather than pieces. Instead, focus on building a library of versatile basics. If you have gray flannel trousers, a blue blazer, black and brown shoes, solid white and blue shirts, simple navy ties and so on, you'll be able to incorporate more unusual pieces into your wardrobe easily. If you don't, you'll be forced to have a much larger (and more expensive) wardrobe, as the pieces won't play well with each other.
In the case of this particular jacket, I'd start by changing the buttons to something a little more contrasting. Smoky gray mother-of-pearl would be perfect if you don't like the metal-buttons look. If you don't live somewhere with a great sewing and fabric store, you can try ordering them online from a source like Hwa Seng Textiles, which I've used in the past. You can also get super crafty and cut them off of a thrifted or eBayed high-end coat that's selling for cheap because of damage. The blazer buttons' contrast will clarify that this is an odd jacket and not half of a suit.
Then, you've really got two choices for pants: gray dress trousers or dark denim. For this particular piece, I think dark denim might be an odd fit, since the styling is so formal, but if you can pull off that part, you'll be OK. With jeans, a white shirt and black Chelsea boots, you'd be suited for a casual-ish evening out.
Gray pants, and particularly gray flannels, will probably suit this coat best, though. Again, because the coat's black, you'll probably be wearing it mostly at night, and a pairing with gray flannels and simple black dress shoes will get you through a nice dinner out or an evening at the theater – the sorts of things that call for an outfit that's considered and has some elements of formality but isn't strictly formal.
---